News & Notes
District News - Archives
Back to News
Saline HS Athletics LIVE on NFHS THIS WEEK!
Subscribe to NFHS Network to watch Saline Athletics LIVE from anywhere!
SUBSCRIBE HERE | MORE INFORMATION HERE
Take a look at this week's schedule below. GO HORNETS!
SHS acknowledges 10 National Merit Scholarship Semifinalists
Semifinalists in the 2018 National Merit® Scholarship Program (Evanston, Illinois)
Today officials of National Merit Scholarship Corporation (NMSC) announced the names of approximately 16,000 Semifinalists in the 63rd annual National Merit Scholarship Program. These academically talented high school seniors have an opportunity to continue in the competition for some 7,500 National Merit Scholarships worth more than $32 million that will be offered next spring. To be considered for a Merit Scholarship® award, Semifinalists must fulfill several requirements to advance to the Finalist level of the competition. About 90 percent of the Semifinalists are expected to attain Finalist standing, and about half of the Finalists will win a National Merit Scholarship, earning the Merit Scholar® title. NMSC, a not-for-profit organization that operates without government assistance, was established in 1955 specifically to conduct the annual National Merit Scholarship Program. Scholarships are underwritten by NMSC with its own funds and by approximately 420 business organizations and higher education institutions that share NMSC's goals of honoring the nation's scholastic champions and encouraging the pursuit of academic excellence.
Steps in the 2018 Competition
About 1.6 million juniors in more than 22,000 high schools entered the 2018 National Merit Scholarship Program by taking the 2016 Preliminary SAT/National Merit Scholarship Qualifying Test (PSAT/NMSQT®), which served as an initial screen of program entrants. The nationwide pool of Semifinalists, representing less than one percent of U.S. high school seniors, includes the highest scoring entrants in each state. The number of Semifinalists in a state is proportional to the state's percentage of the national total of graduating seniors. To become a Finalist, the Semifinalist and his or her high school must submit a detailed scholarship application, in which they provide information about the Semifinalist's academic record, participation in school and community activities, demonstrated leadership abilities, employment, and honors and awards received. A Semifinalist must have an outstanding academic record throughout high school, be endorsed and recommended by a high school official, write an essay, and earn SAT® scores that confirm the student's earlier performance on the qualifying test. From the approximately 16,000 Semifinalists, about 15,000 are expected to advance to the Finalist level, and in February they will be notified of this designation. All National Merit Scholarship winners will be selected from this group of Finalists. Merit Scholar designees are selected on the basis of their skills, accomplishments, and potential for success in rigorous college studies, without regard to gender, race, ethnic origin, or religious preference. National Merit Scholarships Three types of National Merit Scholarships will be offered in the spring of 2018. Every Finalist will compete for one of 2,500 National Merit® $2500 Scholarships that will be awarded on a state-representational basis. About 1,000 corporate-sponsored Merit Scholarship awards will be provided by approximately 230 corporations and business organizations for Finalists who meet their specified criteria, such as children of the grantor's employees or residents of communities where sponsor plants or offices are located. In addition, about 190 colleges and universities are expected to finance some 4,000 college-sponsored Merit Scholarship awards for Finalists who will attend the sponsor institution. National Merit Scholarship winners of 2018 will be announced in four nationwide news releases beginning in April and concluding in July. These scholarship recipients will join more than 330,000 other distinguished young people who have earned the Merit Scholar title.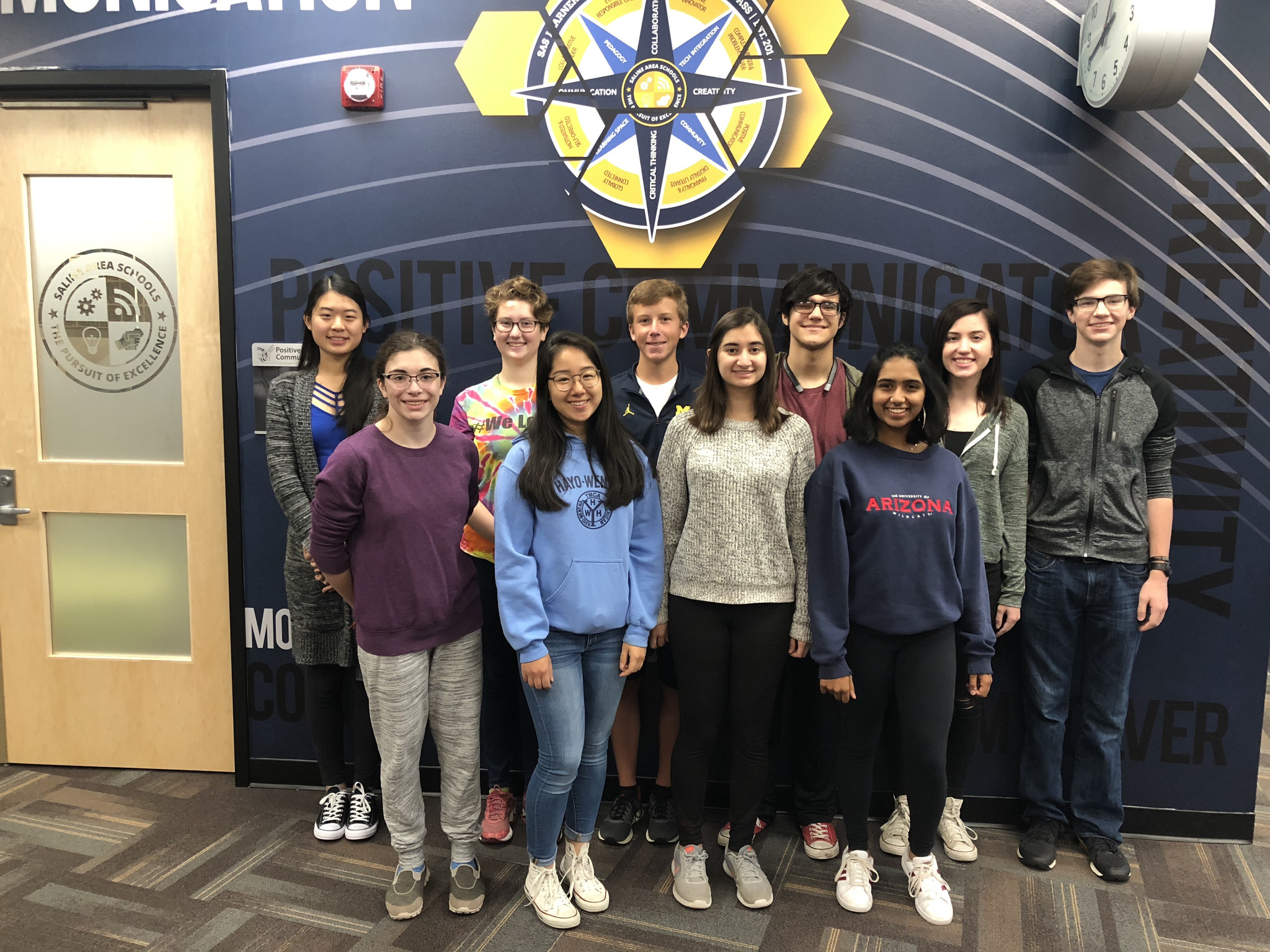 Saline High School's National Merit Scholarship Semifinalists are:
Leah Abdallah
Lia Ahmed-Zaid
Erika Chatell
Jadon Dester
Mrinalini Iyer
Jennifer Kosek
Ailen Lao
Ruth Sullivan
Nikolai Tolmoff
Cameron Tressler
Saline Athletics LIVE on NFHS this week!
Subscribe to NFHS Network to watch Saline Athletics LIVE from anywhere!
SUBSCRIBE HERE | MORE INFORMATION HERE
Take a look at this week's schedule below. GO HORNETS!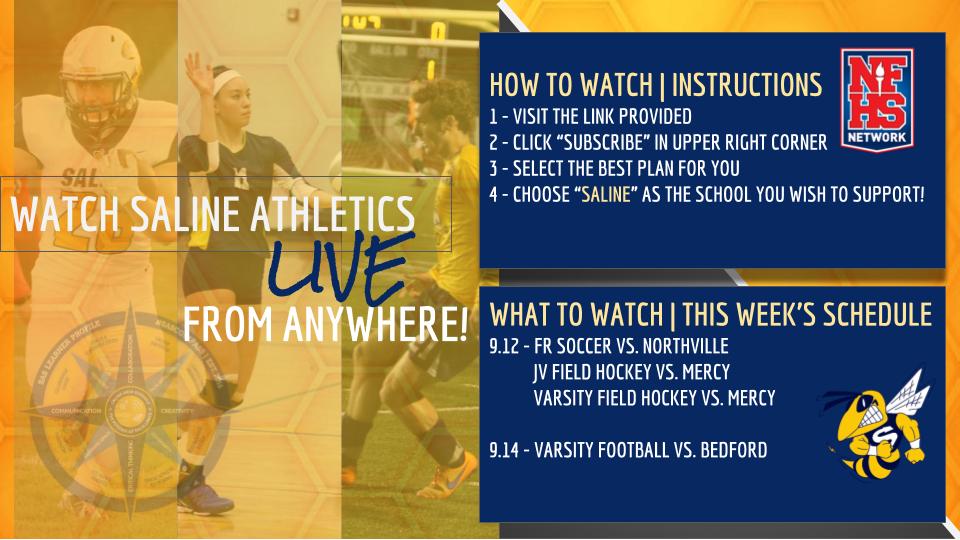 Student Passwords

Student passwords have been updated (changed) for the new school year. If you need to get your student's password, please call your school office or contact Sarah Hafer at 734.401.4355
SHS Drama Club present Music Man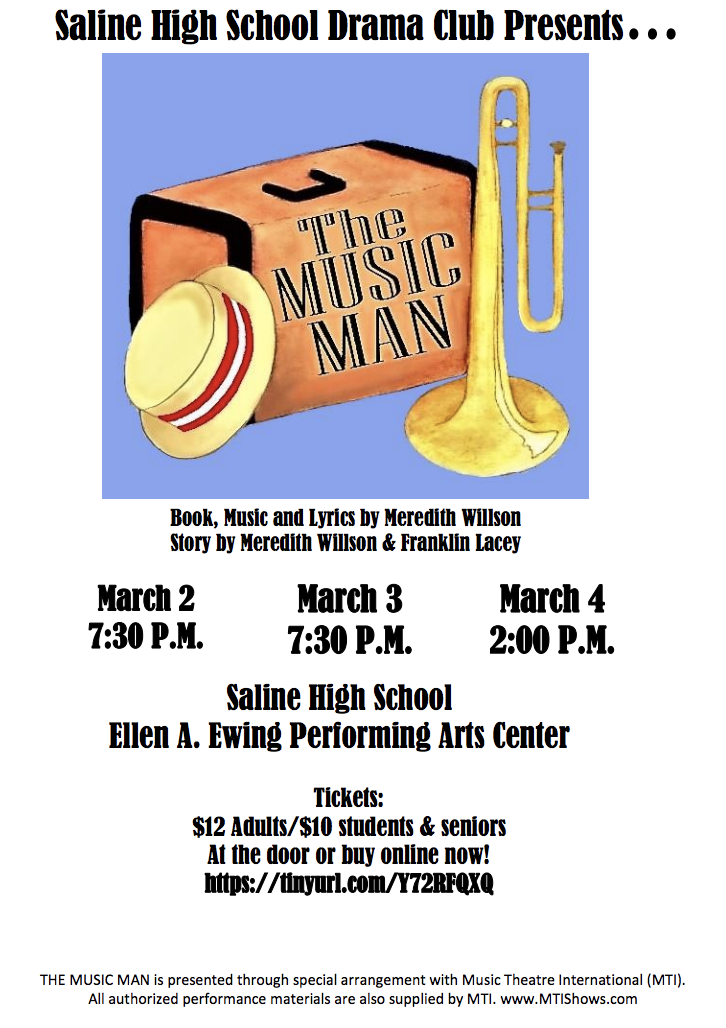 Strategic Goals
compliance with the regulations implementing Title VI
Any person having inquiries concerning the Saline Area Schools' compliance with the regulations implementing Title VI, Title IS, the ADA, or Section 504 is directed to contact: Saline Area Schools, Director of Human Resources, 7265 Saline Ann Arbor Road, Saline, MI 48176-1168
Equal Opportunity Info
Applicants for admission and employment, students, parents, employees, sources of referral of applicant and admission and employment, and all unions or professional organizations holding collective bargaining or professional agreements with the Saline Area Schools are notified that the Saline Area Schools does not discriminate on the basis of race, color, national origin, sex, age, religion, or disability in admission or access to, or treatment or employment in any of its programs, activities, or policies.
Mission
We, the Saline Area Schools, will equip all students with the knowledge, technological proficiency, and personal skills necessary to succeed in an increasingly complex society. We expect that our students, staff, and the Saline community will share in these responsibilities. Our ultimate goal is to instill in our students a desire for lifelong learning.
Discrimination Policy
The District will not discriminate against any person based on sex, race, color, national origin, religion, height, weight, marital status, handicap, age or disability. The Board reaffirms its long-standing policy of compliance with all applicable federal and state laws and regulations prohibiting discrimination including, but not limited to, Titles VI and VII of the Civil Rights Act of 1964, 42 U.S.C. §§ 2000d. et.seq.; and 42 U.S.C §§ 2000e, et seq.; Title IX of the Educational Amendments of 1972, 20 U.S.C. §§ 1681, et seq.; Section 504 of the Rehabilitation Act of 1973, 29 U.S.C § 794; The Americans with Disabilities Act of 1990, 42 U.S.C. §§ 1210, et seq.; the Persons with Disabilities Civil Rights Act, MCL §§37.1101, et seq.; and the Elliott-Larsen Civil Rights Act, MCL §§ 37.12101, et seq.
Inquiries or complaints by students and/or their parent(s)/guardian(s) related to discrimination based on disability/handicap should be directed to
Assistant Superintendent for Human Resources
Saline Area Schools
7265 Saline-Ann Arbor Road
Saline, MI 48176
Phone: (734) 401-4002