May 26, 2016
Chinese Host Families - Exciting Opportunity
Are you interested in hosting a student from China? For more information, please view the attached informational brochure.
Related News Articles
February 5, 2018
Saline Area Schools knows that listening to our students, parents, and staff members is the only way to truly understand the needs of those we serve. That's why it's critical that everyone take part in our annual School Quality Survey, which is open through February 16th.
The survey asks for feedback on student and academic support, family engagement, safety and behavior, school leadership, and school operations. The results will help us measure our progress from last year, determine our strengths, identify opportunities for improvement, and develop responsive action plans.
We've used previous survey results to bring about meaningful changes in our schools. For example, we provided our teachers with additional training on how to make lessons relevant to students' lives. We also added a variety of nutritious food options to our school menus to better meet our students' needs. What's next? You tell us!
The survey is open to all parents, staff members, and students in grades 6-12. Please check your email for an invitation and survey link. Parents can also take the survey by clicking here. The parent survey is offered in English and Spanish. All responses are strictly confidential.
For more information about the survey, please contact Mr. Scot Graden at gradens@salineschools.org
January 24, 2018
Middelburg Care Village (MCV), South Africa, is a facility which caters to the needs of children who are either orphans, or have been removed from their natural homes because of the conditions there. Care Village was started to address the dire need for residential care facilities for such children in Mpumalanga. There are 108 children, ages 3-18, who live in Care Village. These children will never be adopted.
MCV's greatest struggle is providing a good education for the children. These children must be transported to 18 different schools since no single school can take them all. Saline Area Schools along with the First Presbyterian Church of Saline have joined together to lend support and expertise through the SAS Care Village Initiative.
If you would like to learn more about Care Village or make a donation please contact Bob Cindric at cindricr@salineschools.org.
November 27, 2017
In late October thousands of high school and middle school musicians from all over the State of Michigan auditioned for membership in the Michigan All State Band. Saline band and orchestra musicians performed exceptionally well this year with nine students earning positions in the All State ensembles, and three earning honorable mention.
These students will perform at the Michigan Music Conference in Grand Rapids on January 27th.
Please join us in congratulating the following student musicians:
Middle School All-State Band:
Jason Chen-Alto Saxophone
Luke Swanger-Trumpet
Cora Hart-Trumpet
Christian Manohar-Alto Saxophone Honorable Mention
High School All-State Orchestra:
Alex Taulbee-Bass
Julio Wagner-Cello Honorable Mention
High School All-State Band:
Leah Keller-Flute
Emma Rose Reilly-Clarinet
Paul Kiyabu-Trumpet
Zack Gabanyicz-Trumpet
Holden Collins-Tuba
Paul Crowley-Alto Saxophone Honorable Mention

November 9, 2017
SHS Drama Club Production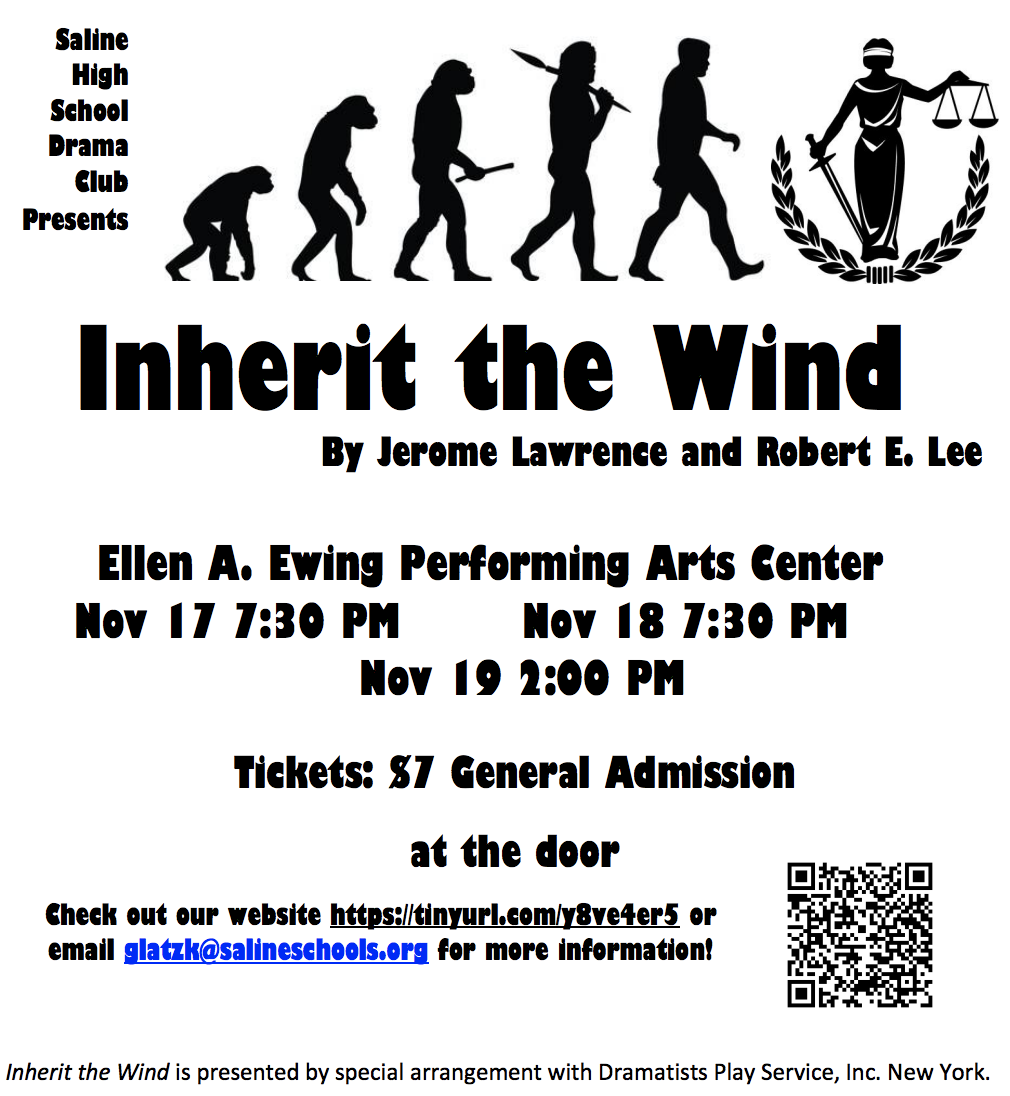 The Saline High School Drama Club will present its fall production, Inherit the Wind, by Jerome Lawrence and Robert E. Lee, on November 17th and 18th at 7:30 p.m. and November 19th at 2:00 p.m. in the Ellen A. Ewing Performing Arts Center at Saline High School. Seating is general admission and tickets are $7.00 and are available at the door.
Inherit the Wind, a classic courtroom drama, fictionalizes the 1925 Scopes "Monkey" Trial, which resulted in the conviction of a small-town teacher for teaching Charles Darwin's theory of evolution to a high school science class, contrary to a Tennessee state law. The debate between science and religion, what constitutes fact versus belief, and the protection of the freedom of thought are themes that still resonate almost 100 years later.
"This is the play that has as its genesis in the events of the famous Scopes trial. One of the most outstanding dramas of our time. The portrait it draws of an explosive episode in American culture, vigorously written by Jerome Lawrence and Robert E. Lee, remains as fresh as it ever was. One of the most stirring plays in recent years retains its folk flavor and spiritual awareness in an Arena Stage production. Bursting with vitality…Literature of the stage!" —NY Times (Samuelfrench.com)
The cast includes… Sayoni Bandyopadhyay, Ellie Bauer, Tomi Byrd, Dee Covey, Emma Crisenbery, Claudia Curcione, Jake Edwards, Cristina Gonzalez, Stefania Gonzalez, Téa Hajratwala, John Harrell, Jade Hartman, Eliza Larsen, Delia Leon, Maggie Lupton, Brooklyn McLean, Ryan Moore, Alayna Musson, Eddie Ozor, Joseph Pryor, Kimberly Schamberger, Ethan Schmaltz, Joe Singh, Kylee Smith, Willow Symonds, Ayla Tighe, Collin Wagner, Allison Wall, Hannah Weatherly, and Wesley Welt. The production is directed and produced by Kristen Glatz and student directed by Courtney Pellerin.
Check SHS Drama for more information or please call (734) 401-4644
October 25, 2017
Renewals on the November 7th Ballot
On Tuesday, November 7th there will be two important millage renewals on the ballot for Saline Area Schools. The combined millages (.85 mils) would provide $14 million to our schools over the next 10 years!
There will be a public forum to learn more about the CARES Recreation millage and the Sinking Fund on Thursday, October 26th at 7:00pm. It will be held at the Liberty School Media Center. Superintendent Scot Graden will provide details related to the proposals and the planned uses of the funds.
The funds raised by the CARES Recreation millage (.50 mils) will provide funding for the Saline Area Senior Citizens Center, Cultural Arts Programs, Community Pool at SHS, and Recreation programs. In addition, the millage provides grants to community groups for recreation programs.
The funds raised by the Sinking Fund (.35 mils) will provide funding for infrastructure and building repairs. In addition, based on 2016 legislative action, the funds can now be used for safety & security improvements and technology.
Click here to download Frequently Asked Questions about the proposals.
Click here to download a Key Information Sheet.
Click here to download a presentation related to the proposals.
If you have a specific question about the proposals - click here.
Remember to VOTE on November 7th!!