February 22, 2019
SALINE FFA MOVES ON TO STATE LEADERSHIP FINALS
Contact: David Mellor 734-216-6677 mellord@salineschools.org
For immediate release: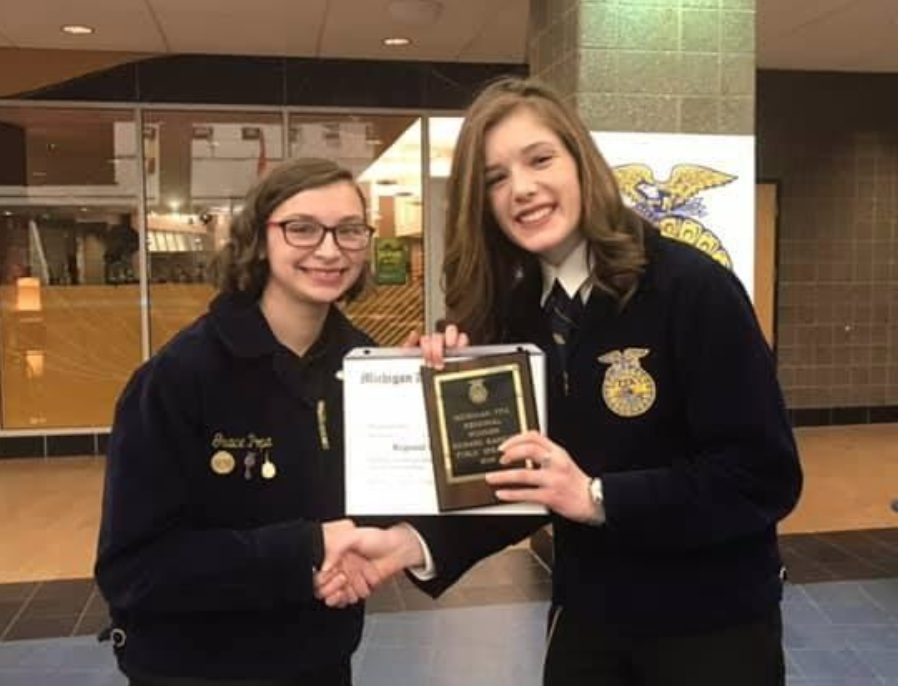 Photo Caption: (L to R) Grace Popa, Saline FFA High School Junior, receives the Southeast Michigan FFA Regional First Place Award in Prepared Public Speaking from Caitlin Henne, State President of the Michigan FFA Association Wednesday February 20th, 2019
SALINE FFA MOVES ON TO STATE LEADERSHIP FINALS
Grace Popa, Saline FFA High School Junior, took top honors in the Prepared Public Speaking SE Michigan FFA Leadership Development Event held on Wednesday February 20th at Saline High School. Her passionate eight minute speech on Noise Pollution has advanced her to the state FFA finals in Public Speaking to be held at Michigan State University on March 7th where she will face off against the other top seven FFA finalists in Michigan.
Other Saline High School FFA members also did well at the regional competition held February 20th:
Kaitlyn Higgins, Saline FFA Junior, placed Third and Gold award in the Regional Prepared Public Speaking event. She placed second at Districts held in Milan on February 12th.
Christina Richard, Saline FFA Senior, placed Third and Gold Award in the Regional Job Interview event. She placed first at Districts.
The Demonstration Team consisting of Amanda Jedele (11th grade), Sydney Masters (10th grade), Emily Finkbeiner (10th grade) and Anne Rothfuss (10th grade) placed Third and Gold Award at Regionals for their demonstration on "Beef From Birth to Finish" They placed second at Districts.
Leadership Development in public speaking, demonstration, and parliamentary procedure is part of the curriculum taught in the Agriculture, Food & Natural Resources – FFA Program at the South & West Washtenaw Consortium at Saline High School.
-END-