April 16, 2019
Two SHS Destination Imagination Teams Qualify for 2019 Global Finals in Kansas City
Two SHS Destination Imagination Teams Qualify for 2019 Global Finals in Kansas City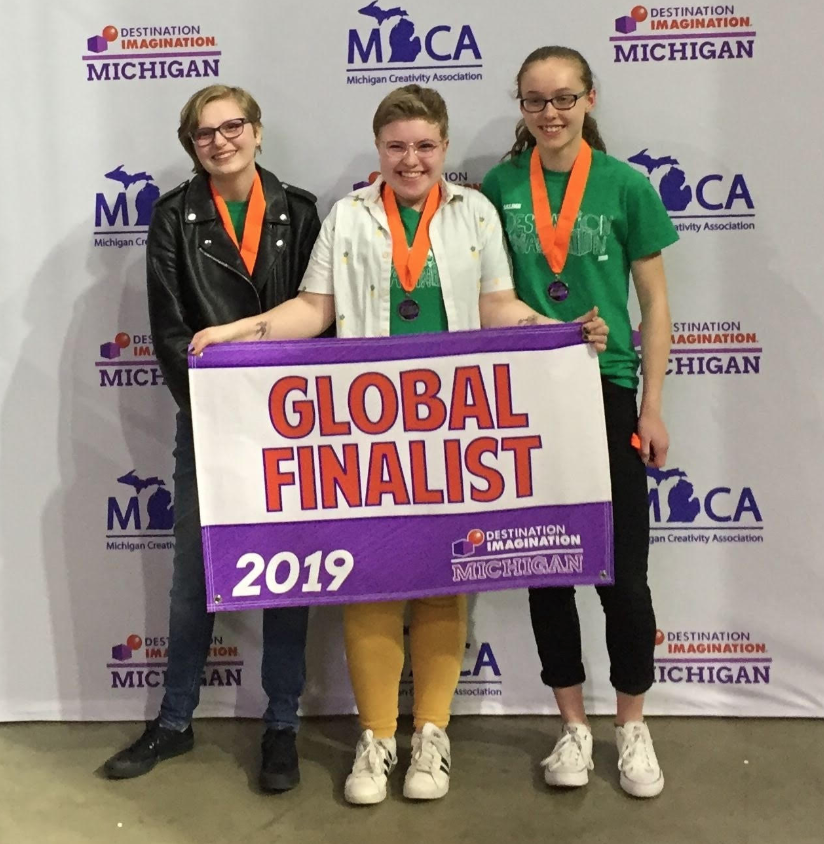 "The Squadrupleees"-SHS Service Learning team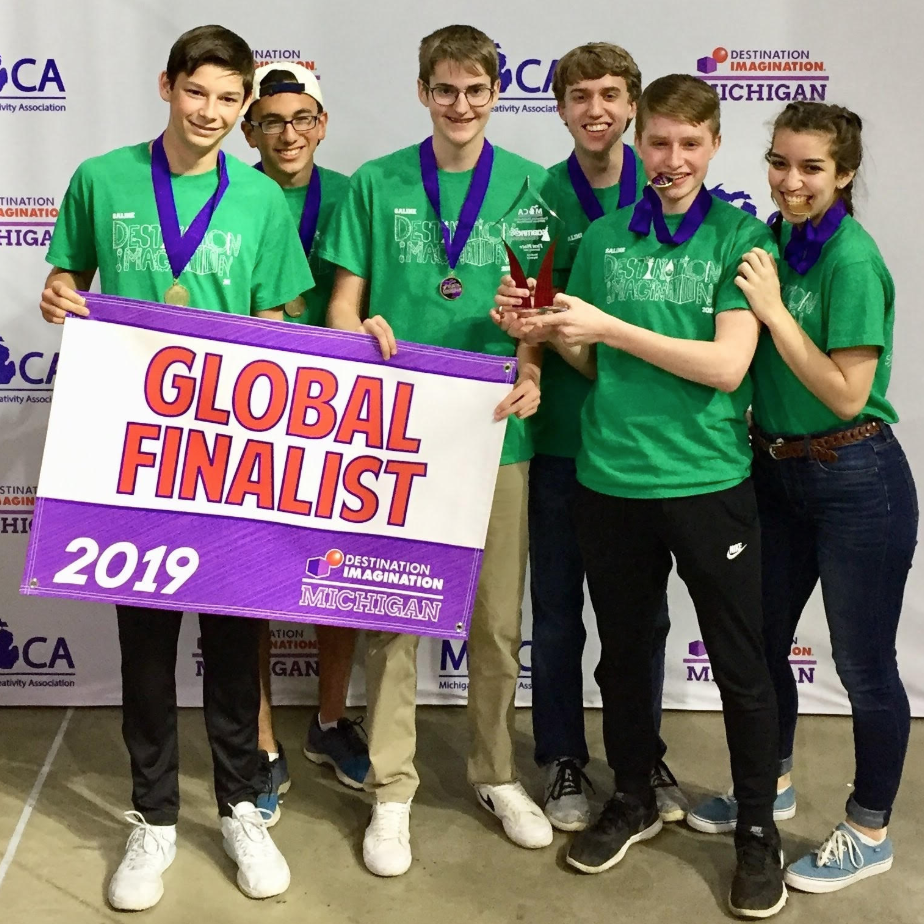 "The Zurfendurphs" - SHS Scientific team
East Lansing, MI – On Saturday, April 13th, Saline Destination Imagination sent 8 teams to the Michigan Destination Imagination State Tournament at Michigan State University in East Lansing, Michigan. Michigan Creativity Association (MICA) hosted an innovative, fun-filled State Destination Imagination (DI) Tournament. Over 200 student teams from around the state presented their creative solutions to a number of mind-bending STEAM-based (science, technology, engineering, arts and mathematics) and service learning challenges.
The SHS Service Learning team named "The Squadrupleees" comprised of: Anya Hurst, Arabella Wotton, Annie Liemohn, and Ashlyn Stager (not pictured) place second in the Service Learning Challenge at the Secondary (HS) level. Their Team Manager is Ginger Liemohn. The team not only performed a deeply moving 8-minute skit that had the audience and Appraisers in tears about the serious topic of clinical depression, but also raised over $700 for the National Alliance on Mental Illness (NAMI), which is the nation's largest grassroots mental health advocacy organization. NAMI.org provides support, raises awareness, and advocates for the improved treatment and to help alleviate the stigma of mental health to improve the lives of 60 million Americans affected by mental health conditions.
The SHS DI Science Team, "The Zurfendurphs" placed 1st in their category. Team members include: Zach Rein, Kyle Schnitzer, Cameron White, Ryan Schwartz, Connor Wright, India Pruette. Their Team Manager is Jennifer Schwartz. They created a performance that shared the medical research they did about what parts of the brain control various functions of our bodies. A larger-than-life replica of the brain showed how a human character reacted to deficiencies in various regions of the brain. Their performance highlighted their strengths in all areas of the STEAM curriculum, as well as their problem solving, communication, creativity and teamwork abilities.
Other Saline DI teams placed:
Middle level Technical team placed 5th
Secondary Level Improv team placed 5th
Middle Level Fine Arts team placed 8th
Middle Level Improv team placed 8th
Middle Level Scientific team placed 10th
Please attend our Saline DI Car Wash Fundraiser at Saline Middle School from 9 a.m. to 1 p.m. on Saturday, April 27, 2019. Funds raised will directly go to Global Finalist teams attending this worldwide competition.
About Destination Imagination
Destination Imagination, Inc. is a 501(c)(3) volunteer-led non-profit organization whose purpose is to inspire and equip students to become the next generation of innovators and leaders. Destination Imagination is an international, project-based educational program that encourages innovation, teamwork and creative problem-solving. Students choose one of seven different open-ended DI challenges and work together in teams to plan, create and present their solution.
The organization is a leader in project-based learning experiences, where students work together in teams to solve open-ended STEAM (science, technology, engineering, arts and mathematics) and service learning Challenges and then present their solutions at tournaments. Destination Imagination has impacted more than one million students. To learn more, please visit http://destinationimagination.org.