September 17, 2019
New Teacher Spotlight | Laura Vaccaro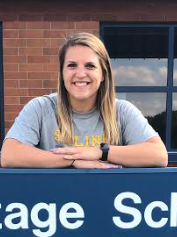 Name: Laura Vaccaro
Building/Position: Heritage, 4th Grade
Hometown: Saline
Education: Bachelor of Science in Education from Central Michigan University
Favorite book: The Tiger Rising
Favorite hobby: Playing and coaching softball
Leadership Style: I lead by example.
List the top 3 things that are essential to a productive classroom: Building positive relationships, student choice, and clear and consistent expectations
What or who has inspired you to teach? As a student in Saline Area Schools, I was fortunate to have the best of the best in the world of teachers. They all inspired me to touch the lives of students in the same way that they touched mine. I am also inspired by my family, who have supported every passion of mine.

Describe what it's like to be an employee of Saline Area Schools: Every child deserves someone who is in their corner, to support them, to believe in them, and to guide them. I am inspired by the thought of being that person for my students.Being an employee of Saline Area Schools is a dream. I am humbled, and honored to be where I am. As a product of Saline Area Schools myself, I take an immense amount of pride in the education and experience that we provide our students. I am thankful everyday for the opportunity to teach here.
Twitter Handle: @MsVaccaro4th