October 28, 2020
SWWC Receives Program-Changing Vehicle Donation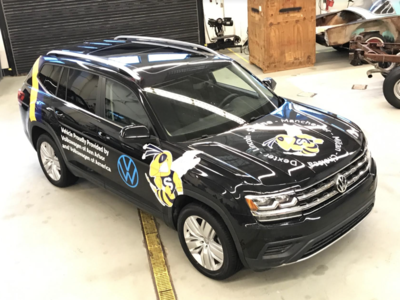 Last week, company leaders from Volkswagen of America visited Saline High School to deliver a donation that will change the course of curriculum for our automotive students. Dr. Ryan Rowe, Executive Director of the SWWC, Scot Graden, Saline Area Schools Superintendent, and Tim Timoszyk, Saline H.S. Automotive Technology Instructor, and a handful of students were all present to welcome the new vehicle into the shop.
Branded with the Saline Hornet, the 2017 Atlas was driven into the SWWC shop by Mr. Timoszyk. "The 2017 Volkswagen Atlas will prove to be very important to our NATEF and our ASE Educational Foundation curriculum because it will provide needed work stations on the newest technology available. In addition, this vehicle is utilized by not only Saline students but also by Chelsea, Dexter, Milan, Manchester and Lincoln students that are enrolled in the Automotive Technology Program through the South and West Washtenaw Consortium. It is the commitment of corporations like Volkswagen of America that afford the public schools the ability to continue to provide students with the experiences necessary to succeed in the job market after graduation."
The donation was made possible as a part of Volkswagen's "Drive Bigger" initiative, which provides a number of Atlas model cars to educational programs throughout the United states. John Peterson, Director of Fixed Operations (NE Region), thought Saline High School was the perfect choice. "Saline's comprehensive automotive curriculum, dedicated and talented staff were just a couple of the reasons that Volkswagen of America selected Saline to be a recipient of an Atlas donation. Another factor was the passion that Tim brings to the program and how his level of engagement with the students fuels their passion for the automotive industry. Saline has combined these ingredients to achieve impressive certifications and award winning results making Saline a leader and natural fit for this donation." Donations have been made to universities, colleges, technical and trade schools with automotive programs. Saline High School made the list with other programs stretching as far as Massachusetts and New York.
Along with the vehicle, the VW ODIS software is provided to allow students to perform vehicle updates and run diagnostics. Pete Georgievski (Fixed Operations Manager, NE Region), hopes this donation will impact students far beyond graduation. "Our goal is to provide Saline Auto Students the opportunity to familiarize themselves with VW Technology and enabling them to have "hands-on" experience with our vehicles. This will better prepare them for Real World application once they graduate and hope that it would make them more comfortable seeking a Job within the VW Dealership Network. We are honored to provide the students this opportunity!" Dr. Rowe agreed, and mentioned the software as a tool for self-directed student learning. "The strength and success of a CTE program is a direct reflection of the level of support provided by business and industry. This was certainly evident with the state-of-the-art SWWC Automotive program and the generous donation by German Automotive Group and Volkswagen of Ann Arbor. The donation of a VW Atlas along with applicable software will provide pertinent learning opportunities, empowering students so that the SWWC Automotive program can continue to train and provide future employees for this and other proud dealerships".
Superintendent Graden looks forward to the opportunity created for student learning. "The support of the local Ann Arbor VW dealership, in partnership with VW of America is a huge boost to our program. The opportunity for our students to work on new, high-tech vehicles is the key to their real world experience. We are very fortunate to have the support of our local business community."