March 15, 2021
SAS K-12 State Testing Information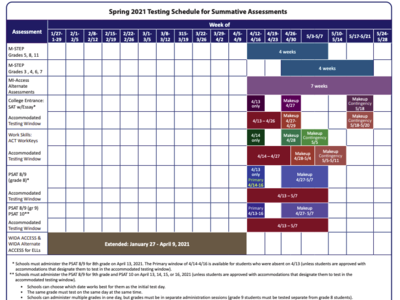 The February 24, 2021 Michigan Department of Education Press Release indicates that Saline Area Schools are required to participate in state testing for Spring 2021. As a result, the district continues preparing for state testing administration.
Currently, the state testing windows, specific to grade level and assessment, are as follows: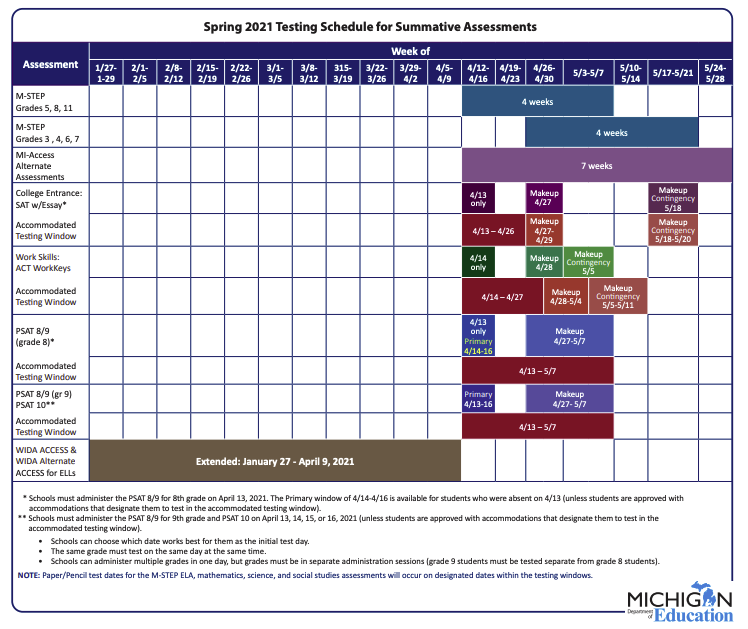 Source: MDE Summative Testing Schedule
All state testing will take place in school buildings. There is not a remote testing option for students. If families of virtual students would like their student to participate in state testing, they will need to arrange for their student to attend the building during testing sessions. Please look for building-specific testing information from your student's administrator over the next few weeks.
The district continues to monitor updates from the Michigan Department of Education regarding flexibility with state testing and will plan accordingly.
Tests are important because they help the teacher evaluate a student's needs and progress, the student to gauge their level of mastery, and the parent monitor their student's progress. Families can assist their student in preparation for testing by doing the following:
If your student has a school-issued device that will be used for state testing, please make sure it is charged the night before testing.
Make sure your student gets a good night's sleep before the test and make sure your student eats properly the day of the test.
Maintain a pleasant home environment and avoid unnecessary conflicts. Try to make the morning of the test a pleasant one. Do not add to your student's stress.
Ensure that your student is present during testing. Students generally perform better when taking tests in their groups rather than at a make-up time.
Get your student to school on time the day of the test.
Set high expectations. Students who believe that they will do well on tests tend to do so. At the same time, do not take this to a point that extreme stress is placed on your student as they enter test day.
Wish your student good luck the morning of the test.
Encourage your student to do their best.
Remind your student to listen carefully to the instructions from the teacher and to read the directions and each question carefully.
Explain to your student the importance of using time wisely. If your student gets stuck on a question, encourage them to make the best guess and move on.