April 22, 2021
Student Summer Employment Opportunities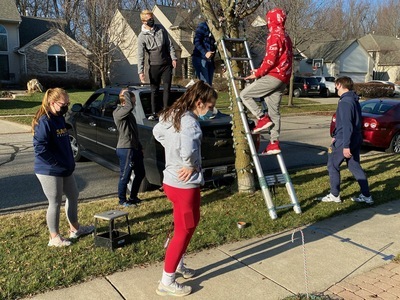 From the Saline High School Counseling Department: In the counseling office, we are often notified if employers are looking for employees. The following companies have recently reached out to us. If you are interested, please feel free to pursue.
Angel Food Catering
Angel Food Catering is looking for talented people to join our kitchen staff. Cooking experience is a must.
Kitchen Prep Cook/Event Griller
Will work alongside our Chef or Sous Chef to perform daily kitchen activities, ensuring food quality and freshness, monitoring supplies, and kitchen cleanliness.
Will provide meal quality and consistency by following designated recipes.
In this position, the individual will go out on events that need on-site grilling. On occasion, may be required to go on events to help with on-site plate-ups or family-style events.
Must be able to stand for the whole shift and lift 50 lbs.
Related keywords: cook, prep cook, restaurant, food service, line cook
Job Type: Part-time/Full-Time
Pay: $15.00 per hour
Catering Servers
Looking for individuals to join our catering team.
Must be available Fridays, Saturdays & Sundays.
Fun, but fast-paced atmosphere. Starting at $15/hour.
Job Type: Part-time
Resumes may be sent to me via e-mail: info@angelfoodinc.com
Faurecia
Potential
employment opportunities for students/graduates at least 18 years of age for either summer or full time employment once classes are completed this year. Please click here for more information.
Smokehouse 52:
Looking for energetic teens that would like to work during the summer but it could also be longer than summer if they choose. Looking for Host as well as various other positions. Apply in person or online at sh52bbq.com. If you apply in person, you will interview on the spot and will have a sign on bonus as well. Weekend availability is definitely preferred for the position but they are open to talking with anyone who is interested. Contact: Michele Norton, General Manager (shellyrn2012@aol.com)
MMI Engineered Solutions:
Students that may be interested in summer work with the potential of earning a $1000 Tuition Assistance Bonus at the end of their summer employment.
Looking primarily for students over 18; however, they are able to employ minors over the age of 16. The opportunity could be either summer work or continued employment. Located in Saline, Michigan (1715 Woodland Dr. Saline, Michigan 48176). They are a custom injection molding company.
To qualify for the Tuition Assistance Bonus students must be in good standing with a minimum of a 12-week commitment.
Link to active entry-level job posting: https://mmies.applicantpool.com/jobs/558775.html
Sensors
Looking for an intern with SOLIDWORKS experience.
Contact: Sally Lovell |Sensors, Inc. | Manager, Human Resources | +1.734.295.9690 (o)| +1.734.474.5162 (c)| www.sensors-inc.com
Window Covering Installer – Shades, Blinds, Shutters, Draperies
IF YOU HAVE SOME EXPERIENCE WORKING WITH SMALL HAND TOOLS AND WANT TO LEARN THE WINDOW COVERING INSTALLATION TRADE, CONTACT US. Must be 18 years or older.
Creative Windows is the leading provider of window coverings (including roller shades, blinds, shutters, draperies, etc.) in Michigan, Northern Ohio, and Indiana. We are searching for the RIGHT person to join us as Installers and support our Commercial and Residential operations. The Installer role will be responsible for personally participating in job site work planning and performing installation duties at the highest level of quality and efficiency.
The candidate will be required to frequently interface with and accurately communicate with senior management, the company's project managers, sales personnel, accounting, and administrative staff; regarding job site conditions to ensure the company maximizes project profitability.
What we are looking for: Available to work Monday-Friday 6:30 AM to 3:30 PM. Knowledge of measuring spaces and fixtures for fit. Responsible for caring out high-quality standards. Excellent communication skills. Team player. Willing to travel. Efficient at Office Excel. Must wear mask in office and on-site (required),
Additional requirements: Valid driver's license, insurance, and reliable personal transportation. Willing to travel. Clean drug test. No felony convictions. Authorized to work in the USA
What we offer: Competitive compensation. Company benefits. Matching 401K
NOTE: Interested candidates should email resume to installation@creativewindows.com; or fax resume to Creative Windows at 734-769-5014, attn.: Michelle Webster