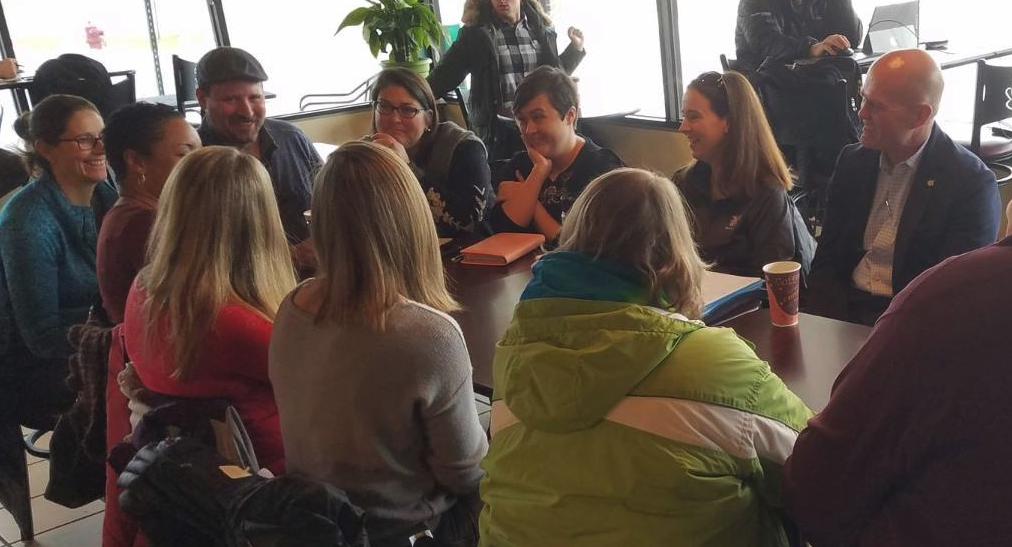 March 18th, 2019
March 18, 2019
SAS Diversity, Equity and Inclusion Committee
Meeting #1 - March 18, 2019
Welcome & Introductions
All members of the Committee introduced themselves and shared a little background about themselves.
Here is a list of the members of the SAS Diversity, Equity and Inclusion Committee:
Shimul Bhuva
Afifa Corrigan
DonDay
Andre Harding
Lauren Hornberger
Keith Koebel
Jessica Lefort
Smita Nagpal
Danielle Nicholls-Slovinski
Krissy Parra
Nicole Rogan
Vivek Sankaran
Elizabeth Soto
Kelly Ann Tressler
Channon Washington
Ira Weintraub
Melissa Zaksek
Board of Education Participants
Paul Hynek
Susan Estep
Michael McVey

SAS Administration
Scot Graden
Steve Laatsch
Board of Education Remarks (Paul Hynek)
SAS Board of Education (BOE) President, Paul Hynek, provided a few opening remarks about the BOE Trustees and their role on this Committee. It is primarily to listen and hear what members of this Committee are recommending moving forward as a result of this work.
Opening Activity
Kelly Tressler - Saline High School Teacher and UPROAR! Advisor (Saline's Diversity Group) led us in a "Cultural Bingo" activity.
This was an attempt to learn a little bit more about various cultures and the diversity that is demonstrated throughout our world.
Establish Group Norms
It is important for us to have an understanding of how we need to work together as a team
We looked at 6 areas that we established as important to develop norms for. These included:
Listening
Participation
Expectations
Confidentiality
Decision Making
Time
Committee Charge
The Committee discussed the "charge" that we will be working on. This includes:
Address culturally inclusive curriculum and a safe and supportive environment for our students and staff.
Seek a clearer definition of Diversity, Equity and Inclusion and how this work connects to the Saline Area Schools.
Future Meeting Schedule
April 3, 2019 has been established as the date of the next meeting
We have sent out a poll to Committee members to establish the best meeting "days of the week". From that, we plan to set the meeting schedule for the rest of this school year and the 2019/20 school year.
May 8th, 2019
Welcome & Introductions
Superintendent Graden introduced Amy Tesolin who has vast experience leading and facilitating discussions with various groups.
Ms. Tesolin introduced herself and explained her background. We spent some time discussing the importance of facilitation and consensus building.
You don't have to 100% agree with a decision, but you need to be able to live by it.
It's important to address conflict and discuss it.
We have to be open to the idea of building consensus
A facilitator's role in consensus building would not be to chair the meeting, it would be to facilitate the process so everyone has a voice and is involved in the process
A facilitator helps manage the power dynamics in a group
Developing Working Definitions - Diversity, Inclusion, Equity
Worked on crafting the Charge and the Mission Statement for the Committee
Defining the Charge of the DEI Committee
Through continuing education, develop a clear definition of Diversity, Equity and Inclusion as it relates to the Saline Area School community; and
Advocate for a culturally inclusive curriculum and a safe and supportive environment for SAS students and staff
The Mission Statement for the DEI Committee
In alignment with the SAS Mission and Vision, we commit to fostering an educational community where every member feels welcomed, heard, valued and respected. Using best practices in education, collaboration, and sound reasoning, we encourage personal growth within all individuals in our community and an educational environment that is diverse, equitable, and inclusive (DEI).
By Diversity, we mean…embracing, honoring and celebrating the wide array of differences within us including, but not limited to: race, age, sex, body type, gender expression, gender identity, color, socioeconomic class, ethnicity, language, culture, sexual orientation, nation of origin/citizenship, religion/spirituality, and dis (ability) - still working to determine how this term should be listed
By Equity, we mean…ensuring fairness within our educational community and addressing the inequalities that may exist with our historically marginalized communities. Each and EVERY member in our educational community will have the opportunity, resources, and support to thrive and grow.
By Inclusion, we mean encouraging, promoting, and sustaining a true sense of belonging and empowerment for each and every member of our educational community, especially those who are historically marginalized.
-----------------------------------------------------------------------------------------------------------------------
Communication
Discussed creating an even more visible format for posting information about our DEI work so the community has greater access to it.
Discussed the format of the May 21st Community Conversation and seeking some members of the DEI Committee to participate in sharing this information

-----------------------------------------------------------------------------------------------------------------------
Future Meeting Schedule
Community Conversation: May 21st
Tuesday, June 4th (Possible Change)
Examine Policy, Practice, Discipline related to racial/social identity,
Wednesday, August 14th
Tuesday, September 17th
Wednesday, October 16th
Tuesday, November 19th
Wednesday, December 4th
-----------------------------------------------------------------------------------------------------------------------
Misc. Updates
Needs Assessment
Focus Group Report
Raising Ryland Video
Leading Together/Following the Lead of Teachers of Color.
June 3rd, 2019
Meeting #5: June 3, 2019
Amy Tesolin joins us and will now act in the capacity of DEI Committee Facilitator
Welcome & Ice-breaker- activity (Amy T) (5 min.)
Potential question: If you could travel anywhere in the world, where would you go?
Participants shared a place that they want to go - anywhere in the world
Update from DEI Community Meeting (Scot Graden) (10 min.)
We shared these definitions at the Community Conversation.
Community Conversation Specifics:
We shared a presentation surrounding the work that this Committee aims to do
Majority of the conversation (questions and answer period) centered around LGBTQ+
In large part, it was productive in terms of being able to answer questions that the audience posed
Review of Mission Statement/Tasks Charged and Norms from previous meetings- information (Amy T) (5 min.)
Mission Statement and definitions are listed on the back of the agenda
Reviewed the group norms that we created at the first meeting
Review consensus and ideas for facilitation (hand signals; shared listening & 1-2-4-all) information and decision about process for this meeting (Amy T) (5-10 min.)
Are we OK with the agenda? Eventually, as a group, we will be deciding the agenda.
Discussed how we can use hand signals to provide feedback to the entire group
A few techniques that we are going to try tonight…..shared listening and 1-2-4-all
Social Justice Handbook Statement (draft)- activity & discussion (Amy T.) (30 min.)
It was pointed out that the existence and the importance of the student handbooks needs to be better communicated out to the Community. Not everyone knows they exist.
Take a minute and read through the Social Justice (DRAFT) statement below
We are trying to look at the general content of this DRAFT statement.
Find someone who you don't know very well and we are going to do the paired listening and sharing activity
Social Justice (DRAFT)
Saline Area Schools supports students who are ethical and responsible citizens. Students demonstrate this attribute when they see beyond themselves to the needs of others, contribute to their community, promote social justice, take responsibility for the environment, and demonstrate respect, empathy and compassion.
SAS is a diverse and inclusive District that strives to provide a variety of perspectives for students to consider. All students in SAS should be able to see themselves in the curriculum we offer. Further, all students should be able to reflect and consider alternative viewpoints that exist within our society. We trust in our teaching staff to provide texts from different backgrounds and topics.
If a student (or family) is sensitive to any particular topic that might arise throughout the school year, they are encouraged to discuss this matter with the teacher so an alternative activity can be provided.
Feedback about this DRAFT statement from the DEI Committee:
In general, the statement could be more direct...shift away from words like "sensitive to any particular topic"...... trust, should, might…..be more clear
An alternate activity "will be provided" …..stay away from "can be provided"
Should we use the word "curriculum" instead of "topic"
Support students who are "becoming" ethical and responsible citizens
Consider "embraces diversity" instead of SAS is a diverse and……….work on the grammatical angle
The District promotes/expects/demands texts from different backgrounds and topics….instead of "We trust in our teaching staff
If using "We trust in our teachers……" you should add "with the support of the building administration"
Consider the appropriate placement of where this goes in the handbook. Should this go at the beginning? Currently there are set-up to get in alpha order
More clearly delineate expectations of the student, staff, teachers, students and this is the role of the family
Much of what we are talking about here has nothing to do with social justice……………..this feels like a statement that just supports being a good person. This statement may or may not lead to any social justice.
Consider changing the title..should we title it "Ethical and Responsible Citizens"???? Or "Equity"
The last statement that talks about the alternate activity…...should this be a separate statement?
We need to consider that the last sentence is misplaced….If it were a separate section, it could be called "Parental rights"
SAS Admin will take this feedback and re-design the statement to determine how it will be best placed in the student handbooks for the 2019/20 school year.
Group Agreement/meeting protocol-post-it notes & group consensus- "What would make this group work well for you?"- including previous norms & feedback question responses
Proposed Group Agreement
Ensure that everyone is able to contribute
Respect each other
Actively participate with an open mind/heart
Confidentiality - Sharing about the "summary" notes on the District website.
Work for consensus on decisions
Be conscious of time - help stick to it, or negotiate for more
Breaks - we will provide a short break, but if you need another break at some point…..take it.
August 28th, 2019
Diversity, Equity & Inclusion Committee
If you want to go fast, go alone. If you want to go far, go together.
Wednesday, August 28th
6:30pm-8:30pm
1) Welcome & Intro- activity (Amy T) (15-20 min.) (INFORMATION/DISCUSSION)
Difference between not racist and anti-racist---whether it is pejorative or not and whether intent is important or not
Extrapolate to: not homophobic/anti-homophobic--not Islamophobic/anti-Islamophobic--- not sexist/anti-sexist--- not ableist/anti-ableist--- many more to list
https://www.npr.org/2019/08/13/750799889/ibram-x-kendi-racism-isnt-an-identity-its-what-youre-doing-in-the-moment (6 min. Listen… with hard copy available)
How does this tie-in to our work on the DEI committee?
1 min. reflection
Shared/Paired listening (4 min.)
2) Review minutes of last meeting- approval needed by DEI committee (Amy T) (5-10 min. ) (DECISION)
Review previous minutes https://docs.google.com/document/d/1pmqi5amOd_PdjuKZ78xru3ZMKuxguTvr2-qy33ivWgs/edit
Action- all to approve (consensus, group agreement, handbook, strategic direction… )
3) Structure of Meetings- approval needed by DEI committee (Amy T) (15 min.) (DECISION)
Internal/Individual work versus External/Committee work
Spectrum line "I need to work on myself before doing any work for the committee."
Group consensus on loose structure (IE. combination of individual(self)/committee work)
BREAK (5 min.)
4) Contextualizing DEI committee (Channon W.) (5-10 min.) (INFORMATION)
Channon contextualizes DEI committee from catalyst incident.
5) Proposed Strategic Framework for the DEI committee - (Kelly T. to present EJATT) (Amy T to guide decision) (50 min.) (DECISION)
E.J.A.T.T. Handbook
Group discussion and feedback on proposed framework- decision needed by consensus (small groups-- 20-30 min.) based on plus/minus/interesting
Based on feedback, small groups may be assigned to learn about one of the 5 focus points of this Education Justice Assessment and Transformation Tool: Teaching & Learning, Relationships & Climate, Behavior & Discipline, Policies & Procedures, and Images & Celebrations and present to group at large
Small Group discussion- 15 min.
Presentation of each focus point 15 min. (5 min/focus point)
6) Feedback & Questions (Amy T.) (10 min.)
what worked/what didn't/what about?
Next meeting and agenda
Misc. Updates
Future Meetings
Tuesday, September 17th
Wednesday, October 16th
Tuesday, November 19th
Wednesday, December 4th
September 17th, 2019
1. Intro Activity: Systemic Oppression
-Does systemic oppression also negatively affect people who have unearned privileges?
We discussed that there are unearned privileges that some of us have that we may not be aware of……
- Sexism, Racism, Ableism, Homophobia are four areas where systemic oppression occurs
- A discussion around systemic oppression in these four areas was explored
- looked at commonalities in the systems of oppression
- everyone can benefit from tearing apart these systems of oppression
2. Meeting notes approved from last meeting
3. Timeline
Channon Washington reviewed a timeline around a racial incident that resulted in the formation of the DEI Committee.
Scot Graden reviewed a timeline that shows the various events and progress that has taken place since the incident (referred to by Channon) took place.
4. EJATT (Education Justice Assessment and Transformation Tool)
Kelly Tressler led an exploration of the EJATT using the incident (as presented by Channon Washington) as as a tool to compare the various points of the incident with the 6 sections of the EJATT
DEI Committee broke into 3 groups and shared insights based on the incident and the EJATT section that they were assigned.
The sections of the EJATT included:
Knowledge Biases & Beliefs
Behavior & Discipline
Relationships & Climate
Teaching & Learning
Images & Celebrations
Policies & Procedures
October 16th, 2019
MEETING NOTES:
Intro Activity: Spent the first 15 minutes talking about the origin of the "N" word. Channon provided us a resource article which we read and discussed.
Minutes: Reviewed and approved the minutes from the last meeting
District Progress Report: provided a brief overview of the types of things that the District has done or is currently done to support DEI efforts.
District Policies and Procedures: Briefly reviewed the Board of Education policy, Saline MS policy and Saline HS policy on bullying and harassment. Determination was made that these policies are very general. Although, they do mention that it isn't OK to bully students for any reason, there is not a specific policy that talks about discriminatory statements and the discipline that should be associated with this.
EJATT:
Broke into 3 smaller groups that were tasked at analyzing the following sections of the EJATT:
Behavior & Discipline, Policies & Procedures, and Teaching & Learning
Groups started to work on analyzing the parts of the EJATT in the context of an incident in one of our schools where a student was called the "N" word.
Groups shared out highlights of their discussion regarding the the EJATT section they were assigned.
Exit Ticket: Each person completed an exit ticket regarding these questions:
What do you expect from the committee before the end of the year?
What are your thoughts about using the EJATT as a framework for recommendations to the board?
Is there anything else you would like us to know in terms of your interests or thoughts as they relate to the committee?