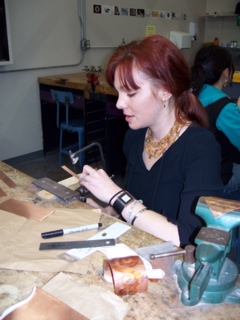 PATTI MARTINO - CHESTERFIELD, MI
PATTI MARTINO is an artist trying to make a living doing what she loves in Michigan. She would not be happy with a "normal" job. "There are ups and downs to what I do, but that just makes it more exciting and the good times that much better!!!!" she relates.
Although she always fancied herself a painter or sculptor (that's what I went to school for), she dabbled in jewelry making for many years. She remembers having such fun making bracelets, necklaces, and beaded hairpieces when she was a child. Having drawn pictures of elaborate clothing and jewelry designs, she would then actually make them. She just LOVED creating! She started making jewelry as a hobby over 10 years ago and began showing and selling her work to family and friends. Her reputation grew fast by word of mouth. "The quality and care taken in my pieces and my unique designs kept people coming back," Patti relates.
She dove right in doing craft shows and art fairs. She started out just doing the small ones and progressively has worked up to participating in the best art shows in Michigan where she really enjoys having the one-on- one contact with her customers. "Many new designs are inspired by my customers' ideas. I do a lot of custom designing," Patti states. "Most importantly, I love to see how happy and beautiful people feel when they try on my jewelry. That is by far the most rewarding aspect of what I do," she continues. Visit Patrician Art at her booth at the Saline shows.