Welcome to Saline High School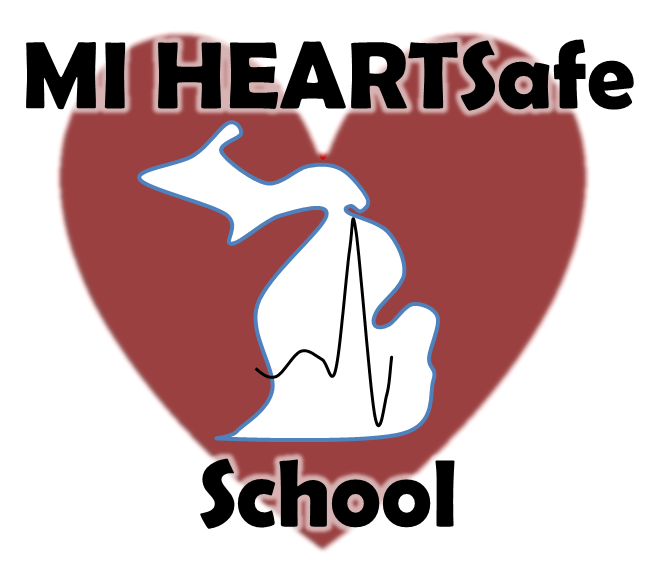 Saline High School has been named one of the best high schools in the state of Michigan and in the top 500 nationally, according to the most recent edition of U.S. News and World Report's annual rankings. The magazine ranks schools based on state testing proficiencies, student-to-teacher ratios, academic achievement by minority students, and performance on AP exams among other variables.

June 19, 2017
SHS Summer Hours
Our summer hours are:
8:00 am to 11:30 am AND
1:00 pm to 3:00 pm
Please call ahead if you have any questions.  (734) 401-4200.
Have a great summer!!  
WE WILL BE CLOSED THE WEEK OF JULY 3 - JULY 7, 2017  as well.  Enjoy the holiday week!
June 16, 2017
Attention Class of 2018
ATTENTION CLASS OF 2018 AND PARENTS:  
Many of you will be going to a professional photographer for senior pictures, but because most seniors just get outdoor pictures taken, it is not necessary for you to go to a professional photographer for the yearbook picture. Your senior picture for the 2018 yearbook will be taken by SchoolPictures when you get your student ID picture taken in the fall. We will ONLY be using the photos taken by SchoolPictures for the yearbook. There will be no charge to take the picture, but picture packages will be available for purchase.
The senior section in the yearbook is more formal and will have a different background than the underclassman section, so please dress appropriately for the picture. No t-shirts, sweatshirts, or hats. A jacket and/or tie looks great, but collared shirts are fine too. A nice blouse would also be appropriate. It does not matter what you are wearing on the bottom because this photo will be head and shoulders only.
Photographers will be in the ORCHESTRA ROOM, and seniors can have their picture taken for the yearbook and student ID during any of the following dates/times:
August 21 from 8 to 3 pm
August 22 from 8 to 3 pm
August 24 from 8 to 3 pm
August 30 from 8 to 3 pm
If you have any questions, please email Yearbook Adviser, Mrs. Chris Trainor, at trainorc@salineschools.org. 
June 2, 2017
Class of 2017 Commencement Video
Spotlights
A Reminder to Students and Parents: SHS is a closed campus.
Attention all SHS students: You must sign out with Mrs. James at the front Sign-Out desk on the first floor when you leave during the school day--no matter the reason. And all students must sign back in--regardless of why you were gone. Otherwise, you will be truant and a disciplinary referral will be written. Attention SHS Parents: Students may not come or go during the day without parent/guardian permission. Please send a note with your student allowing them to do so which they should give to the Attendance Clerk, Mrs. James.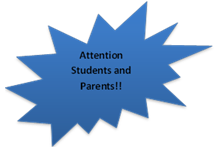 ATTENTION:
STUDENTS SIGN IN AND OUT EVERY TIME: All students must physically sign in and out at the Front Office Desk on the first floor with Mrs. James during school hours regardless of where and when they are going. Otherwise they will be marked truant. PARENTS NEED TO REPORT ABSENCES AND TARDIES: Please call the Attendance Line (734) 401-4387, to report your student's absence or tardy. Always send in a note to allow your student to sign out early which Mrs. James can authorize—then we do not have to interrupt the teachers.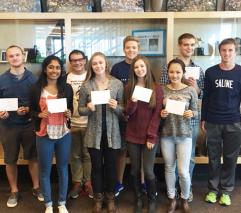 Commended Scholars of the National Merit program 2017
Congratulations to the following students for being recognized as Commended Students in the National Merit Program 2017! In alphabetical order: Charles Bellinger, Aidan Carichner, Emma Dester, Manasa Dittakavi, Jackson Gregory, William Kiningham, Victoria Monge, Theodore Nowicki (not pictured), Brenda Owens, Bao Phan, Kayleigh Riggs (not pictured).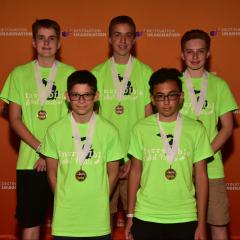 Congratulations to the Saline DI Team!!
"The Zurfendurphs," the all-freshmen Saline High School team, placed 1st in the Instant Challenge Category for the Secondary Level Scientific Challenge. This is the first year for many of their team members to be on a DI team, so this team had an amazing performance at Global Finals. They were the only Saline DI team that received an award on the Globals stage." - The Saline Post Pictured: Zach Rein, Kyle Schnitzer, Cameron White, Ryan Schwartz, Connor Wright. Their Team Manager is Jennifer Schwartz.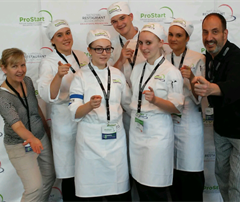 Culinary competes at Nationals!
The SWWC Culinary program just received the results from the National Restaurant Association ProStart competition that took place on April 29th in Charleston, South Carolina. There were 48 teams representing the different States in the U.S. Saline took 8th place at the National Competition. CONGRATULATIONS!! Please congratulate the following students (as pictured): ​Technician Polly Brown, Madison Robison,Emma Keeler, Austin Hannah, Kiersten Garrett, Laura Wilson and Chef Instructor Sam Musto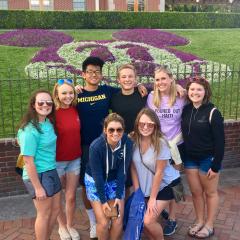 DECA International Career Development Conference
During the week of April 24, 2017, eight Saline High School DECA members, along with their advisor Kara Stemmer, traveled to Anaheim, California to attend/compete at the International Career Development Conference. The following students qualified at two previous competitions, District and States, which were held earlier in the year. At these competitions, they earned top scores and advanced to the International conference in California where there were over 19,000 students in attendance. The team of Megan Foley and Annie Nelson competed in the Entrepreneurship Promotion Project, Aidan Nam and Stephanie Schick competed in the Travel and Tourism Team Decision making event and lastly, Laila Houser, Sophie Rash and Delaney Silhanek participated in the School Based Enterprise Retail event. Junior Edward Settle recently campaigned for a Michigan DECA State Officer position and won! He attended the International conference to begin his training and networking in preparation for the 2017-2018 school year, where he'll be traveling around the country representing Michigan DECA. As mentioned earlier, Houser, Rash and Silhanek represented The EDGE, Saline High School's School-Based Enterprise, as it was among 360 school stores in the United States achieving Gold Level Certification (or Gold Level Re-certification) this year and was recognized at DECA's International Career Development Conference. A school-based enterprise (SBE) is an entrepreneurial operation in a school setting that provides goods and services to meet the needs of the market. Marketing educators and DECA advisors have utilized this effective educational tool for over four decades to provide their students with realistic and practical learning experiences that reinforce classroom instruction, enhance 21st century skill development, and prepare students for college and careers. DECA is the extracurricular business club offered through the SWWC Marketing department at Saline High School. It's a nationally recognized business club with over 200,000 high school members in over 5,000 schools across all 50 states and nine countries. Visit www.deca.org for more information.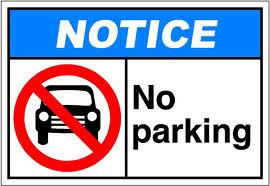 Front Parking Lot and Entrance
The front parking lot area is only for Visitors, Special Needs students and "during school hours only" dropoffs & pickups. Please DO NOT drop off students in the front before and after school. Thank you!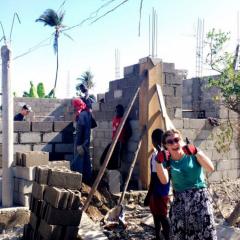 Haiti Team 9
Chris Trainor, Ari Frink and Jen Denzin had the honor of taking 19 students to Haiti from December 3-10, 2016. Unlike past trips installing water filters, this trip focused on Hurricane Matthew disaster relief. We divided our time between three tasks, building a community bakery, rebuilding the compound walls for the Top Notch Translator Academy, and transporting cinder blocks up the mountainside to rebuild the home of a mason. He, in turn, is tasked with helping 2 other masons rebuild, and so on... The funds for these projects were raised by PowderPuff attendance, the Mr. Pretty Legs contest, and the SAS Denim Day donation. We ended each day teaching English in the academy and working with younger kids who are not enrolled in school (roughly 50% of Haiti's children do not attend school). SHS students making the trip included: Hannah Bird, Marissa Brandly, Lyndsie Clossick, Nicole Deford, Marley Duerst, Megan Ender, Erin Evans, Justin Flanagan, Mitchell Gasche, Noah Helber, Laila Houser, Taylor Konwinski, Francesca Panzica, Tyler Plocki, Olivia Walker, Ethan Walsh, Maggie Werner, Bryce Wolma, and Tyler Zmich.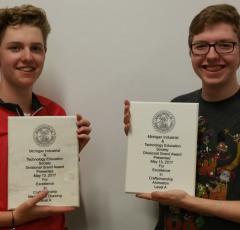 SWWC CAD Best Showing at MITES Competition!!
For the last 89 years, the Michigan Industrial Technology Education Society has been hosting a project based competition. Around 30 or 40 years ago the regional competition was held here in Saline. This is our fourth year competing, and this year's SWWC CAD class had the strongest showing yet. There are around 25 different categories that we enter projects into, including things like photo-realistic renderings of CAD drawings, blueprints, hand drawings, and model houses. The class had all 91 projects that were entered make it through regionals and qualify for states, and an amazing 36 of them placed top 3 in the state and earned a plaque. We had 12 individual state champions, 12 runners-up, and 12 third place finishes. In addition we had two Divisional Grand Award winners, which means their project were deemed the best in the entire division regardless of category. Tobias Schmidt won the Mechanical Drafting division and Alex Hartman won the Animation division. This is the first time that a Saline student has won a Divisional Grand Award, and we had two! I am very proud of my entire class and how they contributed to this years success, but I have to single out Alex Hartman. He turned in 5 projects and won 3 state titles, one runner up, and one third place. Congrats to all those who competed!!
Mission Statement
The staff of Saline High School will support all students in the development of their talents consistent with their interests and aspirations.
We will provide a comprehensive educational program that will instill knowledge and skills necessary in preparing our students to become productive citizens in a constantly changing global community.
Equal Opportunity Info
Applicants for admission and employment, students, parents, employees, sources of referral of applicant and admission and employment, and all unions or professional organizations holding collective bargaining or professional agreements with the Saline Area Schools are notified that the Saline Area Schools does not discriminate on the basis of race, color, national origin, sex, age, religion, or disability in admission or access to, or treatment or employment in any of its programs, activities, or policies. Any person having inquiries concerning the Saline Area Schools' compliance with the regulations implementing Title VI, Title IS, the ADA, or Section 504 is directed to contact: Saline Area Schools, Director of Human Resources, 7265 Saline Ann Arbor Road, Saline, MI 48176-1168