Programs
Career and Technical Education (CTE) programs give high school students the chance to get a head start on preparing for college and careers. As a CTE student, you have the opportunity to participate in hands-on training in your chosen program and gain real world experience. Students have the opportunity to recieve college credit for South & West Consortium classes. For more information please see Articulation under the Information & Applications Tab or Individual Program.
HIGHLIGHTS OF SWWC PROGRAMS
College Credit Possible through Articulation
Hands on Project-Based Learning
State of the Art Equipment
Excellent Preparation for College
Academic Support Available
Classroom Support (Technicians & Paraprofessionals)
Safety Training in All Programs
Extracurricular Activities
Extracurricular Activities Available:
WCC Invitational Competition
*To see more specifics about Student Organizations/Competitions, please visit the Information Tab or the Individual Program.
BUSINESS PROFESSIONALS OF AMERICA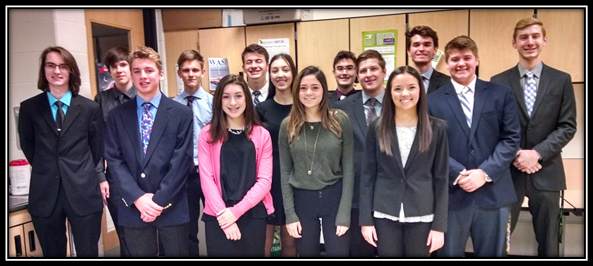 The Saline Chapter of Business Professionals of America competed at the regional competition Friday, January 5th, at Henry Ford Community College. All chapter participants did a wonderful job representing Saline High School and several members will compete at the state competition in March held at the Amway Grand Hotel in Grand Rapids, Michigan.
Jordan Beadaum: 2nd Fundamentals of Spreadsheets
Lucy Buie: 1st place Advanced Accounting and 2nd place Financial Math and Analysis
Emily Cohen: 3rd place Payroll Accounting
Aiden Delfucco: 3rd place Advanced Spreadsheet Application
Anders Jacobsen: 3rd place PC Troubleshooting and 4th place Computer Security
Michael Misiak: 3rd Business Law and Ethics
Evan Rousch: 6th Fundamentals of Spreadsheets
Logan Swinney: 4th Computer Networking
Ian Winslow: 1st Payroll Accounting and 5th Fundamental Accounting