Culinary Arts
This course is designed to introduce students to the hospitality industry, which includes Culinary Arts, Food Service, Hotel/Motel & Travel/Tourism, with a major focus on Culinary Arts. Students will learn and apply principles of safety, sanitation, and food preparation.
They will operate "The Hive", our student operated restaurant, as well as do catering and special projects. In addition, they will learn and practice employability skills, goal setting, and problem solving. They will apply math and communication skills to work situations. Students will rotate through various kitchen stations including: broil cook, fry cook, pantry cook and prep cook.
Students may take this class as a junior, a senior, or both

Students have the opportunity to earn a nationally recognized certificate through the National Restaurant Association with ServeSafe and ProStart programs

Prerequisite: Grades 11-12

Articulation agreements exist so that students can earn up to 9 college credits at Ferris State University, Grand Rapids Community College, Henry Ford community College, Lake Michigan College, Michigan State University, Washtenaw Community College, West Shore Community College, The Art Institutes, Cornell University, the Culinary Institutes of America, Kendall College, New England Culinary Institutes, Johnson and Wales University, and other colleges and universities across the US

Regional Medal Winners
​These students competed at Oakland Community College on February 17, 2018, along with 12 other schools. Their medals enable them to progress to the state competition in April at Grand Rapids Community College.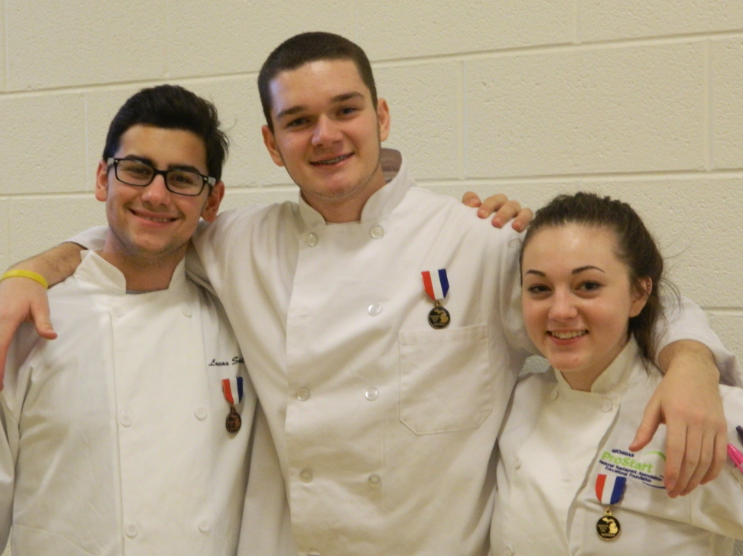 Lucas Schultz - 3rd Place - Bronze - Culinary Arts
Austin Hannah - 1st Place - Gold - Culinary Arts
Emma Keeler - 1st Place - Gold - Commercial Baking

SHS Local Competition Results
Twenty students from the SWWC Culinary Arts Program competed at the SHS Local Competition on February 1st to quality for Regional Competition on February 9th at Oakland Community College. Chef judges included; Chris Huey and Paul Geragosian from Brecon Grille, William Collins from Travis Point Country Club, Cheryl Hanewich and Judy Radant from WCC, Chris Ayers and Walter MacNeil from Mac's Seafood, Ashleigh Goddard from Schoolcraft College, Steve Babiak from Benny's Bakery, and Damon Carrier from Miss Kim's. Competition included commercial baking and hot foods.

Commercial Baking:

1st Place - Emma Keeler from Milan H.S. - (pictured below)
2nd Place - Alexis Slovinskil from Lincoln H.S.
3rd Place - Olivia Salhaney from Milan H.S.
Hot Foods:

1st Place - Lucas Schultz
2nd Place - Austin Hannah
3rd Place - Celest Roof