MCCULLOUGH NATIONAL CHAMP WELDER 2015!

Paul McCullough swept Overall Welding High School Competitions in June 2015! 16,000 people were in Louisville, KY for the 51st annual National Leadership and Skills Conference (NLSC). More than 6000 students were competing for a national title in 100 different trades, technical and leadership fields.
Paul McCullough, represented the State of Michigan from the South & West Washtenaw Consortium in Saline, MI. He competed in the Overall Welding Competition against students from 48 other states at the high school level. All of which are state gold medalists, the best of the best.
The overall competition consists of 5 different blue prints and sets of welding procedures to be completed using 5 different processes. Oxy-­‐fuel cutting was one of the categories in which the students were given a plate of steel and a set of procedures. They were to make a series of cuts according the written specifications. The rest were gas metal arc welding, shielded metal arc welding, gas tungsten arc welding, and flux core arc welding. Each process had its own blue print, stack of metal and set of written specifications. The students had one hour per process to complete the project.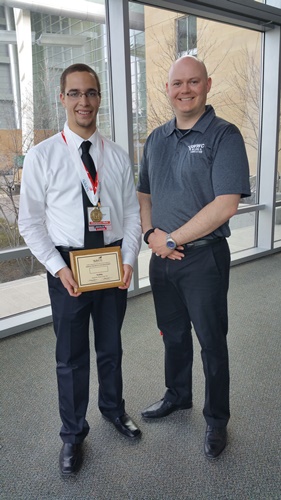 In addition, there were a series of written tests including welding knowledge, welding inspection, a leadership test and an impromptu interview.
Paul worked extremely hard to prepare for this event & he saw all his hard work come to fruition on a national stage.
Paul walked away with several scholarships & welding machinery to add to his growing collection.
This is Paul's 6th Overall win as a high school senior!
Paul sets his sights to international pre-­trials to earn a spot on the 2017 World Skills Team.
This will be no easy task but Paul believes in his training and is working daily to become a world-­‐class welder.
Maggie McCarren & Paul McCullough Finish with 1st Place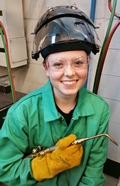 Paul received 1st place awards for Combined Welding Processes and Maggie received 1st place awards for OxyFuel Welding at the Ferris State University High School Welding Competition on May 8, 2015.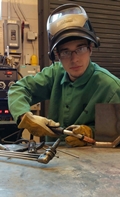 On May 15th, Paul won 1st place at the American Welding Society's 42nd Annual High School Welding Competition. Paul competed against 40 of the top high school welders in the state, as they worked hard to complete a pressure vessel, an aluminum project, and a cutting exercise. The pressure vessel was made of 3/8" steel and utilized 3 welding processes, including Flux Core Arc Welding, Shielded Metal Arc Welding, and Gas Metal Arc Welding. The top projects were then pressurized up to 1000 psi to check for leaks. Paul's project withstood the pressure test as well as all visual inspections earning him the trophy.
Paul also received a $2500 scholarship from the AWS Detroit Section, a Lincoln 140 GMAW welder, and several tools. This completed Paul's clean sweep of the Michigan Overall Welding Competitions!
Paul is preparing for the SkillsUSA National Welding Championships this June in Louisville, KY.
Kelsey Delivers Big!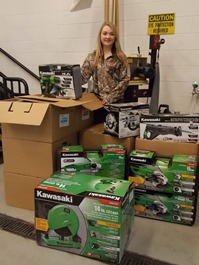 Kelsey Olberg, Zoology II student from Chelsea High, secured a very large donation of Kawasaki power tools from the Ann Arbor, Whitmore Lake, and Saline Tractor Supply stores! Originally thought to be divided between the Agriscience and Building Trades programs, by the mere number of tools available; our Agriscience, Auto, Advanced Manufacturing, Building Trades and Computer Aided Design programs benefited! So, Tractor Supply's generous donation has now benefited hundreds of students in the Washtenaw County area through the &SWWC! Special Thanks to Kelsey and Tractor Supply!
DECA State Competition Results - March 13-15, 2015
Approximately 4,000 students throughout Michigan competed at the DECA* State Career & Development Conference in Grand Rapids, Michigan.
Congratulations to Cameron York for the Top Competency Score, Travis Brown & Jake Bird for Business Law & Ethics, David Strobbe & Ryan Kurek International Qualifiers in Entrpreneurship, Carrigan Theisen & Noelle Caprarese International Qualifiers in Store Based Entrerprise.
All thirty-eight (38) DECA State Qualifiers are congratulated for giving their absolute best throughout the competition!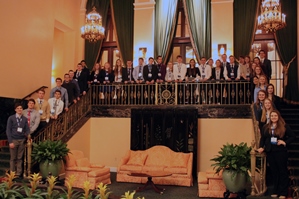 *DECA in a nationally recognized program that prepares emerging leaders and entrepreneurs in marketing, finance, hospitality and management. Through DECA, students are academically prepared, community oriented, professionally responsible and experienced leaders.
Matt Clark & Emerson Pfeiffer, sophmores earn 3rd Place Overall in the Courageous Persuaders Video Competition!
Their video was chosen out of over 500 videos submitted. The competition was to create a 30 second public service announcement about the dangers of underage drinking. Each were awarded a $500 as a prize and was presented to them at the Emagine Theater in Royal Oak, MI. Instructor Nate Bush was impressed with their work ethic and proud of their accomplishment!
Link to the video is here: https://vimeo.com/116353270
BPA
Saline students competed in the State Leadership Conference for Michigan Business Professionals of America. Although all students did an exceptional job at representing Saline, the following were recognized at the conference for their outstanding achievements:
Joe Bedford: 3rd Place - Financial Math & Analysis (open event), 5th Place - Banking & Finance
Brian Blankenship: 3rd Place - Financial Math & Analysis (open event), 4th Place - Financial Analysis Team, 5th Place - Fundamentals of Accounting
Josh Craig: 5th Place - Database Applications
Sarah Karkoura: 2nd Place - Advanced Accounting, 4th Place - Financial Analyst Team
Nikkas Marchinkevicius: 1st Place - Fundamentals of Accounting
John Miller: 4th Place - Fundamentals of Accounting, 4th Place - Financial Analysis Team
Spencer Miller: 2nd Place - Financial Math & Analysis (open event), 3rd Place - Advanced Accounting, 4th Place - Financial Analysis Team
Health Sciences Bring Home Gold...
Health Science students attended HOSA Region 3 Competitions & won big! The following students placed well and move onto State Competitions at Grand Traverse Resorts in April 2015:
Egi Karafili (Saline): Gold - Researched Persuasive Speaking, Silisha Sooknanan (Lincoln): Gold - Medical Terminology, Mindy Moore (Chelsea): Gold - Personal Care/Nurse Assistant Skills,Shardha Samaroo & Amanda Zylstra (Saline): Silver - Health Education Team 2, Corissa Roush(Saline): Bronze - Medical Math, Alexis Briggs & Caitlynn McClendon (Dexter): Health Education Team 1
These students placed in the top 10: Ashley McKenzie (Lincoln)-Nurse Assistant skills, and Sandra Root (Dexter) - Medical Terminology.
Automotive Technology Skills USA Regional Contest
Nine CTE students from SWWC competed in the Skills USA Regional Automotive Technology Competition. Twelve different schools participated. The SWWC Automotive Technology program dominated overall placing's with the following student winners:
Master Technician: 2nd Place - Christian Libby, 3rd Place - Kyle Jennings, 4th Place-Evan Molotky Automotive Brakes: 2nd Place-Austin Stark, 3rd Place-Angelos Bairactaris Automotive Electrical: 4th Place - Dane Hoffman New Car Pre: 4th Place - Alex Labovich
All of the above mentioned students earned industrial prizes from Snap-On Tools and Car Quest Auto Parts.
District FFA Leadership Contest
Saline FFA members won 3 of the District FFA Leadership Contests held at Dundee High School February 4th, 2015. Saline competed against 7 other high schools in the district. The following is a list of categories and winners in each of the following:
9th grade Prepared Public Speaking: Daisy Lupa - First Place & Gold, Syndey Gordon - 3rd Place & Silver , 9th Grade Creed Speaking: Chrissy Polzin - First Place & Gold, Abby Ackling - 2nd Place & Silver, Richard Poet - 3rd Place & Silver, Extemporaneous Public Speaking: Carl Tighe - 2nd Place & Gold, Matt Allgood - 9th Place & Silver, Job Interview: Erica Drake - First Place & Gold, Paige Downer- 6th Place & Silver, 10-12th Grade Prepared Public Speaking: Kristin Klager - 3rd Place & Gold, Avery Nowosielski - 6th Place & Silver