SWWC Welding Team
March 18, 2016 - WCC Invitational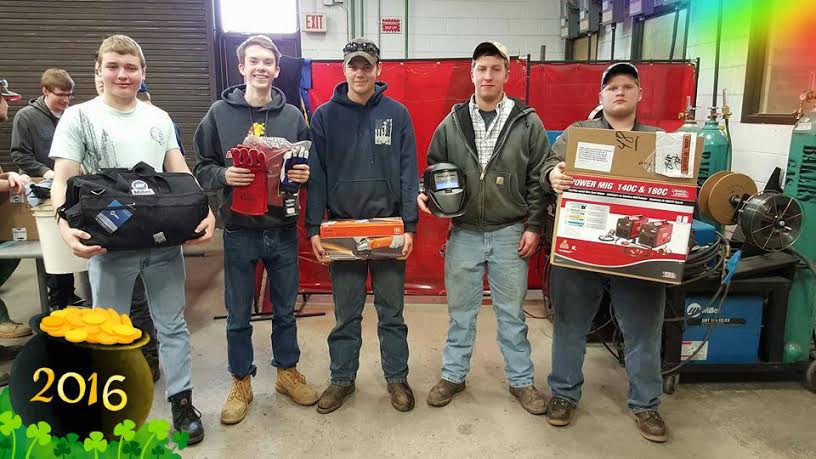 From Left to Right: Clay Conkle placed 2nd in Advanced OAW, Sean Duffy placed 2nd in Beginner OAW, Gus Rickelmann placed 2nd in Beginner SMAW, Ethan Lobbestael placed 1st Beginner SMAW and Ian Schwenke placed 1st in Overall Welding! Keep up the great work!
SkillsUsa Regional Welding Competition

Friday, February 19th, 2016
These students all earned the chance to compete at the SkillsUsa State Welding championships in April held in Grand Rapids.
Ian Schwenke - 1st Place (Overall), Matt Nyrkkanen - 2nd place (GTAW), Colin Hine - 3rd place (GTAW), Brad Bristle - 2nd place (GMAW), Gus Rickelmann - 2nd place (SMAW)
The Overall Welding Competition is the only one with opportunity to advance to the National and even International Level. Ian had to construct and weld multiple projects using blueprints supplied at the competition. He had to assemble and weld all projects using GTAW, SMAW, GMAW, & OFC. At the State Championships they will also introduce FCAW!
Skills USA Regional Automotive Technology Competition
Friday, February 5th, 2016
9 Career and Technical Education students from the SWWC competed at Washtenaw Community College where competition was designed to create real life diagnostic and repair situations.
The SWWC Automotive Technology program dominated the overall Master Technician Competition with Manchester H.S. Juniors Erik Molotky & Jeremy Rauch placing 2nd & 3rd respectfully.
Chelsea H.S. senior Matt Palumbo placed 2nd in Automotive Electrical Technician and Lincoln H.S. Junior David Cebula II placed 1st in Automotive New Car Prep.
All four of the competitions reflect the requirements of the ASE (Automotive Service Excellence) Technician Certification tasks and exams. The SWWC was one of twelve schools in attendance.
All the above mentioned students earned industrial prizes from Snap-On tools and Car Quest Auto Parts.
HOSA Future Healthcare Professionals
Region 3 Winners
Jan 23, 2016 at Jackson College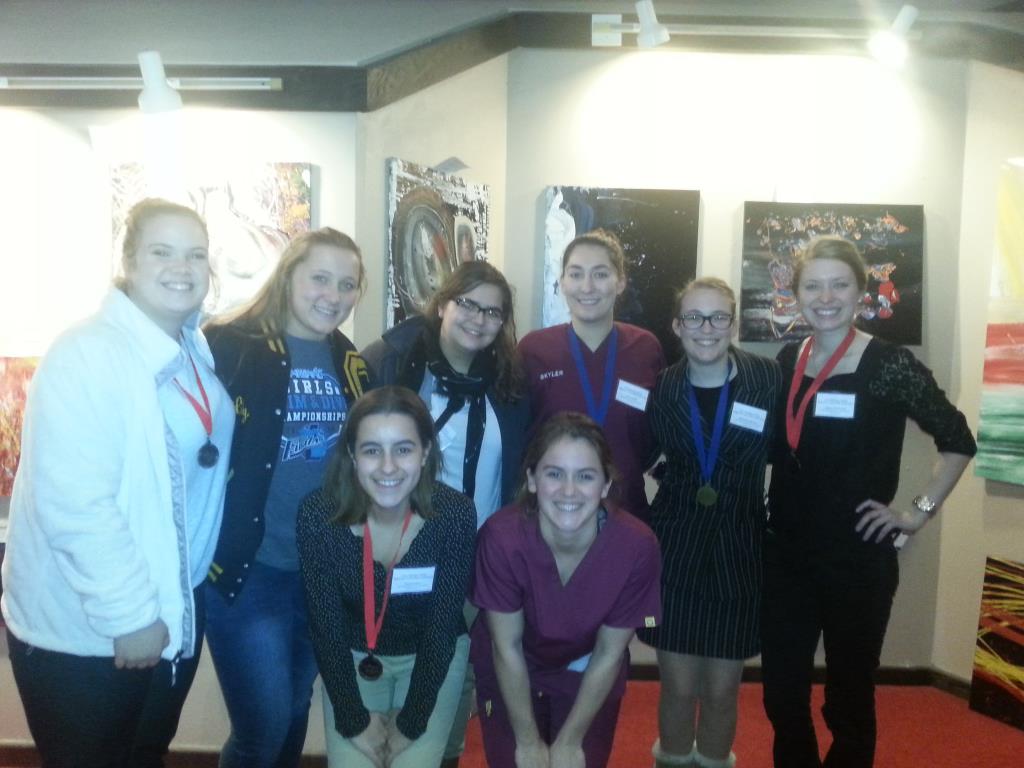 Mckenzie Sullivan (Saline) Extemporanious Writing: 1st place (Gold)
Skyler Smith (Dexter) Personal Care: 1st place (Gold)
Ally MacDonald & Kiersten Stehlik(Chelsea), Naomi Dobrei (Dexter) HOSA Bowl Team: 2nd place (Silver)
Meagan O'Hara (Chelsea) & Sydni Warner (Lincoln): Top 10 Medical Terminology
Kim Waters (Lincoln): Top 10 Nursing Assistant
DECA students qualify for the State Career Development Conference 2016

Saline DECA members walked into Eastern Michigan University January 7, 2016 with only one thing on their minds, dominance. EMU was this years host for the DECA District Career Development Conference, an annual competition where high schoolers compete in business-oriented events to display their vast knowledge of marketing, finance, hospitality, and management.
While Saline did not enter the competition with the largest crowd, only 51 members, they did make themselves known during the award ceremony. Twenty-one students qualified for the State Career Development Conference, to be held in Detroit on March 11-13, 2016, and many others received awards for their test scores and performances in their respective events. "It was great. Just about all of my friends and I walked out with at least one medal." said Ryan Jurek, a senior at Saline High School and second-year DECA member.
To those who aren't familiar, DECA is an international association of high school and college students. The organization prepares students for careers in marketing, finance, hospitality, and entrepreneurship. Saline's DECA chapter was founded in 1990 and currently has 62 members for the current school year.
To learn more about DECA, please visit www.deca.org. Article written by Robert Fowler, 2015/2016 DECA member.
DECA Recognizes Outstanding School-based Enterprises

The School-Based Enterprise, The EDGE, at Saline High School was among 316 school-based enterprises in the United States achieving Gold Level Certification (or Gold Level Re-certification) this year and will be recognized at DECA's International Career Development Conference in Nashville, Tennessee this April. The students who worked on the certification were seniors Heather Banet, Annie Satin and Cameron York with the assistance of their advisor Kara Stemmer.
School Based Enterprises are managed and operated by students as hands-on learning laboratories that integrate National Curriculum Standards in Marketing, Finance, Hospitality and Management. Marketing educators have utilized this effective educational tool to provide their students with realistic and practical learning experiences that reinforce classroom instruction, enhance 21st century skill development, and prepare students for college and careers.
The School-based Enterprise Certification Program was developed to provide recognition for outstanding achievement by school-based enterprises and to motivate SBEs to strive for excellence and growth. SBEs can be certified at three levels: Bronze, Silver or Gold. In order to apply for the certification, SBEs must submit extensive documentation that demonstrates their adherence to various marketing and retail standards. After the documentation is submitted, a review committee evaluates the documentation to determine which level of certification has been achieved.
DECA is a student organization with more than 215,000 members in all 50 United States, the District of Columbia, Canada, China, Germany, Guam, Mexico, Puerto Rico and Spain. DECA prepares emerging leaders and entrepreneurs for careers in marketing, finance, hospitality and management in high schools and colleges around the globe. To learn more about DECA, visit www.deca.org.
Computer Aided Drafting SKillsUSA Competitions
Grand Rapids, MI on April 8,2016
Abby Morton & Johnny Monge competed in Architectural Drafting, with Abby finishing 3rd in the State. She is a junior this year, and we are very excited to have another shot at a state title next year! In a highly competitive Technical Drafting Competition, Chris Okarski & Joe Lentine proved to be the best high school draftsmen in Michigan. Chris won the Gold Medal & the Title of State Champion! Joe finished just behind him with 2nd Place, taking home the Silver Medal. The Automated Manufacturing team of Philip Burtell, Matt Hargrove, and Nick Kurgin (Manchester) will also be competing at Nationals and looking to improve upon our 10th place finish from last year!
Chris will represent Michigan in Technical Drafting at SkillsUSA Nationals in Louisville in June.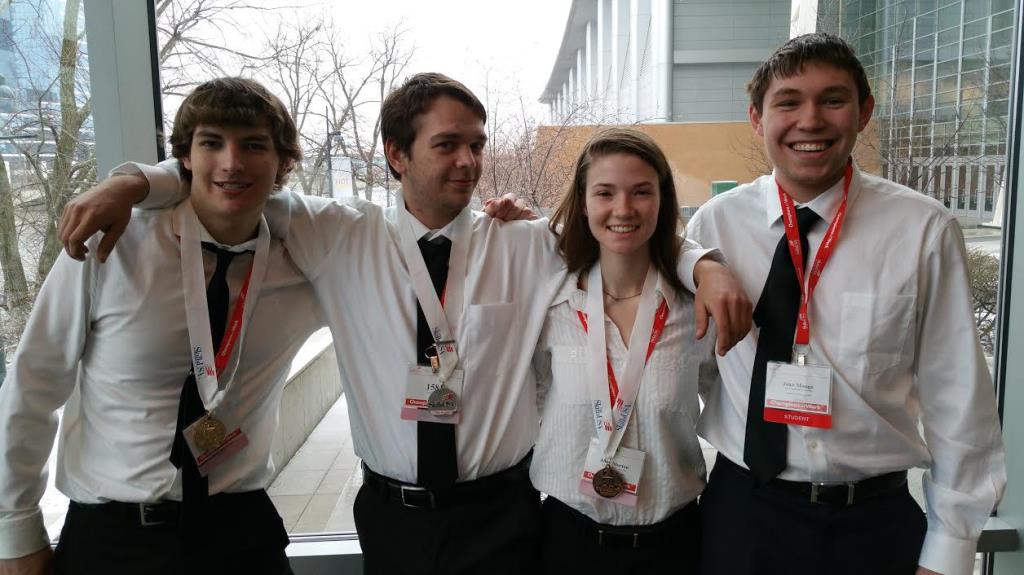 Pictured from Left to Right: Chris Okarski, Joe Lentine, Abby Morton & Johnny Monge
WELDING SKILLSUSA STATE CHAMPIONSHIP
Schwenke Wins Gold Medal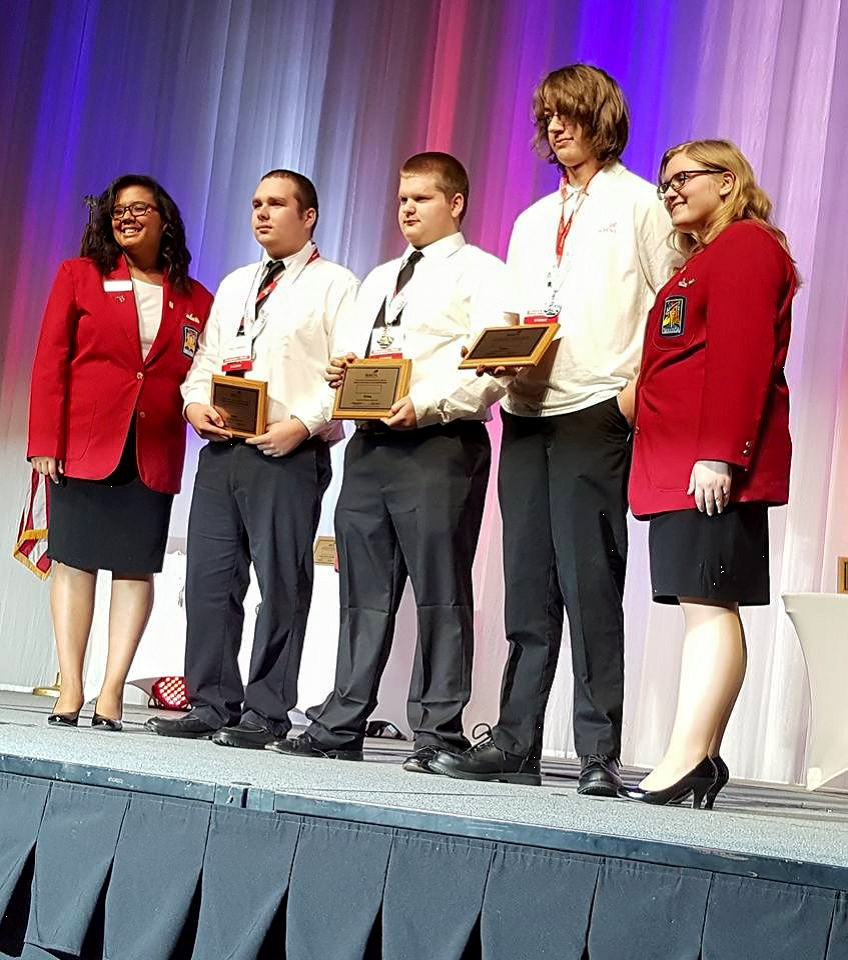 While most high school seniors were enjoying the final weekend of their spring break, Ian Schwenke began welding his Overall project for the State Championships hosted at the Grand Rapids Community College M-TEC Tassel Center. After tacking and FCAW portion, he continued welding his State project using all the welding processes. Then, he completed a welding knowledge test and participated in a mock interview as part of the Overall contest on April 8, 2016.
Ian Schwenke of Saline, center, was crowned the Overall Welding Champion of the State of Michigan receiving a Gold Medal & a Plaque. He will represent the State of Michigan at the National SkillsUSA Convention in June. This is the 2nd consecutive year that SWWC has sent an Overall Welder to the Nationals in Louisville, KY. Ian took 2nd place last year to our National Champ, Paul McCullogh. Ian is now aiming for National Champ!
SWWC Welding & Fabrication Team Earns Silver Medal!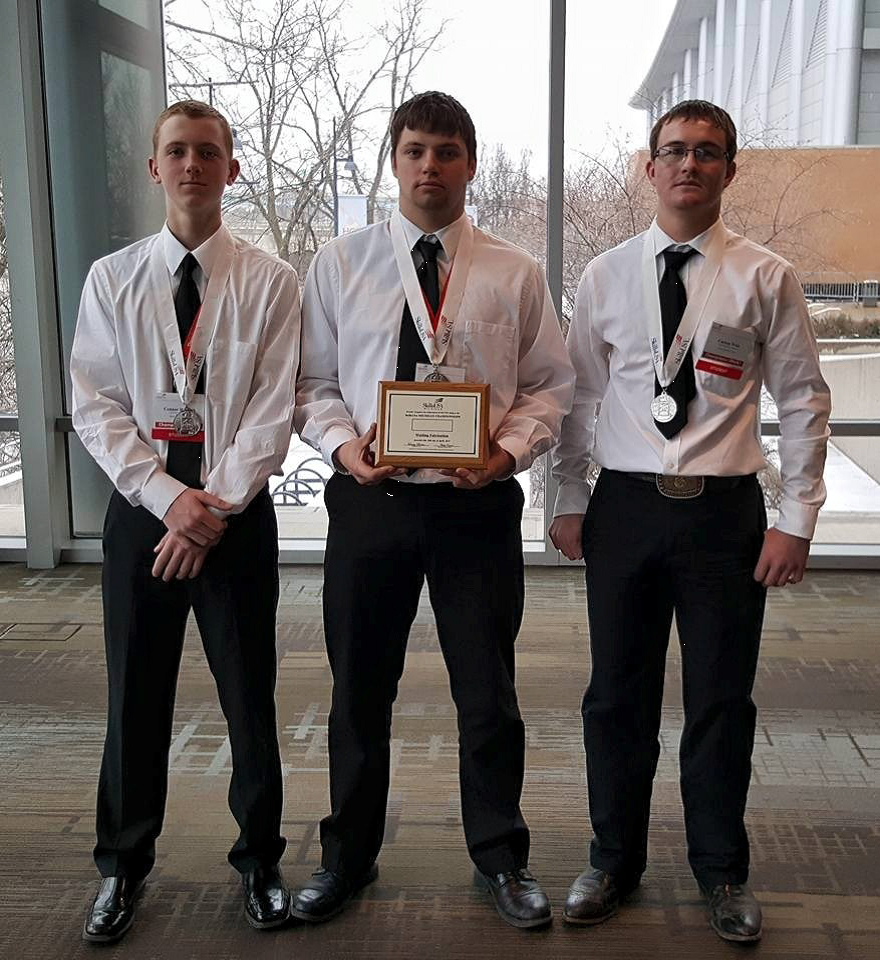 The team was given a rough blue print about a month prior and practiced hard during their spring break to prepare for competition day. After a written skills test and 5 hours of welding, the team submitted their project, fab table, to the judges. The guys, Connor Hilobuk of Dexter, Hunter Carson of Machester, Justin Walz of Manchester, were exhausted, yet optimistic as they worked right down to the buzzer. On Sunday, April 10th, they were both excited and disappointed with their Silver Medals at the awards ceremony. This will help motivate them for gold next year!
Bristle Takes the Bronze!
Bradley Bristle, a junior SWWC Welder from Manchester, took the Bronze Medal for Gas Metal Arc Welding. This is Bristle's first year in welding class at the South & West Consortium in Saline, MI.
Bristle worked hard every day during his spring break to prepare for this event and is excited to see his efforts pay off. He will now turn his efforts toward preparing for the upcoming Ferris State Welding Competition.
SWWC VIDEO NEWS PRODUCTION CLASS!
SHS Today & Hornet Nation won Spartan Awards on April 21, 2016!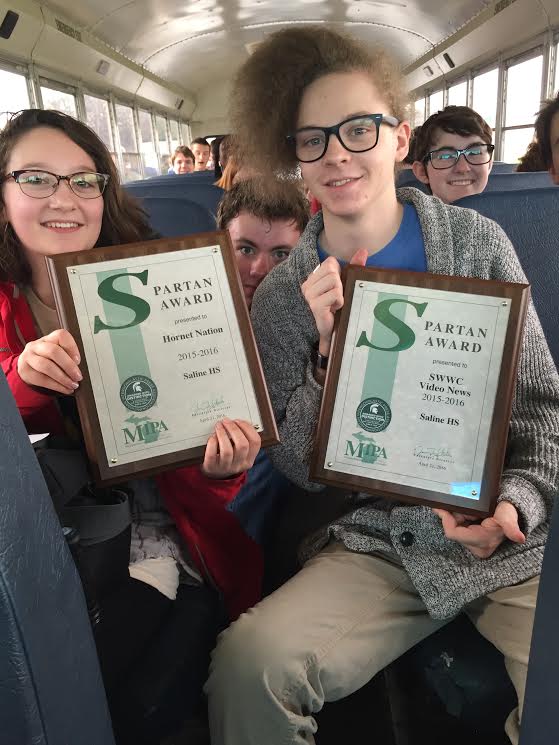 Michigan Restaurant Association State ProStart
Competition Winners
March 21, 2016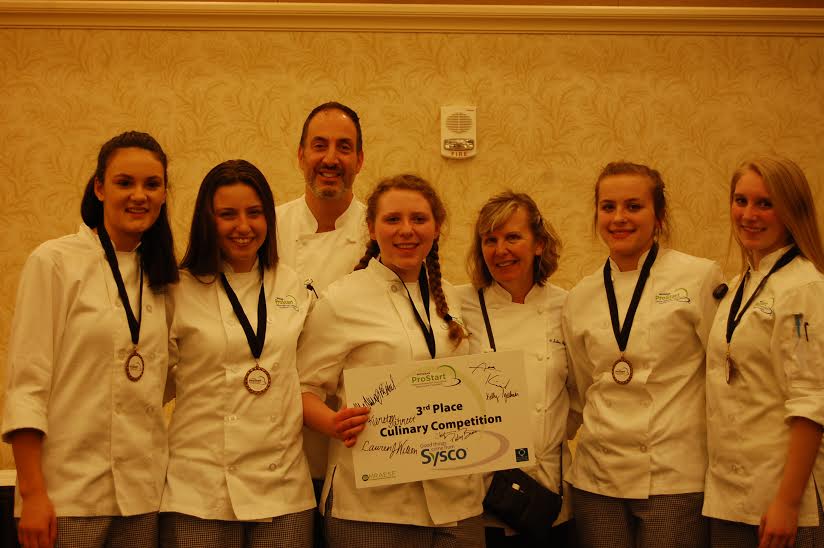 3rd Place: Lauren Wilson, Anna Kincaid, Chef Musto, Madison Rishel, Chef Polly, Kelly Zielinski & Kiersten Garrett
4th Place: Kristin Kortberg, Lauren Lahie, Chef Musto, Jamie Raupp, Hannah Treber & Nathan Berman