___________________________________________________
Michigan Restaurant Association Awards
Chef Sam Musto 2015 Teacher of the Year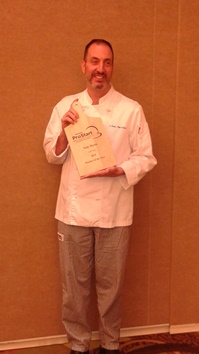 The Michigan Restaurant Association named Chef Sam Musto as 2015 TEACHER OF THE YEAR! In May he will be honored in Chicago at the National Restaurant Show among other culinary educators in the United States.
Chef Musto has been teaching culinary arts for over twenty years, both on the secondary level (SWWC @ Saline High School) and post-secondary (Schoolcraft Collge).
~~~~~~~~~~~~~~~~~~~~~~~~~~~~~~~~~~~~~~~~~~~~~~~~~~~~~~~~~~~~~~~
Exemplary Education Endeavors Award
Mr. Adam Rodriguez 2015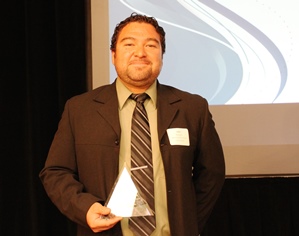 Adam Rodriguez Scot Graden (SAS Superintendent), Jody Gielinski (SHS Principal/Director CTE), Adam Rodriguez and Mary Visel
Mr. Adam Rodriguez of Saline Area Schools' South & West Washtenaw Consortium is the teacher for Visual Imaging and Advanced Photography was honored May 20, 2015 as the 2015 A2Y Regional Chamber E3(Exemplary Education Endeavors) Award. This award recognizes exemplary programs taking place in our local public school systerms. Rodriguez was nominated by Ms. Mary Howley-Visel, Special Populations/Placement Coordinator of SWWC.