News & Notes
Regional Competition
Business Professionals of America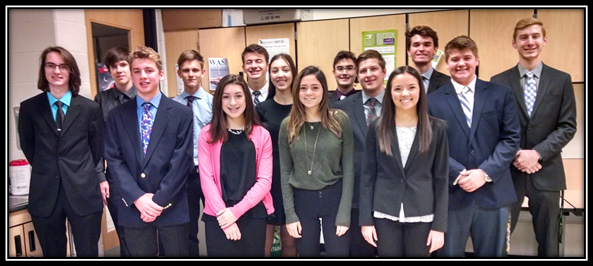 The Saline Chapter of Business Professionals of America competed at the regional competition Friday, January 5th, at Henry Ford Community College.  All chapter participants did a wonderful job representing Saline High School and several members will compete at the state competition in March held at the Amway Grand Hotel in Grand Rapids, Michigan. 
Strategic Goals
compliance with the regulations implementing Title VI
Any person having inquiries concerning the Saline Area Schools' compliance with the regulations implementing Title VI, Title IS, the ADA, or Section 504 is directed to contact: Saline Area Schools, Director of Human Resources, 7265 Saline Ann Arbor Road, Saline, MI 48176-1168
Equal Opportunity Info
Applicants for admission and employment, students, parents, employees, sources of referral of applicant and admission and employment, and all unions or professional organizations holding collective bargaining or professional agreements with the Saline Area Schools are notified that the Saline Area Schools does not discriminate on the basis of race, color, national origin, sex, age, religion, or disability in admission or access to, or treatment or employment in any of its programs, activities, or policies.
Mission
We, the Saline Area Schools, will equip all students with the knowledge, technological proficiency, and personal skills necessary to succeed in an increasingly complex society. We expect that our students, staff, and the Saline community will share in these responsibilities. Our ultimate goal is to instill in our students a desire for lifelong learning.