Welcome to the SWWC
Serving Chelsea, Dexter, Lincoln, Manchester, Milan, and Saline school districts
with quality Career and Technical Education programming for over 25 years!
~~~~~~~~~~~~~~~~~~~~~~~~~~~~~~~~~~~~~~~~~~~~~~~~~~~~~
Our Mission Statement
We, the member districts as the South and West Washtenaw Consortium, shall best educate students together in areas where individual districts cannot do as well alone.
The Career and Technical Education component of the South and West Washtenaw Consortium empowers its students to be productive members of a changing technological world.
The students are provided with the knowledge necessary to achieve the requisite skills, positive attitudes and work habits to meet those goals.
~~~~~~~~~~~~~~~~~~~~~~~~~~~~~~~~~~~~~~~~~~~~~~~~~~~~~~
May 9th-14th
Fundamentals of Accounting at the National Business Professionals of America Convention
Orlando, Flordia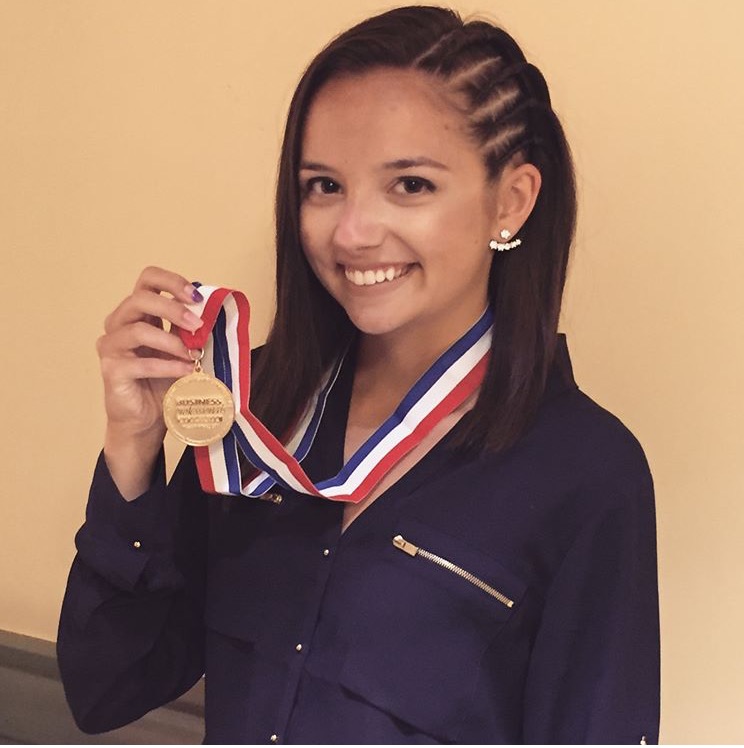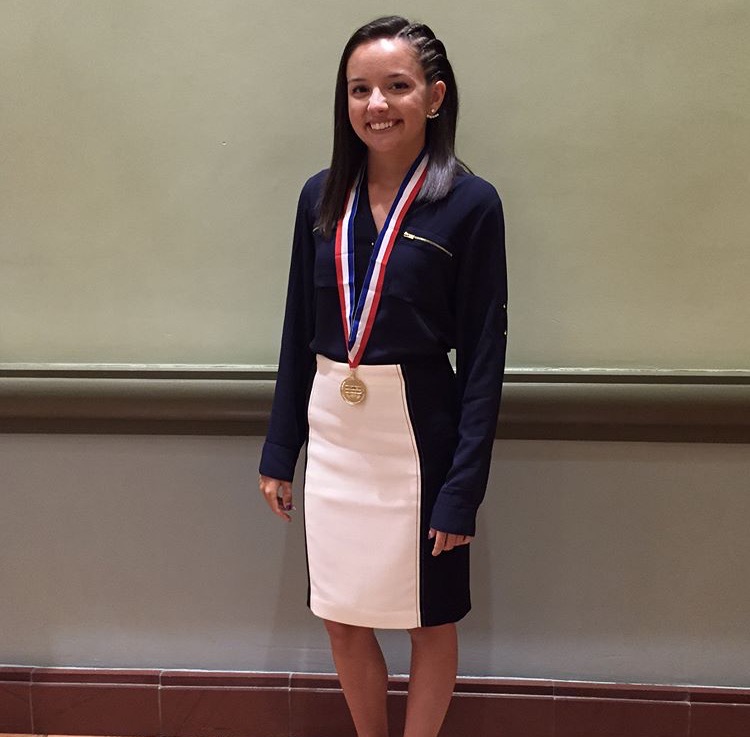 Lucy Buie placed 7th!
The BPA National Convention included 6,000 attendees representing 19 states and the territory of Puerto Rico. We are very proud of Lucy's representation of Michigan BPA, and most importantly of her representation of Saline High School. Congratulations for a job well done, Lucy.
~~~~~~~~~~~~~~~~~~~~~~~~~~~~~~~~~~~~~~~~~~~~~~~~~~~~~
The week of April 24, 2017
Eight Saline High School DECA members, and their advisor Kara Stemmer, traveled to Anaheim, California to attend/compete at the International Career Development Conference.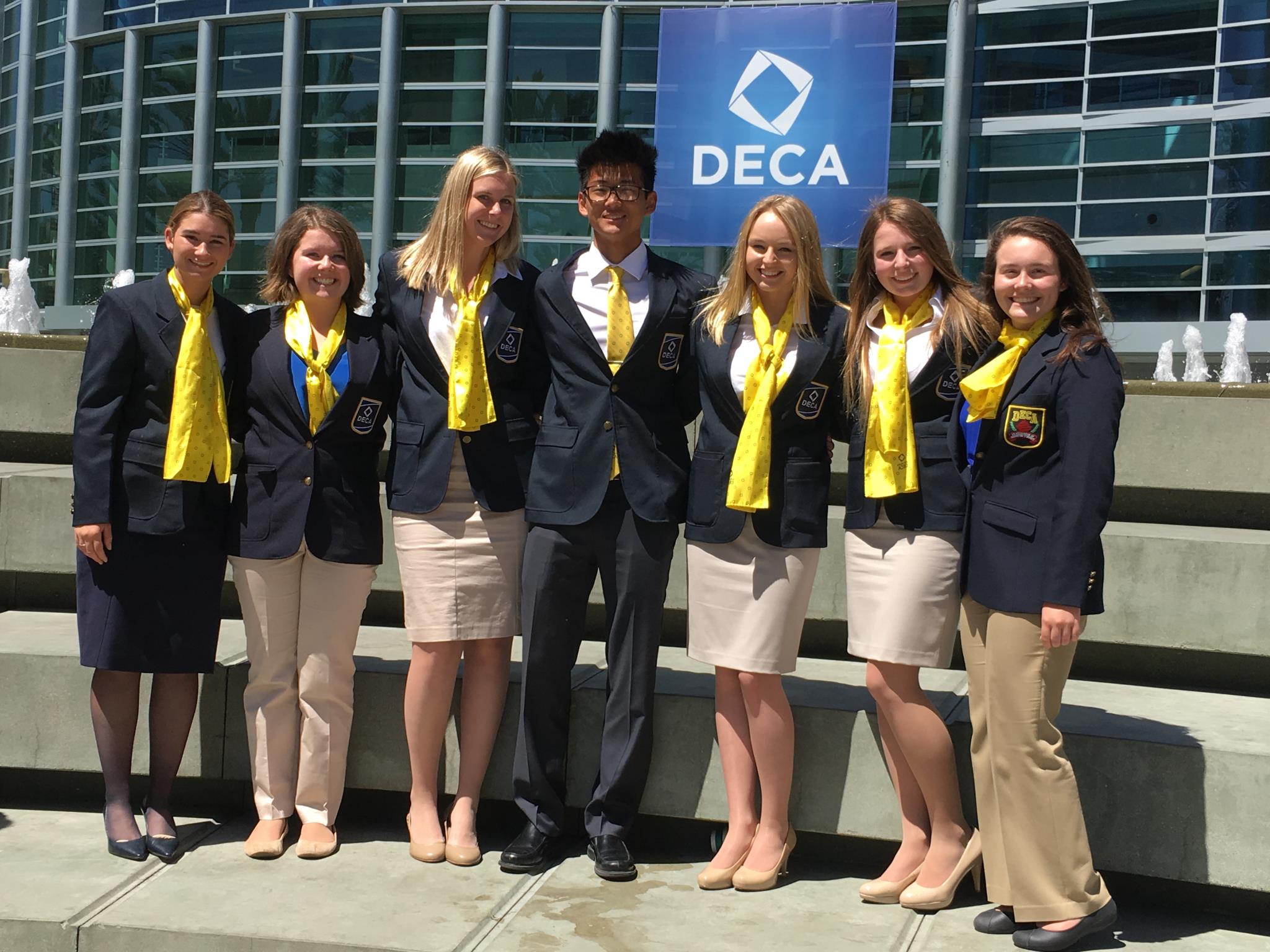 The following students qualified at two previous competitions, District and States, which were held earlier in the year. At these competitions, they earned top scores and advanced to the International conference in California where there were over 19,000 students in attendance. The team of Megan Foley and Annie Nelson competed in the Entrepreneurship Promotion Project, Aidan Nam and Stephanie Schick competed in the Travel and Tourism Team Decision making event and lastly, Laila Houser, Sophie Rash and Delaney Silhanek participated in the School Based Enterprise Retail event. Junior Edward Settle recently campaigned for a Michigan DECA State Officer position and won! He attended the International conference to begin his training and networking in preparation for the 2017-2018 school year, where he'll be traveling around the country representing Michigan DECA.
As mentioned earlier, Houser, Rash and Silhanek represented The EDGE, Saline High School's School-Based Enterprise, as it was among 360 school stores in the United States achieving Gold Level Certification (or Gold Level Re-certification) this year and was recognized at DECA's International Career Development Conference. A school-based enterprise (SBE) is an entrepreneurial operation in a school setting that provides goods and services to meet the needs of the market. Marketing educators and DECA advisors have utilized this effective educational tool for over four decades to provide their students with realistic and practical learning experiences that reinforce classroom instruction, enhance 21st century skill development, and prepare students for college and careers.
DECA is the extracurricular business club offered through the SWWC Marketing department at Saline High School. It's a nationally recognized business club with over 200,000 high school members in over 5,000 schools across all 50 states and nine countries. Visit www.deca.org for more information.
~~~~~~~~~~~~~~~~~~~~~~~~~~~~~~~~~~~~~~~~~~~~~~~~~~~~~~
Skills USA State Auto Technology Competition
Saturday April 8th, 2017 - At the Tassell Technical Education Center, Grand Rapids, MI
Two Career and Technical Education students from the South and West Washtenaw Consortium competed in the competition that was designed to create real life diagnostic and repair situations. The SWWC Automotive Technology program dominated the overall Master Technician competition with Manchester H.S. Senior's Erik Molotky and Jeremy Rauch placing first and second respectfully. These students earned Scholarships from four colleges in excess of thirty thousand dollars and industrial prizes from Snap-On tools. Erik will now compete at the Skills USA National Competition June 19th-24th.
All of the competitions reflected the requirements of the ASE (Automotive Service Excellence) Technician Certification tasks and exams. The South and West Washtenaw Consortium was one of eighteen schools that competed in the Automotive Technology Competition.
~~~~~~~~~~~~~~~~~~~~~~~~~~~~~~~~~~~~~~~~~~~~~~~~~~~~~~
DECA Competed at the State Career Development Conference
March 10th - 12th - Detroit, Michigan
Forty-seven Saline DECA to competed alongside 4,200 other high school students. Many students competed in a business role play scenario, while others prepared a written paper and presented it during the competition.
Vice President of Chapter Development 2017-2018 - Junior Edward Settle won!!! He applied, interviewed and campaigned for 1 of 8 DECA State Officier positions. He will travel the country networking, developing lifelong leadership skills and promoting the nationally recognized organization.
1st Place Champion Plaques: Team Megan Foley & Annie Nelson, Team Laila Houser, Sohie Rash & Delaney Silhanek. (These teams will be traveling to Anaheim, CA in April to compete at Internationals)
Finalist Medals Teams: Erin Evans, Francesca Panzica & Emma Peoples, Thereza Cevedanes,Skyler Hoffman, Ally Heider & Kaitlin Walper, and Aidan Nam & Stephanie Schick
Recognition for Individual Events: Christian Johnson & Grace Livsay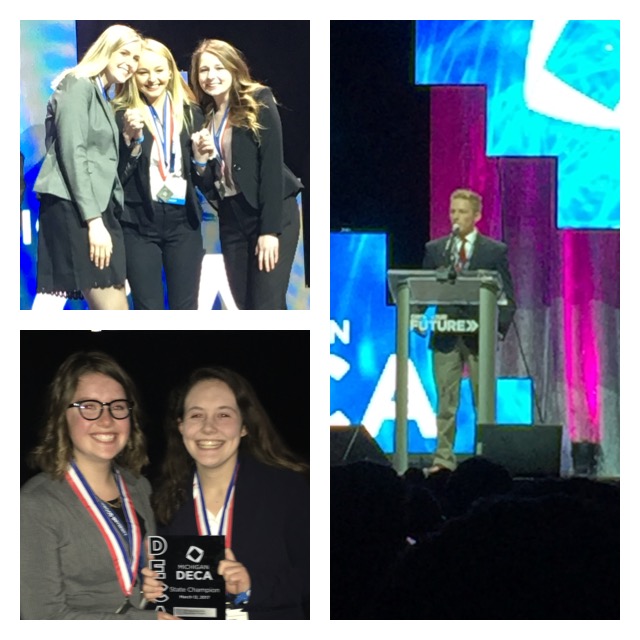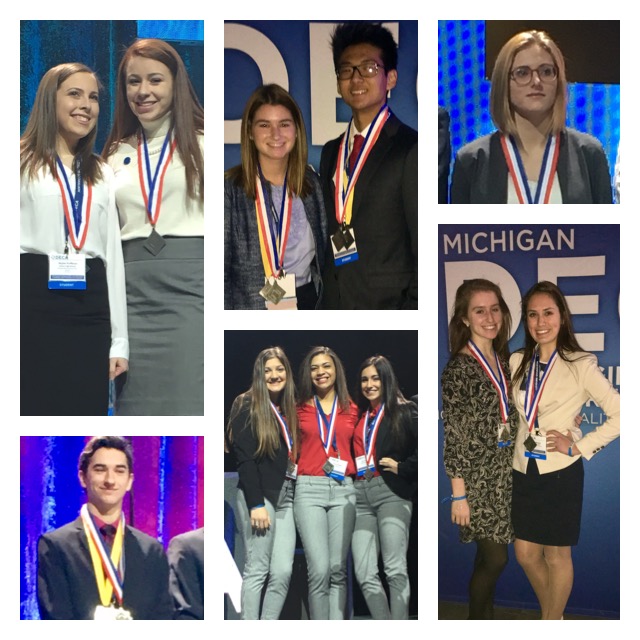 *** To learn more about DECA, visit mideca.org or deca.org. ***
~~~~~~~~~~~~~~~~~~~~~~~~~~~~~~~~~~~~~~~~~~~~~~~~~~~~~
Michigan Restaurant Association Prostart Competitition
March 13, 2017
1st Place (Gold) - Culinary Team
They will compete in April in South Carolina to represent the State of Michigan.
Kelly Zielinski
Lauren Wilson
Madison Robison
Kiersten Garrett
Austin Hannah
3rd Place (Bronze) - Nutrition Team
Jacob Keller
Madison Robison
Lauren Wilson
Kelly Zielinski
Kiersten Garrett
~~~~~~~~~~~~~~~~~~~~~~~~~~~~~~~~~~~~~~~~~~~~~~~~~~~~~~~~~~~~~~~~~~~~~~~~~~~~~~~~~~~
Culinary Arts Regional Competition
Friday, February 10, 2017 - At Oakland Community College
Congratulations to the following students on winning medals!
Commercial Baking - 1st Place (Gold) - Emma Keeler
Restaurant Service - 2nd Place (Silver) - Lara Hijazi
Culinary Arts - 3rd Place (Bronze) Kiersten Garrett
Gold - 1st Place - Culinary Arts - Kelly Zielinski
Once again the SWWC Culinary Students took more medals than any other school at Regionals!!!!!!
~~~~~~~~~~~~~~~~~~~~~~~~~~~~~~~~~~~~~~~~~~~~~~~~~~~~~
Welding Competition
Friday, February 10, 2017
Congrationals to the following students placing at competition!!!
2nd Place (Silver) - Ethan Lobbestael- SMAW Welding
1st Place (Gold) - Gus Rickelmann- SMAW Welding
1st Place (Gold) - Brad Bristle- GMAW Welding
~~~~~~~~~~~~~~~~~~~~~~~~~~~~~~~~~~~~~~~~~~~~~~~~~~~~
Arthur Berkey Science Fair
Local Results 2017
Anastasia Frederick - Top Gold Award
Plant Systems 9-10 Grade Individual
Dustin Drake & Amanda Jedele
Top Gold Award
Animal Systems 9-10 Grade Team
Dan Caroen - Top Gold Award
Animal Systems - 9-10th Grade Individual
Additional Placings:
GOLD - Grace Popa
SILVER - Wesley Welt, Colin Nouhan, Yanic Sadek, Kaitlyn Higgins, Christina Richard, Hannah Evers
BRONZE - Team Luckhardt/Trinkle, Clay Curtis, Jacob Niethammer, Colin Mitchell, Samantha Sturt
~~~~~~~~~~~~~~~~~~~~~~~~~~~~~~~~~~~~~~~~~~~~~~~~~~~~
Congressman Tim Walberg HOSTED "GROWING JOBS IN MICHIGAN" TOWN HALL MEETING
Tuesday, February 9 at Saline High School
In addition to Congressman Walberg from 7th Congressional District of Michigan, the event featured a panel of community leaders who talked about positive solutions for job creation and workforce development. Some of those present were Scot Graden (Superintendent at Saline Area Schools), Steve Jedele (Owner of Steve's Custom Signs), Greg Cook (Toyota), Fred Piercy (President of R&B Plastics Machinery) & Tom Preston (President of Precision Devices Inc.)
After all, February is Career and Technical Education Month, so one of the key areas of discussion was ways to help the next generation successfully enter the workforce and put more Americans back to work with 21st century skills. Members of the community were also provided an opportunity to help deliver solutions to help grow a health economy.
~~~~~~~~~~~~~~~~~~~~~~~~~~~~~~~~~~~~~~~~~~~~~~~~~~~~~~~~~~~~~~~~
~~~~~~~~~~~~~~~~~~~~~~~~~~~~~~~~~~~~~~~~~~~~~~~~~~~~~
Our Program Director and Principal, Jody Gielinski, Tries Her Hand At Welding!
It's a great day when the Director and Principal of SWWC wants to join in on the class in Welding and give it a try. Mrs. Jody Gielinski came prepared, dressed in her custom welding jacket and the other necessary PPE (personal protective equipment) to learn to weld. Student, Ian Schwenke, was on hand to give thorough instructions and tips for a good weld bead. You rock, Mrs. Gielinski!!
~~~~~~~~~~~~~~~~~~~~~~~~~~~~~~~~~~~~~~~~~~~~~~~~~~~~
Mike Rowe of 'Dirty Jobs' highlights the Skilled Trades
* Skilled Trade Jobs are in hot demand today! Watch: Mike Rowe's Videos to learn more.
~~~~~~~~~~~~~~~~~~~~~~~~~~~~~~~~~~~~~~~~~~~~~~~~~~~~
Discrimination Policy
It is the policy of the South and West Washtenaw Consortium not to discriminate on the basis of race, color, national origin, gender, age, disability, height, weight, religion, language, or marital status in of its programs, activities, or employment