School Calendar
School Calendar

‹

February

2019

›

S
M
T
W
T
F
S
1
2
3
4
5
6

Feb 6

Early Release Day

Calendar:

School Calendar

7
8
9
10
11
12

Feb 12

6:30 PM to 8:00 PM

Board of Education Meeting

Location:

Liberty School Board Room

13
14
15
16
17
18

Feb 18

President's Day - No School

Calendar:

School Calendar

19
20
21
22
23
24
25
26

Feb 26

6:30 PM to 8:00 PM

Board of Education Meeting

Location:

Liberty School Board Room

27
28
Upcoming Events
Board of Education Meeting

Location:

Liberty School Board Room

Early Release Day

Calendar:

School Calendar

Board of Education Meeting

Location:

Liberty School Board Room

AM HS Exams - Full Day of School

Calendar:

School Calendar

K-12 1/2 Day School (AM HS Exams/K-8 Conferences)

Calendar:

School Calendar
Child Find - Early Identification
Children with special needs can often benefit from a number of therapies and, generally, the sooner they receive treatment, the better the outcomes will be. But, how do you know if a child needs help?

Learn More about How the Child Find Program Works.
News & Notes
District News - Archives
Back to News
Special Education Partners with Gym America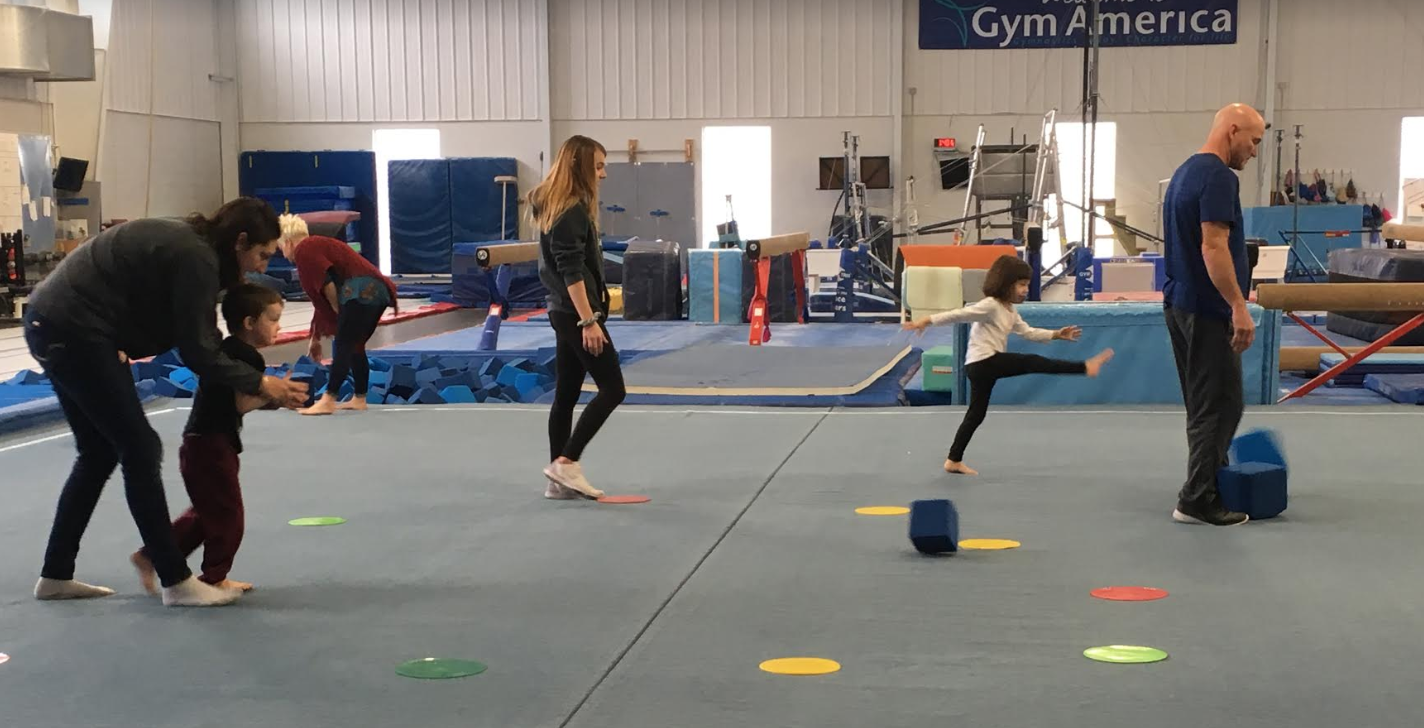 The Special Education Department in Saline has partnered with Gym America for weekly adapted physical education classes - centered around the sport of gymnastics. Kyri Kemp, a Saline High School teacher, provided feedback on the powerful opportunity that has surfaced through the new partnership:
"Our Saline High School Life Skills class has had six students attend a weekly adapted PE class at Gym America. The students are supported by four of our high school staff members, along with Coach Brian (and others) from Gym America. Coach Brian has done an awesome job creating positive a gymnastics experience for our students. We begin with stretches and warm up exercises. The GA staff infuses gymnastics vocabulary into our sessions to give our students a unique in-depth experience. Our students have had the opportunity to access equipemnt in an adapted way such as the bars, balance beams, trampoline and the vault into the foam pit! It's been an awesome partnership and we are thankful for this opportunity."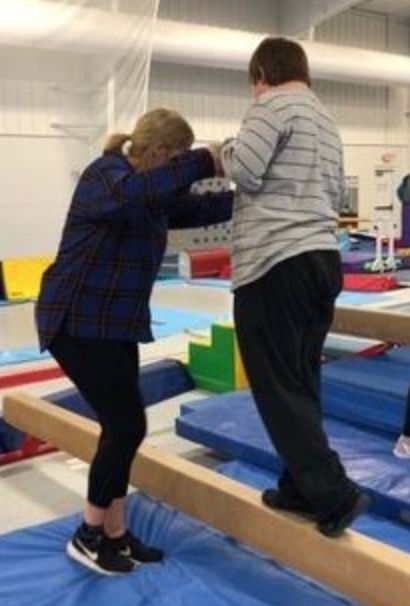 All Community Education evening activities will run as scheduled tonight.
Adopt-a-Family - SWWC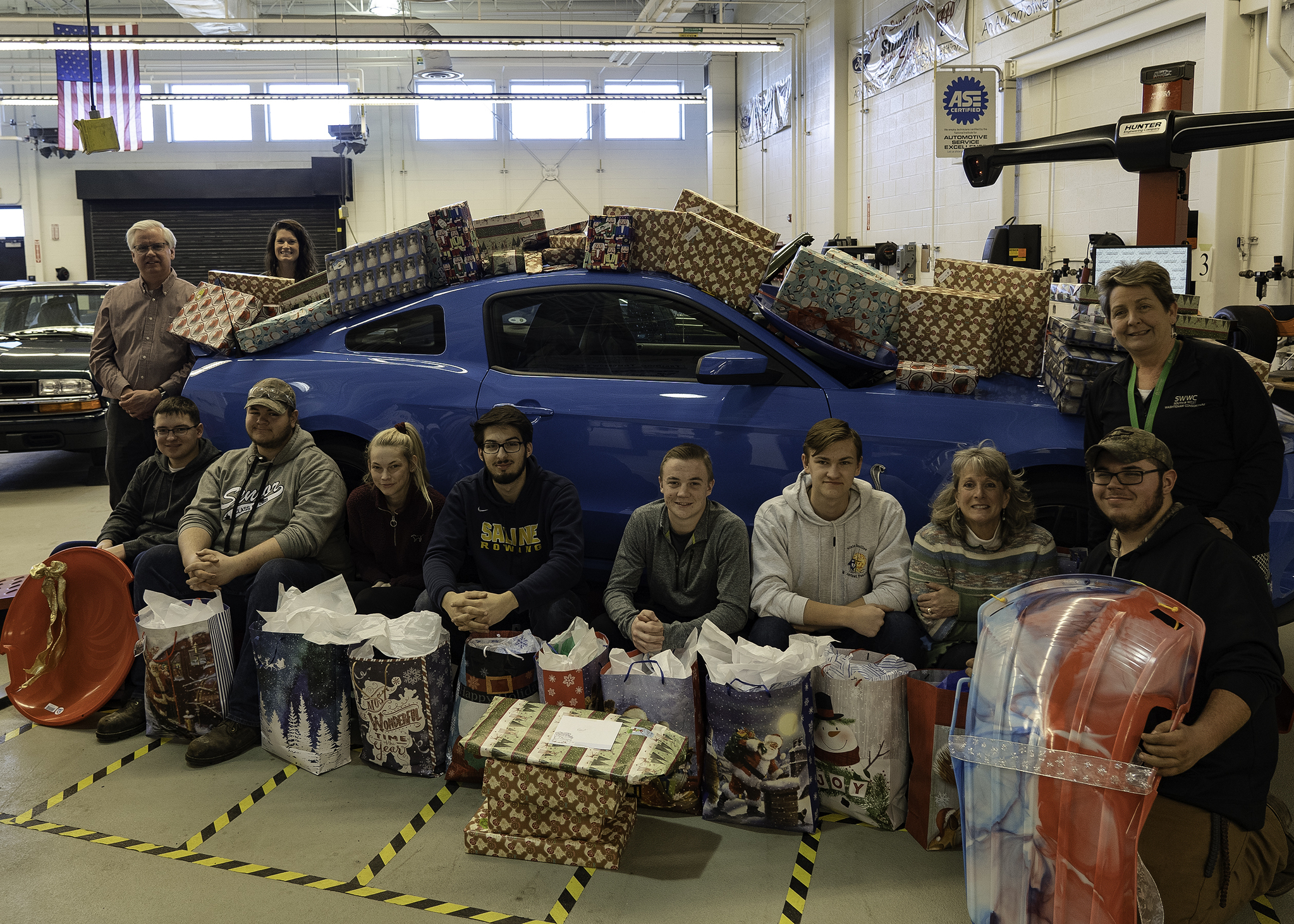 The 10th Annual Adopt A Family is now complete and was a huge success! The SWWC Automotive Technology and Cosmetology departments raised more than $2600 from students, families, and corporate sponsor, Germain Honda. With the hope of making someone's Christmas morning a little more exciting, students and staff spent the evening of December 17th shopping for gifts at Kohl's, Meijer's, and Junga's ACE Hardware. Staying within budget and choosing wisely, gifts were amassed with the individual in mind. It has been customary to enjoy dinner and share the holiday spirit afterwards, with the students choosing Buddy's Pizza for an evening of laughter and comradery. While the holiday music played online, Tuesday morning was a little frantic as students and staff reorganized, sorted, boxed, and wrapped each purchase. Jody Gielinski, SWWC Principal offered her large red sleigh (GM Denali) to deliver the packages. In the end, three supporting communities of the SWWC were enhanced, with gifts being delivered to the Ypsilanti-Lincoln, Milan, and Saline areas.
The 5th Corner Leadership Academy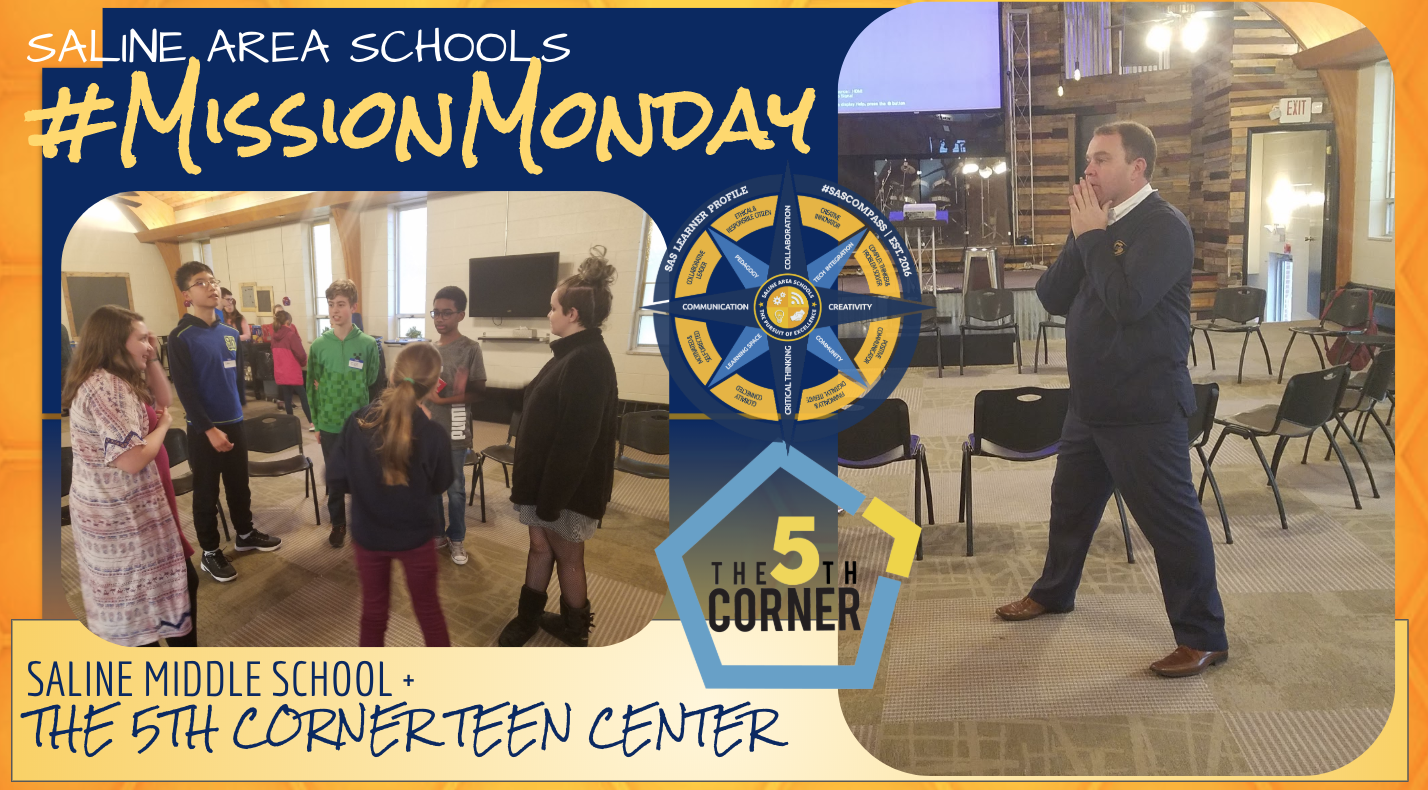 A hidden gem in Saline, The 5th Corner Teen Center is a place where middle school and high school students can connect and develop leadership skills. Located at the corner of Willis and Saline-Milan Road, the building is open to students (completely free) on Wednesdays, Thursdays and Fridays.
With an intent to provide an environment that fosters leadership, Saline Leadership Institute provides a similar student academy specifically for middle school students. Titled "Step Up Leadership Academy," students meet monthly to experience team building, goal setting, community service, emotional health, problem solving, etc.
On December 5th, Saline Middle School Principal Brad Bezeau facilitated a session on social and emotional health. Brad was more than happy to extend his work day and spend extra time with his students. "The focus for my session was Leadership and supporting one another in the social and emotional realms of teen life and how to help one another when struggling and needing support in life and in school. I want to help students identify the key people and sources of support in their lives, and the strengths and tools that they have internally to help themselves. There is a lot of power within these students, and it is my job to help them identify and harness that personal power."
Leadership, he believes, already exists in these students. They just need help bringing it to the surface. "I have seen their leadership and service in a wide range of service activities, etc. that they are all involved with (Knots for Motts, volunteering at the Humane Society, an SMS Coat Drive donation to Saline Social Services."
For more information on The 5th Corner Teen Center, contact Program Coordinator Peter Rufener (pastorpeter@salinecommunitychurch.org)
Feature Friday | Katie Alexander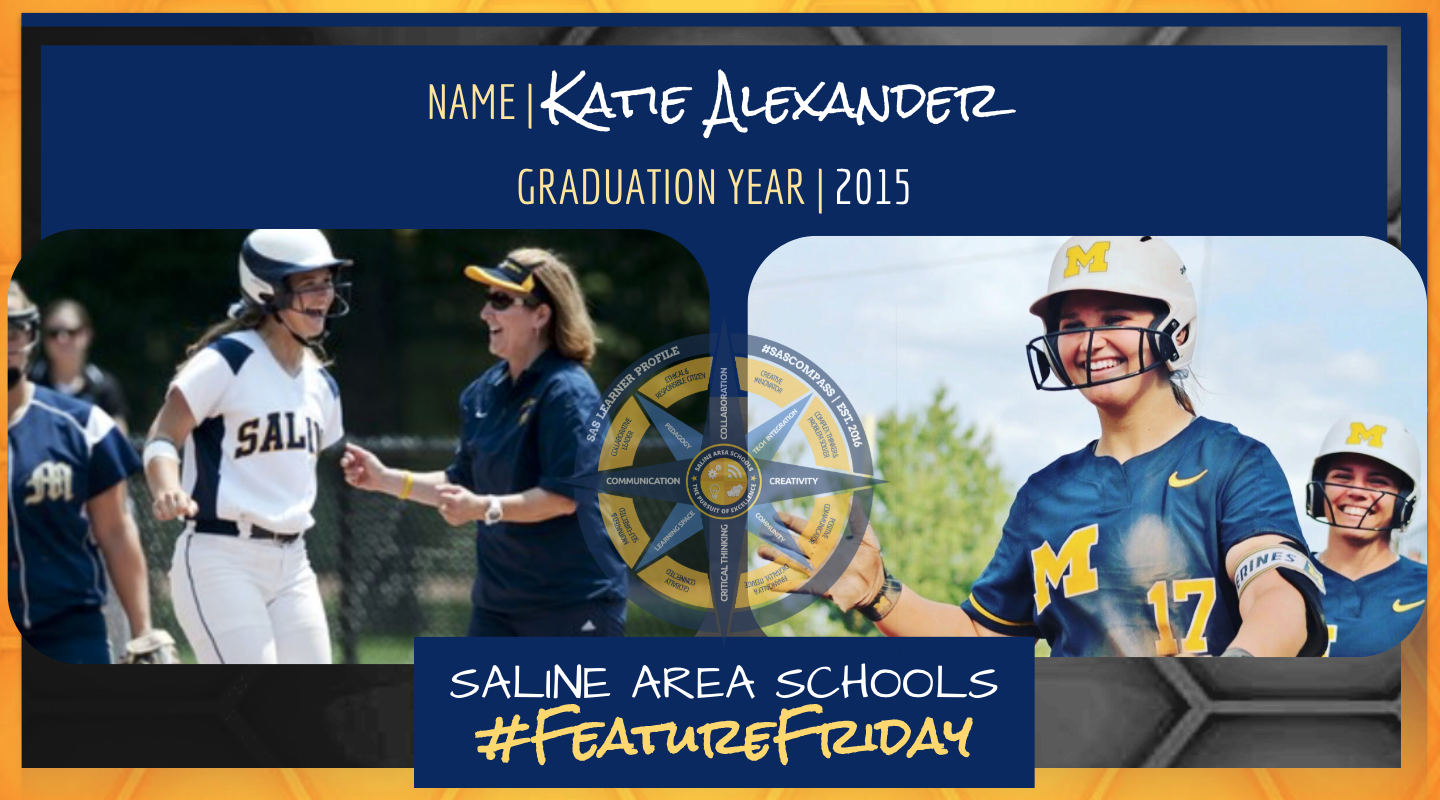 Tell us what you are doing now | I am studying kinesiology at the University of Michigan, graduating in May. I am also a catcher on the softball team.
How did Saline prepare you for this role? | Saline prepared me through competitive classes, and competitive athletic competition. In every way, Saline pushed to be the best. Regardless of being in the classroom or on the field, I learned that to be the best, I had to give my 100% effort every single day.
Which Saline staff members impacted you and why? | Alicia Seegert- she was my mentor, as she played softball at Michigan as well. She taught me the work ethic that I have. I was able to go from a walk-on position to receiving a scholarship my senior year. She showed me my potential, and I used my drive to get to be my best self. Dr. Jastrow- she taught me my love for anatomy and physiology and pushed me towards a career in the health field. Mr. Schmier- Influenced my love for culture, especially music and media. He was a great teacher who taught my learning can be fun, especially when it is something seen in every day society. He loves what he does and you can tell. I will take that drive with me into my own career in the future.
Advice for current Hornets | Don't sell yourself short. Apply for every position, and always try to get into things even if you don't feel you are good at them. You can literally accomplish anything you want, regardless of the situation. Set your mind to it, and with time... anything can be accomplished.
Describe Saline Area Schools in 3 words | Prestigious, Exemplar, Significant
To see more #FeatureFriday spotlights of our SAS Alum, follow us on Twitter and Facebook!
Non-discrimination Policy
The District does not discriminate on the basis of race, color, national origin, sex, (including sexual orientation or transgender identity), disability, age, religion, height, weight, marital or family status, military status, ancestry, genetic information, or any other legally protected category, (collectively, "Protected Classes"), in its programs and activities, including employment opportunities.

Inquiries or complaints by students and/or their parent(s)/guardian(s) related to discrimination based on disability/handicap should be directed to
Assistant Superintendent for Human Resources
Saline Area Schools
7265 Saline-Ann Arbor Road
Saline, MI 48176
Phone: (734) 401-4003