School Calendar
School Calendar

‹

February

2019

›

S
M
T
W
T
F
S
1
2
3
4
5
6

Feb 6

Early Release Day

Calendar:

School Calendar

7
8
9
10
11
12

Feb 12

6:30 PM to 8:00 PM

Board of Education Meeting

Location:

Liberty School Board Room

13
14
15
16
17
18

Feb 18

President's Day - No School

Calendar:

School Calendar

19
20
21
22
23
24
25
26

Feb 26

6:30 PM to 8:00 PM

Board of Education Meeting

Location:

Liberty School Board Room

27
28
Upcoming Events
Board of Education Meeting

Location:

Liberty School Board Room

Early Release Day

Calendar:

School Calendar

Board of Education Meeting

Location:

Liberty School Board Room

AM HS Exams - Full Day of School

Calendar:

School Calendar

K-12 1/2 Day School (AM HS Exams/K-8 Conferences)

Calendar:

School Calendar
Child Find - Early Identification
Children with special needs can often benefit from a number of therapies and, generally, the sooner they receive treatment, the better the outcomes will be. But, how do you know if a child needs help?

Learn More about How the Child Find Program Works.
News & Notes
District News
View Archives
District seeks applicants for Diversity, Equity & Inclusion Advisory Committee
FOR IMMEDIATE RELEASE
Contact: Saline Area Schools Superintendent Scot Graden
Voice: (734) 401-4001 gradens@salineschools.org
- or-
Paul Hynek, Board of Education President hynekp@salineschools.org
District seeks applicants for Diversity, Equity & Inclusion Advisory Committee
SALINE, MI February 13, 2019 – At the February 12, 2019 meeting, the Saline Area Schools Board of Education announced the creation of a Diversity, Equity & Inclusion (DEI) Advisory Committee. The committees' charge is to develop a mission statement for the committee, adopt definitions, and establish goals. The DEI committee will report monthly to the Board of Education.
"After four community conversation meetings centered on issues of diversity, it became clear that developing a focused, work-oriented committee to explore diversity and inclusion was necessary. Making solid recommendations to the Board of Education is the next step," said Superintendent Scot Graden. "The committee will be relatively small - 15 to 20 members - but additional opportunities for participation and feedback are available for those interested."
Interested community members are encouraged to apply by Friday, February 22, 2019.
The application is online here: https://goo.gl/forms/5gdgFOBnEAXtQEmW2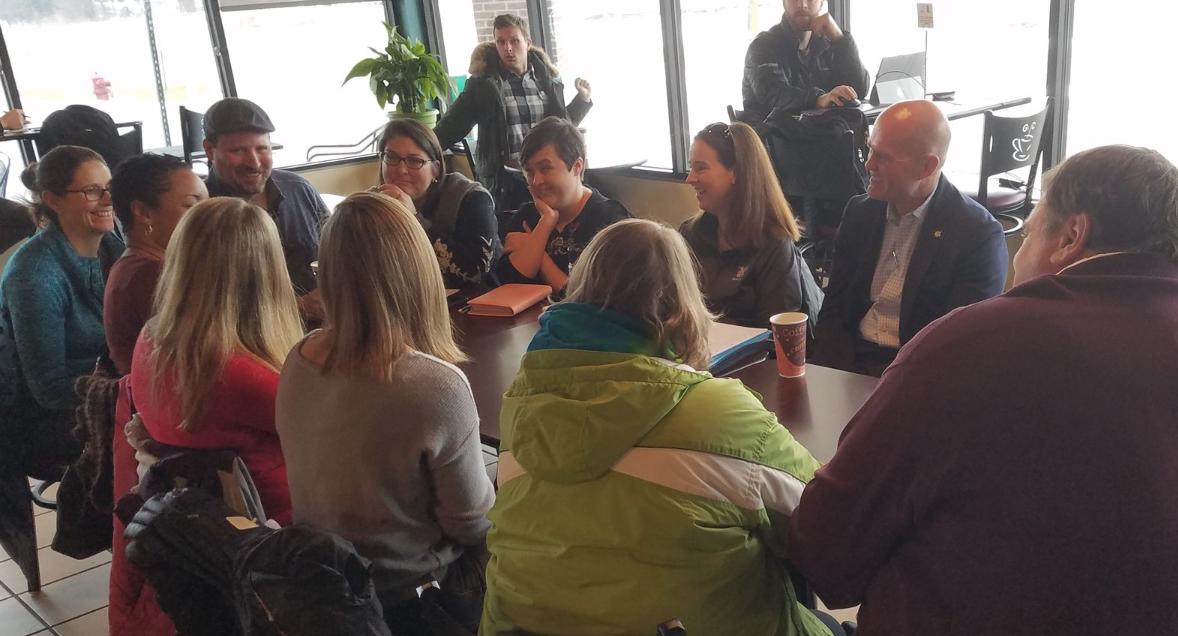 Saline HS Drama Club | Shrek The Musical!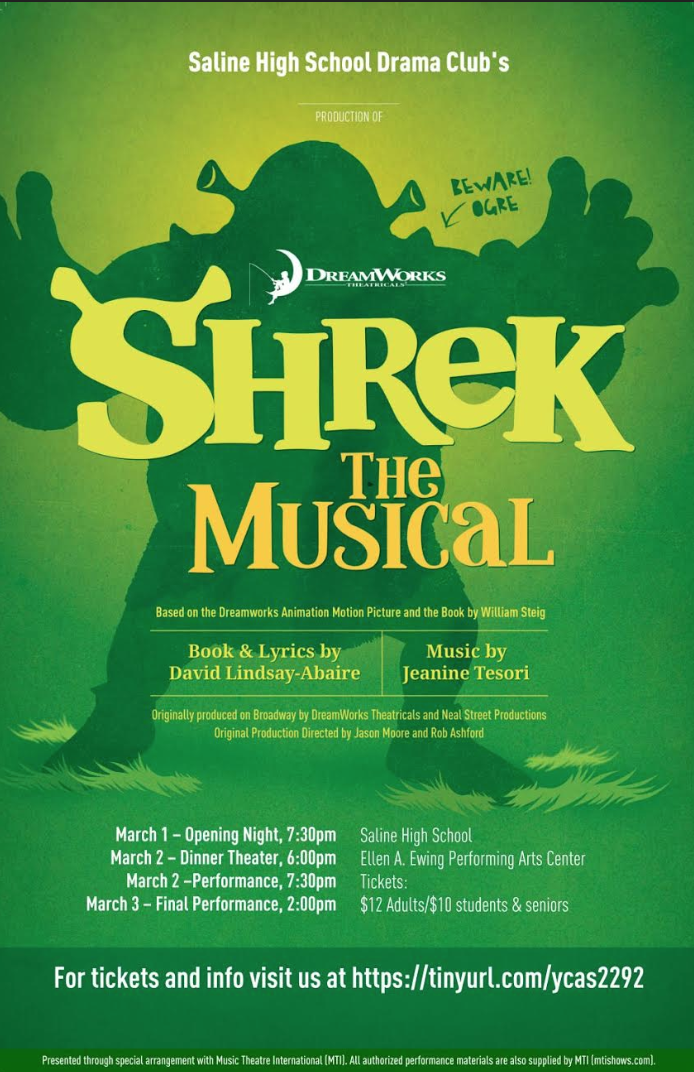 FOR IMMEDIATE RELEASE February 10, 2019
SHS DRAMA CLUB TO PERFORM SHREK THE MUSICAL MARCH 1-3, 2019
(Saline, MI) The SHS Drama Club presents... Shrek The Musical, with book and lyrics by David Lindsay-Abaire and music by Jeanine Tesori. Based on the Dreamworks Animation Motion Picture and the children's book by William Steig, Shrek The Musical is a wickedly funny story about an ogre who wants to be left alone, a princess with a secret, and a group of fairy tale characters who learn that what makes them special makes them strong.
Performances are Friday, March 1st and Saturday, March 2nd at 7:30 PM and Sunday, March 3rd at 2:00 PM at Saline High School's Ellen A. Ewing Performing Arts Center. Tickets are $12 for adults and $10 for students and seniors over 60+ and are general admission. Tickets can be bought online (with a processing fee) at https://tinyurl.com/ycas2292 or at the door.
Saturday night's performance continues the Drama Club's annual tradition of teaming up with the SWWC Culinary Arts program for a pre-show dinner. Seating for the dinner begins at 6:00 pm. Tickets for the Dinner Theater Package are a $22 for adults and $18 for seniors and children 12 and under, and include a buffet-style dinner and reserved seating for the show. The dinner menu can be found on the website. Tickets for the dinner can only be purchased online and must be purchased by Feb 27th. Seating for the dinner theater is limited and tickets often sell out before the deadline.
The cast includes:
Emily Allman, Audrey Barsch, Lauren Booher, Skylar Brodnan, Abby Brown, Brittany Bryant, Lauren Bryant, Tess Carichner, Liz Colson, Claudia Curcione, Sophie Delfuoco, Sam Dobrowolski, Jake Edwards, Daniel Emerson, Erik Firehammer, Sydney Friedman, Jessica Fry, Cristina Gonzalez, John Harrell, Mrinalini Iyer, Trevor Kudlak, Eliza Larsen, Ian Lebert, Delia Leon, Maggie Lupton, Daniel Mahaney, Ella Marsh, Ryan Moore, Alayna Musson, Gillian Nelson, Miranda Patterson, Owen Pichla, Margie Raupp, Connor Rentschler, Kimberly Schamberger, Logan Sepesi, Madison Speers, Faith Sweet, Ava VerLee, Gabe Walkowiak, Collin Wagner, Wesley Welt, Kate Williams, Blake Williams, Madison Williams, and Joseph Yonemori. Student directors are Courtney Pellerin, Laurel Schmidt, Elizabeth Solis, and Hannah Weatherly. Artistic staff includes: artistic director/producer Kristen Glatz, vocal director Anya Freedman-Doan, choreographer Lisa Holland, and orchestra pit director Scot Cannell.
For more information go to https://tinyurl.com/ycas2292 or email glatzk@salineschools.org, or call 734-401-4644.
Non-discrimination Policy
The District does not discriminate on the basis of race, color, national origin, sex, (including sexual orientation or transgender identity), disability, age, religion, height, weight, marital or family status, military status, ancestry, genetic information, or any other legally protected category, (collectively, "Protected Classes"), in its programs and activities, including employment opportunities.

Inquiries or complaints by students and/or their parent(s)/guardian(s) related to discrimination based on disability/handicap should be directed to
Assistant Superintendent for Human Resources
Saline Area Schools
7265 Saline-Ann Arbor Road
Saline, MI 48176
Phone: (734) 401-4003