News & Notes
District News
View Archives
New Teacher Spotlight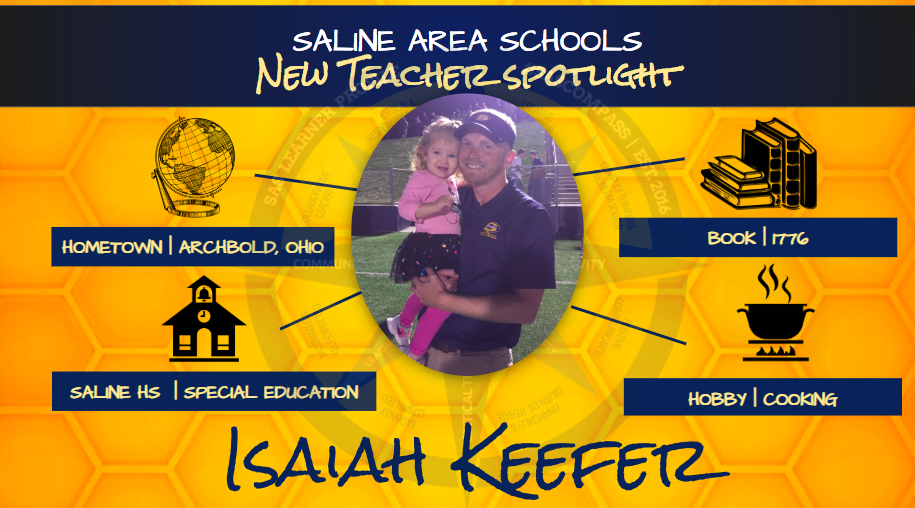 Describe your leadership style | Transformational
List the top 3 things that are essential to a productive classroom | Engagement, challenge, fun
What or who has inspired you to teach? | Mrs. Roach and Mr. Priest, my High School English and Government teachers
Describe what it's like to be an employee of Saline Area Schools | It is a great work environment, the teachers here are very kind and helpful.
Welcome to Saline, Isaiah!
2018 NATIONAL MERIT SCHOLARSHIP PROGRAM
SALINE HIGH SCHOOL COMMENDED STUDENTS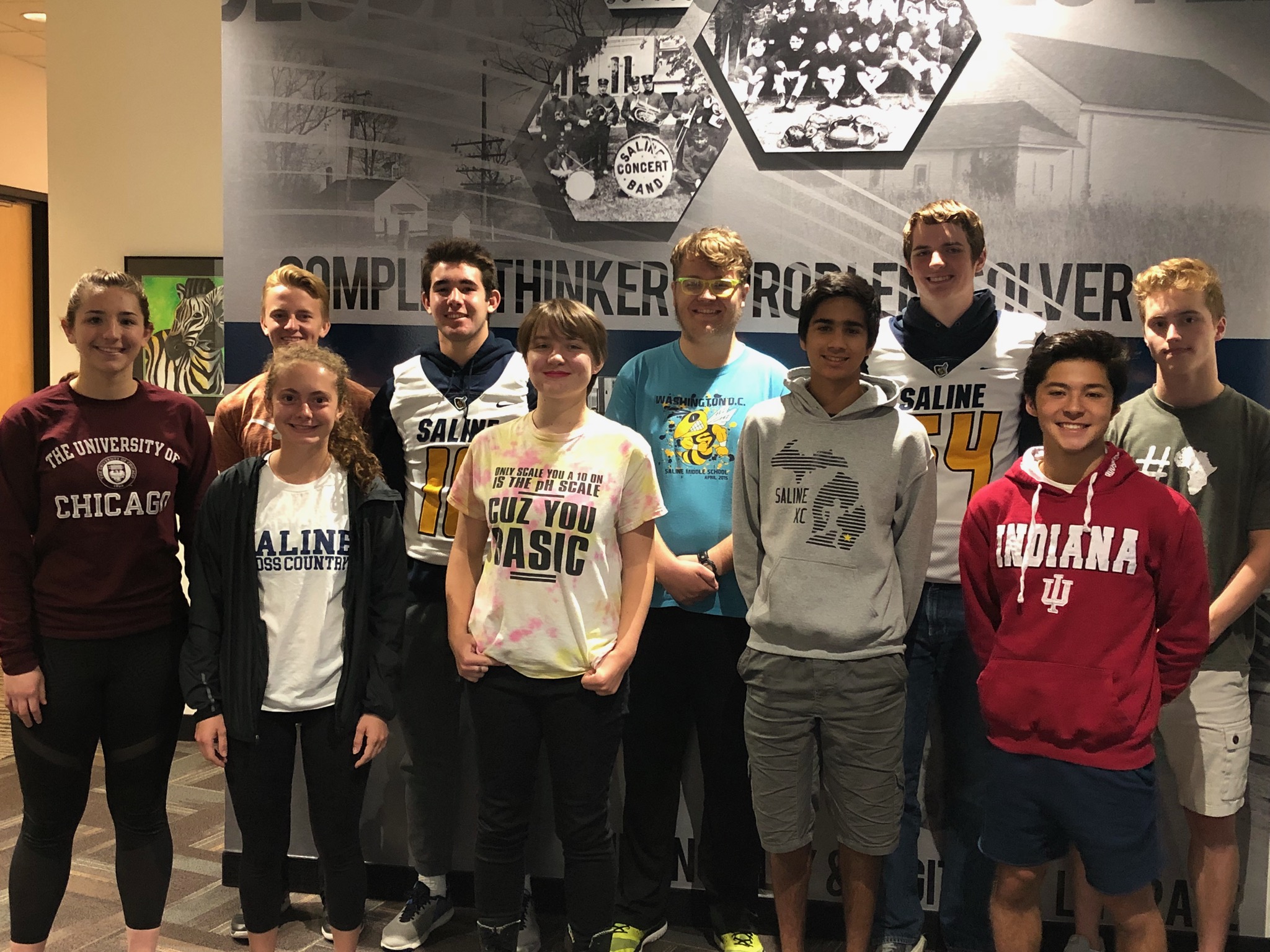 The principal, David Raft, of Saline High School, announced this week that Matthew Eitzman, Andrew Franklin, Jevin Nishioka, Annika Olsen, Ethan Shell, Alexa Stern, Sabrina Stock, Ryan Sutherland, Connor Terech, and Joshua Willwerth have been named Commended Students in the 2019 National Merit Scholarship Program. A Letter of Commendation from the school and National Merit Scholarship Corporation (NMSC), which conducts the program, will be presented by the principal to these scholastically talented seniors.
About 34,000 Commended Students throughout the nation are being recognized for their exceptional academic promise. Although they will not continue in the 2019 competition for National Merit Scholarship awards, Commended Students placed among the top 50,000 scorers of more than 1.6 million students who entered the 3019 competition by taking the 2017 Preliminary SAT/National Merit Scholarship Qualifying Test (PSAT/NMSQT).
"The young men and women being named Commended Students have demonstrated outstanding potential for academic success," commented a spokesperson for NMSC. "These students represent a valuable national resource; recognizing their accomplishments, as well as the key role their schools play in their academic development, is vital to the advancement of educational excellence in our nation. We hope that this recognition will help broaden their educational opportunities and encourage them as they continue their pursuit of academic success."
New Teacher Spotlight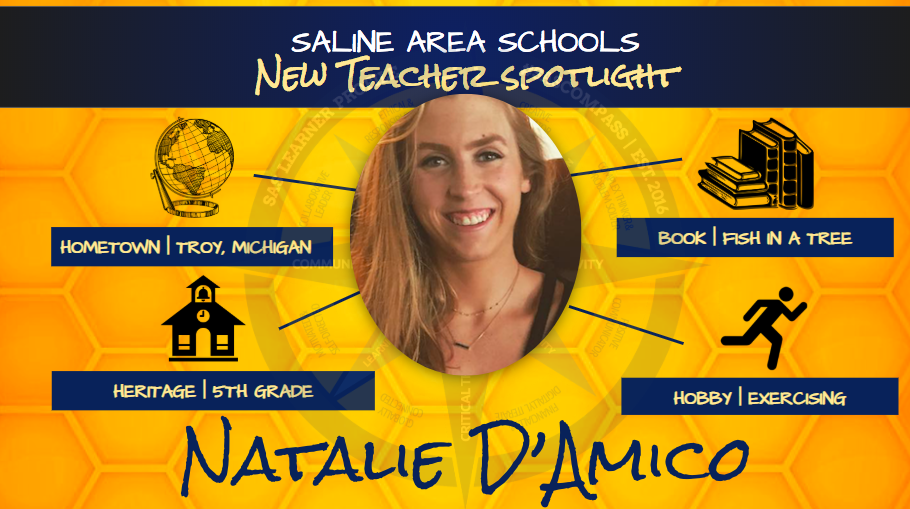 Education | Michigan State University
Leadership Style | My leadership style involves all voices being heard and all opinions are valued
Top 3 things that are essential to a productive classroom | Trust, respect, growth mindset
What or who has inspired you to teach? | My 5th grade teacher, Ms. Socier!
Describe what it's like to be an employee of Saline Area Schools | It is inspiring to be surrounded by individuals who are so focused on what's best for kids. Every day I feel supported, inspired, and motivated!
Welcom to Saline, Natalie!
Sports Physicals - August 1, 2018
Saline Sports Medicine, in conjunction with Dr. Corey Dean and staff from St. Joseph Mercy Neighborhood Family Health Center, is excited to announce upcoming sports physicals will be held on Wednesday, August 1, from 6:00 - 8:00 PM in the Middle School Gymnasium.
Sports Physicals are required for all students wishing to compete in athletics. Please bring a completed MHSAA Physical Form (excluding exam portion). Forms are available in the Athletic/Main Office at the High School, Main Office at the Middle School, or online at salinehornets.com. The cost for physicals is $30 (cash or check made payable to Saline Area Schools).
No appointment is necessary! Physicals will be conducted on a first-come, first-served basis. Please expect the process to take approximately one hour. All proceeds benefit Saline Sports Medicine. If you have any questions, please contact the High School Athletic Trainer, Jaime Corl, at 734-401-4208.
Spring Arts Festival
Strategic Goals
compliance with the regulations implementing Title VI
Any person having inquiries concerning the Saline Area Schools' compliance with the regulations implementing Title VI, Title IS, the ADA, or Section 504 is directed to contact: Saline Area Schools, Director of Human Resources, 7265 Saline Ann Arbor Road, Saline, MI 48176-1168
Equal Opportunity Info
Applicants for admission and employment, students, parents, employees, sources of referral of applicant and admission and employment, and all unions or professional organizations holding collective bargaining or professional agreements with the Saline Area Schools are notified that the Saline Area Schools does not discriminate on the basis of race, color, national origin, sex, age, religion, or disability in admission or access to, or treatment or employment in any of its programs, activities, or policies.
Mission
We, the Saline Area Schools, will equip all students with the knowledge, technological proficiency, and personal skills necessary to succeed in an increasingly complex society. We expect that our students, staff, and the Saline community will share in these responsibilities. Our ultimate goal is to instill in our students a desire for lifelong learning.
Discrimination Policy
The District will not discriminate against any person based on sex, race, color, national origin, religion, height, weight, marital status, handicap, age or disability. The Board reaffirms its long-standing policy of compliance with all applicable federal and state laws and regulations prohibiting discrimination including, but not limited to, Titles VI and VII of the Civil Rights Act of 1964, 42 U.S.C. §§ 2000d. et.seq.; and 42 U.S.C §§ 2000e, et seq.; Title IX of the Educational Amendments of 1972, 20 U.S.C. §§ 1681, et seq.; Section 504 of the Rehabilitation Act of 1973, 29 U.S.C § 794; The Americans with Disabilities Act of 1990, 42 U.S.C. §§ 1210, et seq.; the Persons with Disabilities Civil Rights Act, MCL §§37.1101, et seq.; and the Elliott-Larsen Civil Rights Act, MCL §§ 37.12101, et seq.
Inquiries or complaints by students and/or their parent(s)/guardian(s) related to discrimination based on disability/handicap should be directed to
Assistant Superintendent for Human Resources
Saline Area Schools
7265 Saline-Ann Arbor Road
Saline, MI 48176
Phone: (734) 401-4002