School Calendar
Calendar

Previous

October

2023

Next

S
M
T
W
T
F
S
1
2
3
4
5
6
7
8
9
10

Oct 10

5:00 PM to 6:00 PM

Board Finance Committee Mtg

Location:

Liberty School, 7265 N Ann Arbor St, Saline, MI 48176, USA

Calendar:

District School Calendar

6:30 PM to 8:30 PM

Board of Education Meeting

Location:

Liberty School Board Room

Calendar:

District School Calendar

11

Oct 11

6:00 PM to 7:00 PM

School and Family Partnership Series: Supporting Student Wellness

Location:

Saline High School Media Center

Calendar:

District School Calendar

12
13
14
15
16
17
18
19

Oct 19

Calendar:

District School Calendar

20

Oct 20

Calendar:

District School Calendar

21
22
23
24

Oct 24

5:00 PM to 6:00 PM

Board Policy Committee Mtg

Location:

Liberty School, 7265 N Ann Arbor St, Saline, MI 48176, USA

Calendar:

District School Calendar

6:30 PM to 8:30 PM

Board of Education Meeting

Location:

Liberty School Board Room

Calendar:

District School Calendar

25
26
27
28
29
30
31
Upcoming Events/Public Notices
Board Finance Committee Mtg

Location:

Liberty School, 7265 N Ann Arbor St, Saline, MI 48176, USA

Calendar:

District School Calendar

Board of Education Meeting

Location:

Liberty School Board Room

Calendar:

District School Calendar

Calendar:

District School Calendar

Calendar:

District School Calendar

Board Policy Committee Mtg

Location:

Liberty School, 7265 N Ann Arbor St, Saline, MI 48176, USA

Calendar:

District School Calendar

Board of Education Meeting

Location:

Liberty School Board Room

Calendar:

District School Calendar

Board of Education Meeting

Location:

Liberty School Board Room

Calendar:

District School Calendar

Calendar:

District School Calendar

Calendar:

District School Calendar
District News
September 27, 2023
No Planned Bus Route Cancellations Week of 10/2
There are NO scheduled bus route cancellations the week of October 2. The Transportation Department and many supporting staff from other departments are using all available drivers to cover bus routes. Due to our continued need for bus drivers, unplanned route cancellations due to illness/injury are still possible. The Ride 360 app will be used to communicate unplanned cancellations. Please make sure you have enabled notifications on the app. Instructions to install and use the Ride 360 app are available on the Saline Area Schools Transportation website.
August 18, 2023
Free School Breakfast and Lunch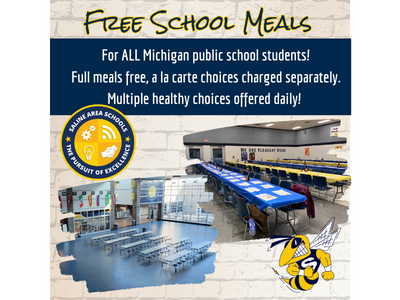 All students eat for free, both breakfast & lunch, full meals only not a la carte items. A la carte items include milk, snacks, etc. Families may still choose to fund their students' accounts using the Meal Magic Portal, in order to cover the cost of only a beverage, a la carte choices, and snacks during breakfast and lunch.

Child Find - Early Identification
Children with special needs can often benefit from a number of therapies and, generally, the sooner they receive treatment, the better the outcomes will be. But, how do you know if a child needs help?

Learn More about How the Child Find Program Works.
District Policies
Saline Area Schools Mission Statement
We will equip all students with the knowledge, technological proficiency, and personal skills necessary to succeed in an increasingly complex society. Our ultimate goal is to instill in our students a desire for lifelong learning.
Equal Opportunity Info
Applicants for admission and employment, students, parents, employees, sources of referral of applicant and admission and employment, and all unions or professional organizations holding collective bargaining or professional agreements with the Saline Area Schools are notified that the Saline Area Schools does not discriminate on the basis of race, color, national origin, sex, age, religion, or disability in admission or access to, or treatment or employment in any of its programs, activities, or policies.
Non-discrimination Policy
The District does not discriminate on the basis of race, color, national origin, sex, (including sexual orientation and gender identity), disability, age, religion, height, weight, marital or family status, military status, ancestry, genetic information, or any other legally protected category, (collectively, "Protected Classes"), in its programs and activities, including employment opportunities.
Inquiries or complaints by students and/or their parent(s)/guardian(s) related to discrimination based on disability/handicap should be directed to
Assistant Superintendent for Human Resources
Saline Area Schools
7265 North Ann Arbor St.
Saline, MI 48176
Phone: (734) 401-4003
Non Discrimination Information
Any person having inquiries concerning the Saline Area Schools' compliance with the regulations implementing Title VI, Title IX, the ADA, or Section 504 is directed to contact:
Saline Area Schools
Director of Human Resources
7265 North Ann Arbor Street
Saline, MI 48176-1168
734-401-4003
Email
District participated in comprehensive Title IX training complying with legal requirements on November 11, 2020. Any person having inquiries concerning the Saline Area Schools' compliance with the regulations implementing Title IX is directed to contact:
Saline Area Schools
Carol Melcher
Title IX Coordinator
7265 North Ann Arbor Street
Saline, MI 48176-1168
734-401-4040
Email