News & Notes
District News
View Archives
Feature Friday | Katie Alexander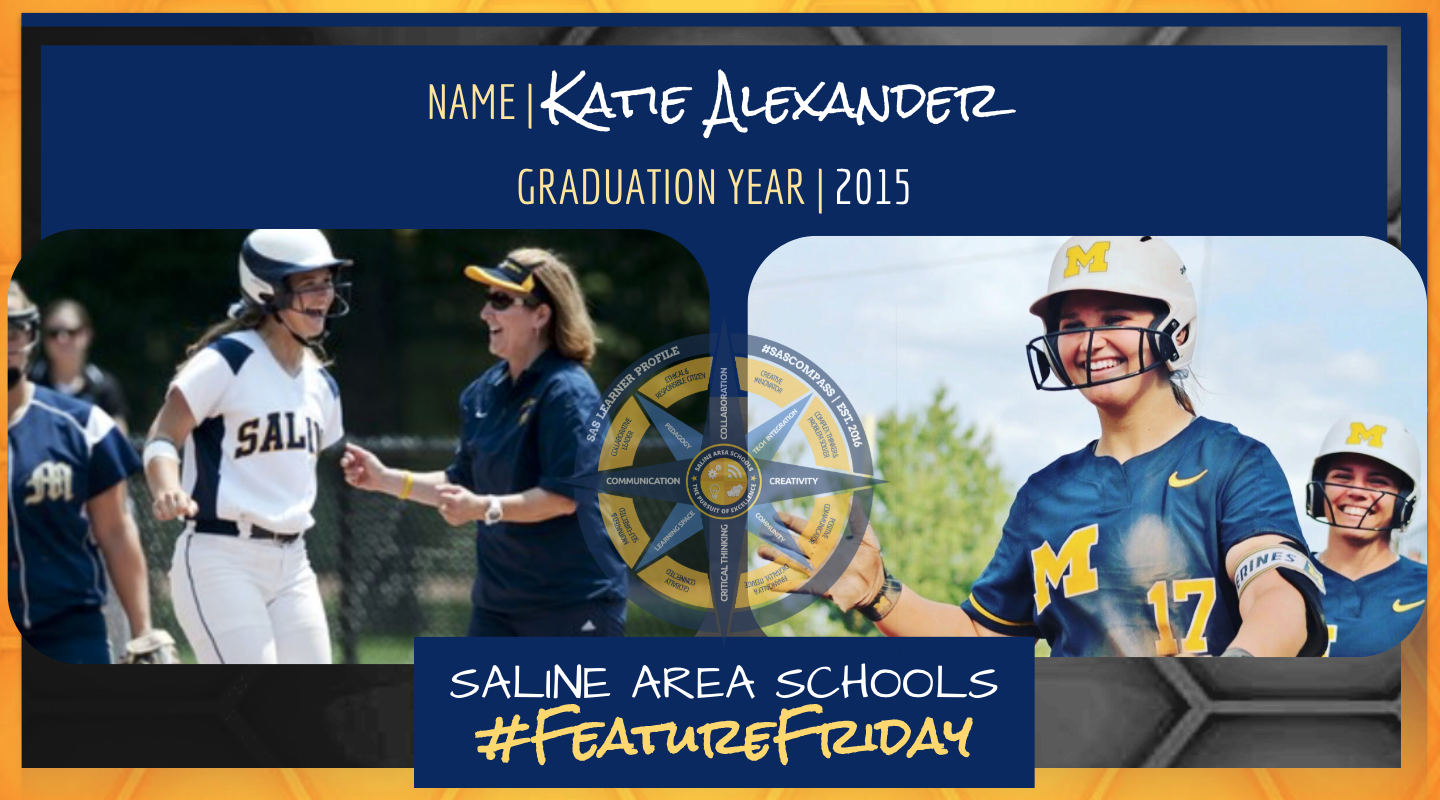 Tell us what you are doing now | I am studying kinesiology at the University of Michigan, graduating in May. I am also a catcher on the softball team.
How did Saline prepare you for this role? | Saline prepared me through competitive classes, and competitive athletic competition. In every way, Saline pushed to be the best. Regardless of being in the classroom or on the field, I learned that to be the best, I had to give my 100% effort every single day.
Which Saline staff members impacted you and why? | Alicia Seegert- she was my mentor, as she played softball at Michigan as well. She taught me the work ethic that I have. I was able to go from a walk-on position to receiving a scholarship my senior year. She showed me my potential, and I used my drive to get to be my best self. Dr. Jastrow- she taught me my love for anatomy and physiology and pushed me towards a career in the health field. Mr. Schmier- Influenced my love for culture, especially music and media. He was a great teacher who taught my learning can be fun, especially when it is something seen in every day society. He loves what he does and you can tell. I will take that drive with me into my own career in the future.
Advice for current Hornets | Don't sell yourself short. Apply for every position, and always try to get into things even if you don't feel you are good at them. You can literally accomplish anything you want, regardless of the situation. Set your mind to it, and with time... anything can be accomplished.
Describe Saline Area Schools in 3 words | Prestigious, Exemplar, Significant
To see more #FeatureFriday spotlights of our SAS Alum, follow us on Twitter and Facebook!
Saline Knots for Mott Program
On Friday, December 7th, students from Saline Middle School heard a presentation from Trisha Langkos and Gene Skidmore who represent Development and Community Outreach of Mott Children's Hospital.
Saline Area Schools is partnering with the Hospital to provide fleece blankets for children who are admitted to Mott. Organized by Saline MS language arts teacher Laura Mayers, this program not only encourages our students to participate in community outreach, but also connects our National Honors Society high school students, middle school students, staff and parents through a heartfelt project.
Blankets are being assembled next Thursday, December 13th.
If you would like to contribute, monetary and fleece donations can be dropped off to the Saline MS Main Office at any time before Thursday. Fleece should be cut in 2-yard measurements and can be solid colors or patterns.
Any questions? Contact Laura via email: mayersl@salineschools.org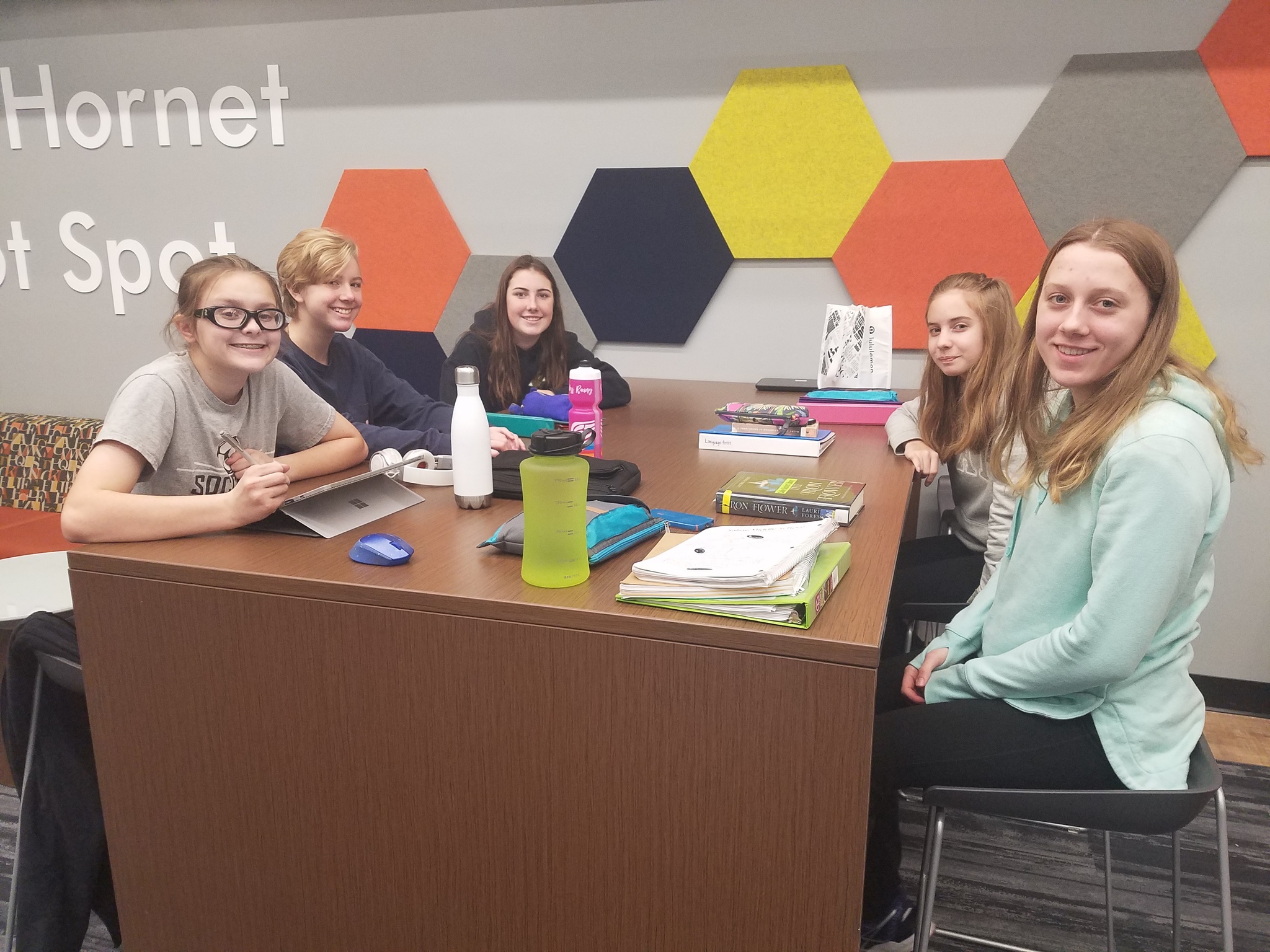 The EDGE at Saline High School
Kara Stemmer teaches Marketing I for juniors and seniors at Saline High School. They are currently in their "sales unit" and the students are preparing to make a five minute sales pitch on a product of their choosing. They'll role play with other students who will act as the customer. The objective is for the students to experience how to acquire product information, how to sell goods to individuals/groups and ultimately, understand the importance of customer service and building relationships. Many past students have found this project to be one of their favorites.
As for Mrs. Stemmer's Marketing II students, they are seniors who operate and manage The EDGE. This lab provides them with an authentic opportunity to apply the content that they learned in Marketing I and obtain the necessary skills that will be transferable to industry. On a daily basis they are restocking, counting inventory, promoting, fulfilling online orders, managing money, working with the Square Point-of-Sale register, and truly mastering the skill of providing exceptional customer service. Many students will refer to this class on applications and it has proven to put them ahead of other applicants. It is the ultimate hands-on learning experience!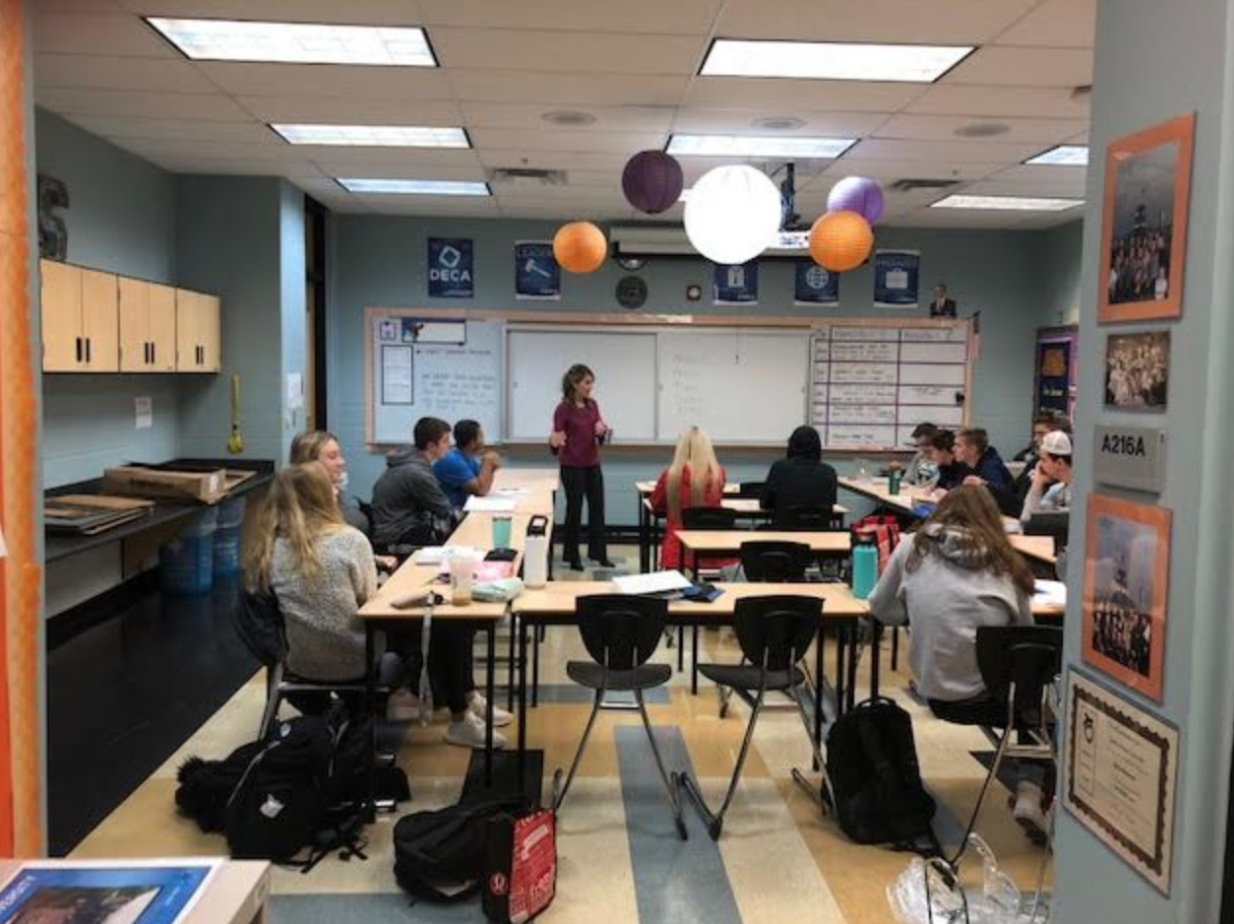 Strategic Goals
compliance with the regulations implementing Title VI
Any person having inquiries concerning the Saline Area Schools' compliance with the regulations implementing Title VI, Title IS, the ADA, or Section 504 is directed to contact: Saline Area Schools, Director of Human Resources, 7265 Saline Ann Arbor Road, Saline, MI 48176-1168
Equal Opportunity Info
Applicants for admission and employment, students, parents, employees, sources of referral of applicant and admission and employment, and all unions or professional organizations holding collective bargaining or professional agreements with the Saline Area Schools are notified that the Saline Area Schools does not discriminate on the basis of race, color, national origin, sex, age, religion, or disability in admission or access to, or treatment or employment in any of its programs, activities, or policies.
Mission
We, the Saline Area Schools, will equip all students with the knowledge, technological proficiency, and personal skills necessary to succeed in an increasingly complex society. We expect that our students, staff, and the Saline community will share in these responsibilities. Our ultimate goal is to instill in our students a desire for lifelong learning.
Discrimination Policy
The District will not discriminate against any person based on sex, race, color, national origin, religion, height, weight, marital status, handicap, age or disability. The Board reaffirms its long-standing policy of compliance with all applicable federal and state laws and regulations prohibiting discrimination including, but not limited to, Titles VI and VII of the Civil Rights Act of 1964, 42 U.S.C. §§ 2000d. et.seq.; and 42 U.S.C §§ 2000e, et seq.; Title IX of the Educational Amendments of 1972, 20 U.S.C. §§ 1681, et seq.; Section 504 of the Rehabilitation Act of 1973, 29 U.S.C § 794; The Americans with Disabilities Act of 1990, 42 U.S.C. §§ 1210, et seq.; the Persons with Disabilities Civil Rights Act, MCL §§37.1101, et seq.; and the Elliott-Larsen Civil Rights Act, MCL §§ 37.12101, et seq.
Inquiries or complaints by students and/or their parent(s)/guardian(s) related to discrimination based on disability/handicap should be directed to
Assistant Superintendent for Human Resources
Saline Area Schools
7265 Saline-Ann Arbor Road
Saline, MI 48176
Phone: (734) 401-4002