News & Notes
District News
View Archives
The 5th Corner Leadership Academy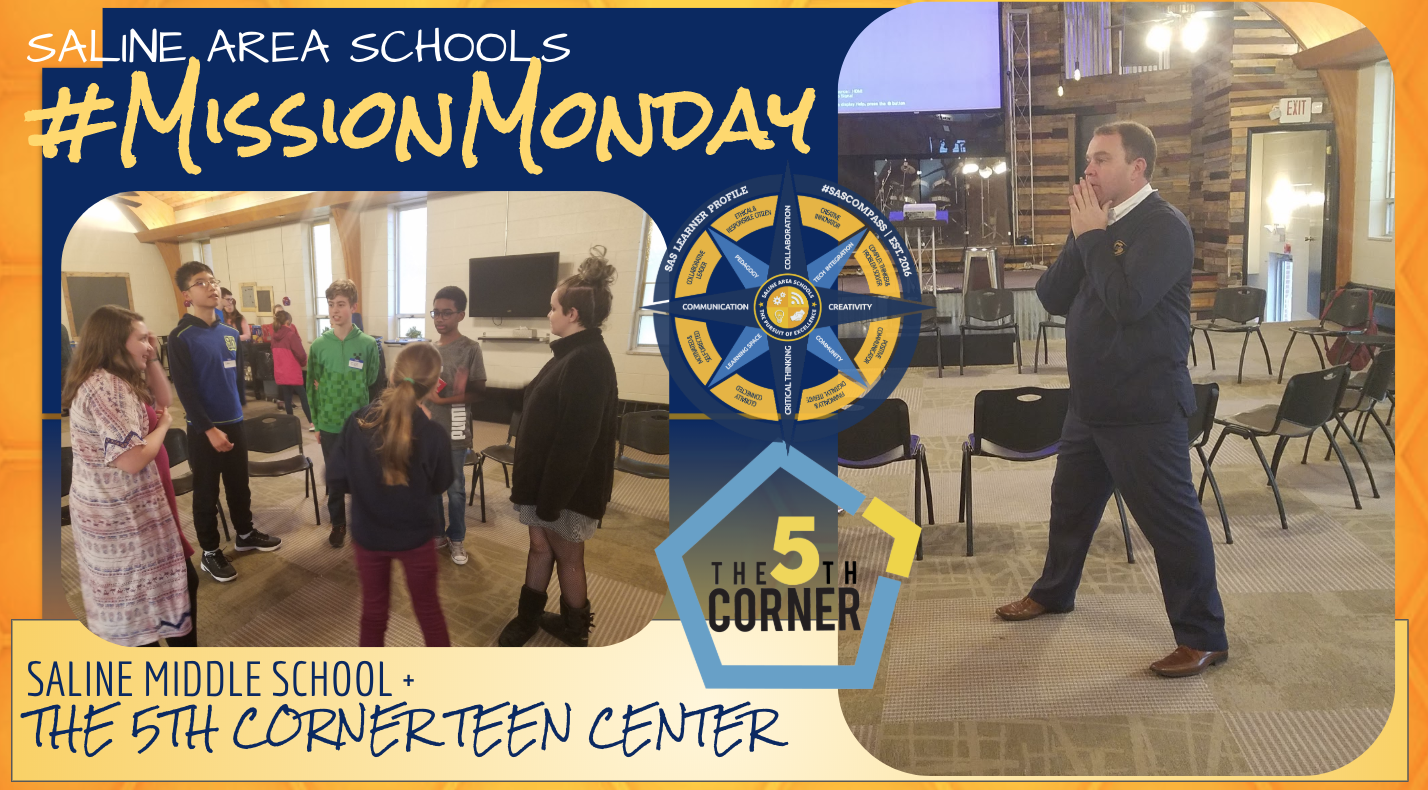 A hidden gem in Saline, The 5th Corner Teen Center is a place where middle school and high school students can connect and develop leadership skills. Located at the corner of Willis and Saline-Milan Road, the building is open to students (completely free) on Wednesdays, Thursdays and Fridays.
With an intent to provide an environment that fosters leadership, Saline Leadership Institute provides a similar student academy specifically for middle school students. Titled "Step Up Leadership Academy," students meet monthly to experience team building, goal setting, community service, emotional health, problem solving, etc.
On December 5th, Saline Middle School Principal Brad Bezeau facilitated a session on social and emotional health. Brad was more than happy to extend his work day and spend extra time with his students. "The focus for my session was Leadership and supporting one another in the social and emotional realms of teen life and how to help one another when struggling and needing support in life and in school. I want to help students identify the key people and sources of support in their lives, and the strengths and tools that they have internally to help themselves. There is a lot of power within these students, and it is my job to help them identify and harness that personal power."
Leadership, he believes, already exists in these students. They just need help bringing it to the surface. "I have seen their leadership and service in a wide range of service activities, etc. that they are all involved with (Knots for Motts, volunteering at the Humane Society, an SMS Coat Drive donation to Saline Social Services."
For more information on The 5th Corner Teen Center, contact Program Coordinator Peter Rufener (pastorpeter@salinecommunitychurch.org)
Strategic Goals
compliance with the regulations implementing Title VI
Any person having inquiries concerning the Saline Area Schools' compliance with the regulations implementing Title VI, Title IS, the ADA, or Section 504 is directed to contact: Saline Area Schools, Director of Human Resources, 7265 Saline Ann Arbor Road, Saline, MI 48176-1168
Equal Opportunity Info
Applicants for admission and employment, students, parents, employees, sources of referral of applicant and admission and employment, and all unions or professional organizations holding collective bargaining or professional agreements with the Saline Area Schools are notified that the Saline Area Schools does not discriminate on the basis of race, color, national origin, sex, age, religion, or disability in admission or access to, or treatment or employment in any of its programs, activities, or policies.
Mission
We, the Saline Area Schools, will equip all students with the knowledge, technological proficiency, and personal skills necessary to succeed in an increasingly complex society. We expect that our students, staff, and the Saline community will share in these responsibilities. Our ultimate goal is to instill in our students a desire for lifelong learning.
Discrimination Policy
The District will not discriminate against any person based on sex, race, color, national origin, religion, height, weight, marital status, handicap, age or disability. The Board reaffirms its long-standing policy of compliance with all applicable federal and state laws and regulations prohibiting discrimination including, but not limited to, Titles VI and VII of the Civil Rights Act of 1964, 42 U.S.C. §§ 2000d. et.seq.; and 42 U.S.C §§ 2000e, et seq.; Title IX of the Educational Amendments of 1972, 20 U.S.C. §§ 1681, et seq.; Section 504 of the Rehabilitation Act of 1973, 29 U.S.C § 794; The Americans with Disabilities Act of 1990, 42 U.S.C. §§ 1210, et seq.; the Persons with Disabilities Civil Rights Act, MCL §§37.1101, et seq.; and the Elliott-Larsen Civil Rights Act, MCL §§ 37.12101, et seq.
Inquiries or complaints by students and/or their parent(s)/guardian(s) related to discrimination based on disability/handicap should be directed to
Assistant Superintendent for Human Resources
Saline Area Schools
7265 Saline-Ann Arbor Road
Saline, MI 48176
Phone: (734) 401-4002