News & Notes
District News
View Archives
November 9, 2017
Inherit the Wind
SHS Drama Club Production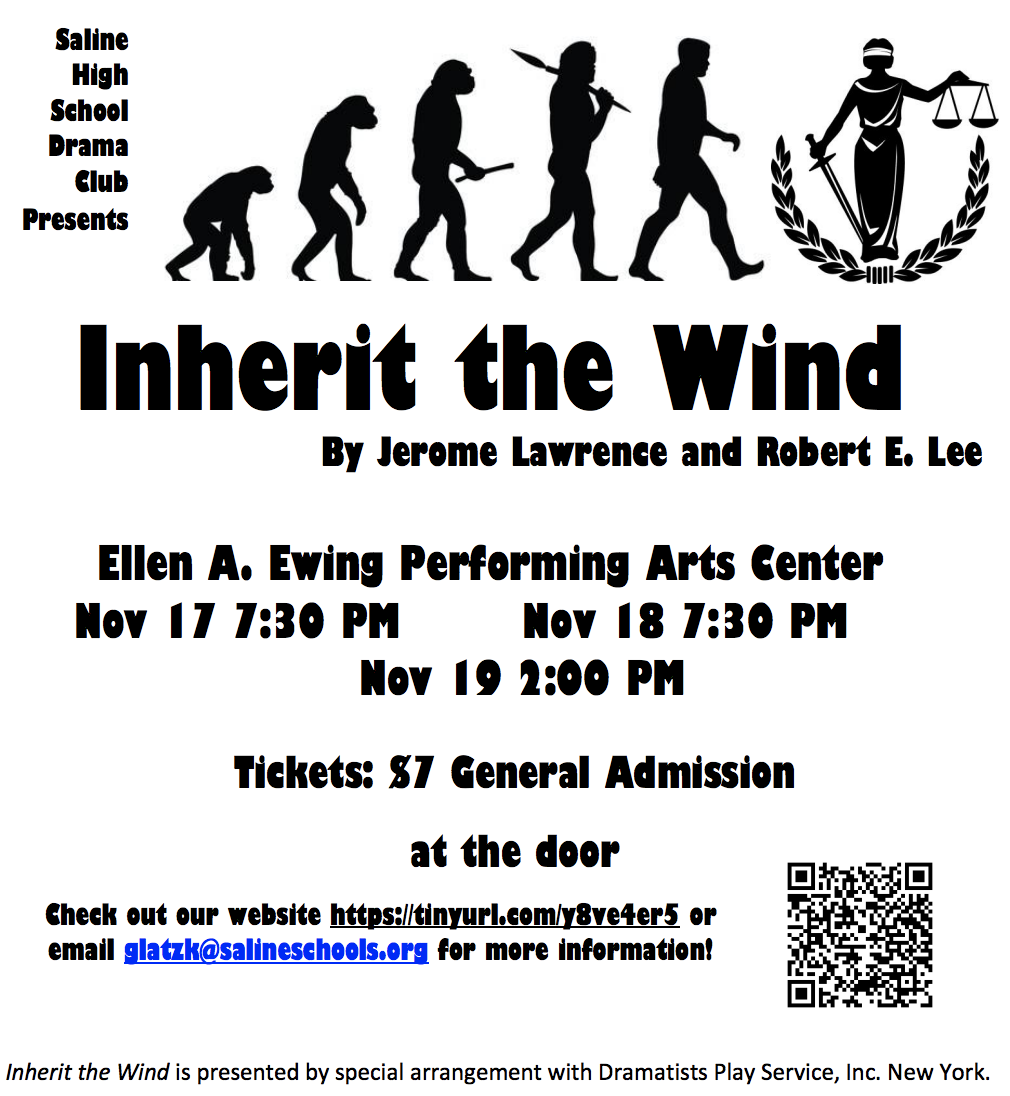 The Saline High School Drama Club will present its fall production, Inherit the Wind, by Jerome Lawrence and Robert E. Lee, on November 17th and 18th at 7:30 p.m. and November 19th at 2:00 p.m. in the Ellen A. Ewing Performing Arts Center at Saline High School. Seating is general admission and tickets are $7.00 and are available at the door.
Inherit the Wind, a classic courtroom drama, fictionalizes the 1925 Scopes "Monkey" Trial, which resulted in the conviction of a small-town teacher for teaching Charles Darwin's theory of evolution to a high school science class, contrary to a Tennessee state law. The debate between science and religion, what constitutes fact versus belief, and the protection of the freedom of thought are themes that still resonate almost 100 years later.
"This is the play that has as its genesis in the events of the famous Scopes trial. One of the most outstanding dramas of our time. The portrait it draws of an explosive episode in American culture, vigorously written by Jerome Lawrence and Robert E. Lee, remains as fresh as it ever was. One of the most stirring plays in recent years retains its folk flavor and spiritual awareness in an Arena Stage production. Bursting with vitality…Literature of the stage!" —NY Times (Samuelfrench.com)
The cast includes… Sayoni Bandyopadhyay, Ellie Bauer, Tomi Byrd, Dee Covey, Emma Crisenbery, Claudia Curcione, Jake Edwards, Cristina Gonzalez, Stefania Gonzalez, Téa Hajratwala, John Harrell, Jade Hartman, Eliza Larsen, Delia Leon, Maggie Lupton, Brooklyn McLean, Ryan Moore, Alayna Musson, Eddie Ozor, Joseph Pryor, Kimberly Schamberger, Ethan Schmaltz, Joe Singh, Kylee Smith, Willow Symonds, Ayla Tighe, Collin Wagner, Allison Wall, Hannah Weatherly, and Wesley Welt. The production is directed and produced by Kristen Glatz and student directed by Courtney Pellerin.
Check SHS Drama for more information or please call (734) 401-4644
September 13, 2017
Early Release Days
Early Release Days - Reduced Price Childcare Sign-Up by September 22
We have developed a calendar for the 2017/18 school year that will consist of a number of professional development days for our teaching staff. This will result in six occasions where ALL students will be dismissed early. These early release days will occur on the following days:
January 17, 2018 (Early Release Day #3)
February 7, 2018 (Early Release Day #4)
March 7, 2018 (Early Release Day #5)
April 18, 2018 (Early Release Day #6)
December 13, 2016
Vision for Learning
Strategic Goals
compliance with the regulations implementing Title VI
Any person having inquiries concerning the Saline Area Schools' compliance with the regulations implementing Title VI, Title IS, the ADA, or Section 504 is directed to contact: Saline Area Schools, Director of Human Resources, 7265 Saline Ann Arbor Road, Saline, MI 48176-1168
Equal Opportunity Info
Applicants for admission and employment, students, parents, employees, sources of referral of applicant and admission and employment, and all unions or professional organizations holding collective bargaining or professional agreements with the Saline Area Schools are notified that the Saline Area Schools does not discriminate on the basis of race, color, national origin, sex, age, religion, or disability in admission or access to, or treatment or employment in any of its programs, activities, or policies.
Mission
We, the Saline Area Schools, will equip all students with the knowledge, technological proficiency, and personal skills necessary to succeed in an increasingly complex society. We expect that our students, staff, and the Saline community will share in these responsibilities. Our ultimate goal is to instill in our students a desire for lifelong learning.
Discrimination Policy
The District will not discriminate against any person based on sex, race, color, national origin, religion, height, weight, marital status, handicap, age or disability. The Board reaffirms its long-standing policy of compliance with all applicable federal and state laws and regulations prohibiting discrimination including, but not limited to, Titles VI and VII of the Civil Rights Act of 1964, 42 U.S.C. §§ 2000d. et.seq.; and 42 U.S.C §§ 2000e, et seq.; Title IX of the Educational Amendments of 1972, 20 U.S.C. §§ 1681, et seq.; Section 504 of the Rehabilitation Act of 1973, 29 U.S.C § 794; The Americans with Disabilities Act of 1990, 42 U.S.C. §§ 1210, et seq.; the Persons with Disabilities Civil Rights Act, MCL §§37.1101, et seq.; and the Elliott-Larsen Civil Rights Act, MCL §§ 37.12101, et seq.
Inquiries or complaints by students and/or their parent(s)/guardian(s) related to discrimination based on disability/handicap should be directed to
Assistant Superintendent for Human Resources
Saline Area Schools
7265 Saline-Ann Arbor Road
Saline, MI 48176
Phone: (734) 401-4002