April 22, 2022
Service Learning at Saline Alternative High School with Joan Kelley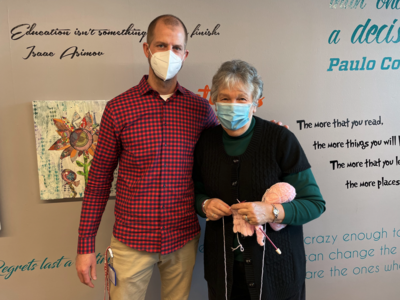 News Release: Service Learning at Saline Alternative High School
Date: April 22nd, 2022
Contact: Anna Britnell, Director of Communications and Community Relations (britnela@salineschools.org)
---
By partnering with various organizations and individuals in our community, the Service Learning class at the Saline Alternative High School provides students with extraordinary opportunities. To become college and job-ready, students spend time crafting personal resumes and learn how to master an application. The staff at the Saline Alternative High School also works to match students with outside volunteer opportunities that mirror their interests.
For volunteer work, students spend time collaborating with friends down the hall at Liberty Club, a day program that supports the needs of adults with disabilities aged 26 and older. And, for over 11 years, students have been learning the skill of knitting with a community volunteer by the name of Joan Kelley who has dedicated her time to both our students and the greater good.
Joan is a senior citizen who has lived in Saline for more than 55 years, and started knitting at the age of eighteen. Our students and staff have been fortunate to not only learn how to knit, but spend time with an incredible individual who encourages others to give back to the community. Below is a recap of her journey with Saline Alternative High School:
How did you become connected with Saline Alternative HS?
I am a member of the Senior Citizens Group. One of the teachers at Alternative High asked her mother (a senior member) if she would like to teach knitting at school. She said no, but brought the request to our group. I volunteered to look into it and found that the school wanted to blend young people and older people in a trial to see how such an arrangement would work. I was accepted into the program of service learning where students give back to the community. It is required for graduation at Alternative High School. I was already making baby hats through the Senior Center and the idea fit perfectly into the Service Learning Program.
Walk us through what a marking period of knitting looks like for the student. What are the goals? What do the students strive to accomplish?
Students learn to knit and become familiar with knitting terms during their 6 weeks in the program (1 marking period). I teach them to knit, encourage their progress and get to know them on a very personal level. There is a sense of accomplishment in completing a finished hat. All students learn to knit. While knitting, we have questions of the day that we share. No one's answers are wrong and no one is bullied. We have some very lively conversations and build relationships with one another. Before this knitting circle started, we found that some students didn't even know the name of the person sitting next to them. This easy conversation has brought many students out of their shells. They are now participating members of the class. Some of the questions are easy like what's your favorite food, to the more difficult question, what do you look for in a friend. If a student doesn't have an answer they can pass.
Tell us about where the hats go after they are completed. How many hats have you donated over the years?
Hats at the beginning were going to St. Joseph Hospital in Ypsilanti and now they go to the U/M Women's Hospital. If a hat is too big for a newborn, it goes to the children's hospital for cancer patients. Personally, I have donated more than 1,600 hats over the past 15 years.
Why do you enjoy volunteering your time at Saline Alternative High School?
I have found that Saline Alternative High is a wonderful fit for me. Volunteering has been a way of life for me since I came to Saline. I believe in the starfish principle. One night there was a terrible storm and the next morning the beach was covered with starfish that had washed ashore. A little girl was on the beach and she was throwing the starfish back into the ocean one at a time. A man asked her what she was doing. She told him and he said it was impossible to make a difference. She picked up another starfish and gently tossed it back into the water saying I made a difference to this one. I don't make a difference in every student's life, but I know I have touched and encouraged many students to feel better about themselves and to go on and graduate. I do make a difference!
Over the years, have you found that knitting helps the overall student experience? How so?
The class teaches students to persevere through something that is a new skill. It also teaches them that some days you just don't feel like knitting (like you don't feel like going to work, but you must). It teaches them they are the artist and can design the hat through color choices and patterns. Not everyone is a knitter and we understand that, but we want everyone to try their best. Many students find the repetition of knitting very relaxing and even buy their own materials for home.
Anything else that might be noteworthy about this incredible relationship.
I'm honored that Mrs. Melcher and the staff at Saline Alternative High have asked me to be a part of their program as the resident grandma for the past 11 years. I think there is a real untapped potential for seniors to make a difference in our schools.