News & Notes
District News - Archives
Back to News
Saline Drama Club Presents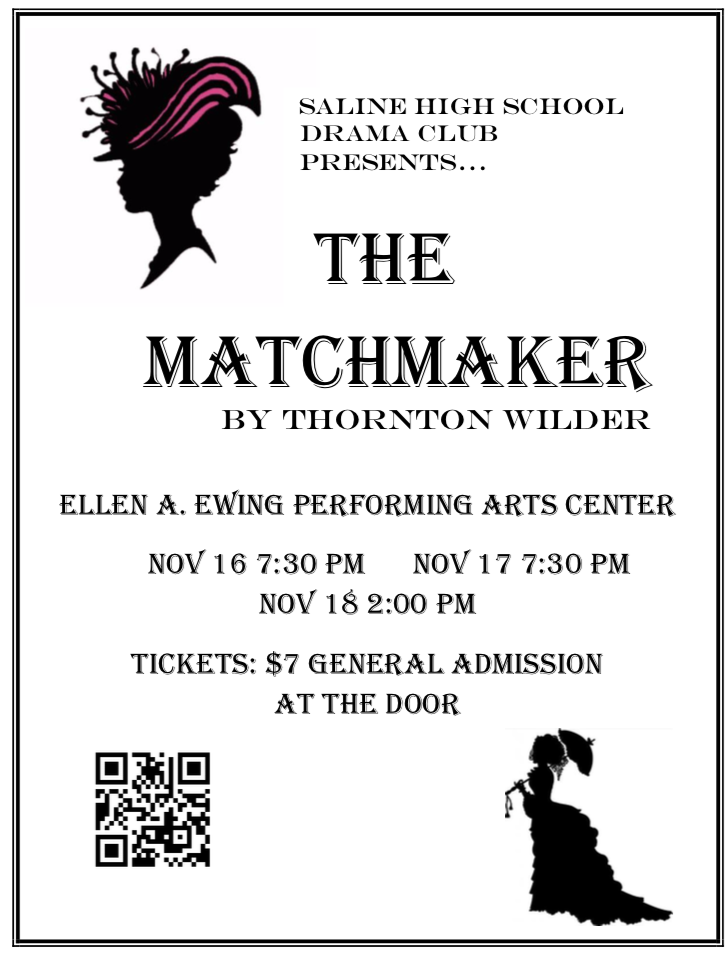 Saline Area Schools New Teacher Spotlight!
Elizabeth Green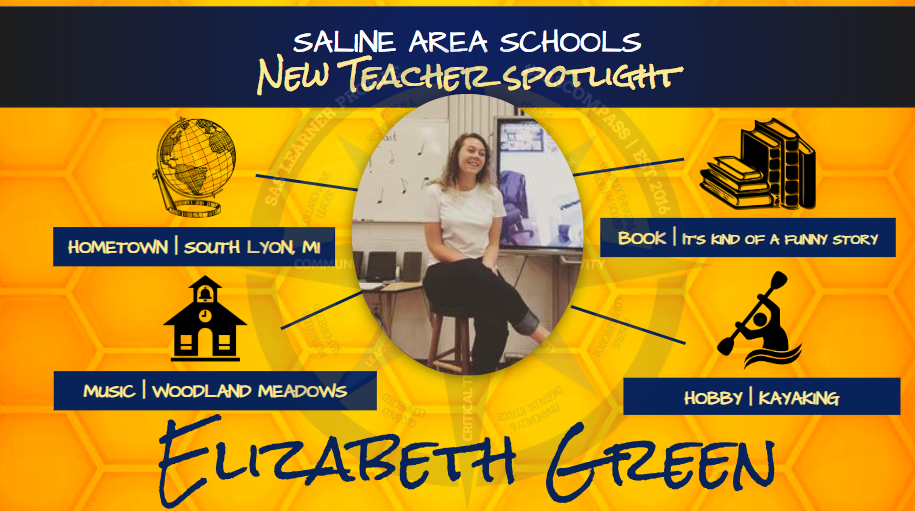 Describe your leadership style | Transformational leadership
List the top 3 things that are essential to a productive classroom | Positive relationships with students, excitement about subject you're teaching, and well thought out lesson plans/activities
Who or what inspired you to teach? | My mom and Mr. Hathikhanavala (choir teacher at SLHS), teaching me that everyone can be a musician and it's my job to bring out the music maker in each student
Describe what it's like to be a Saline Area Schools employee | It's wonderful, I feel absolutely supported by the staff at WM and the music department and I have all of the resources I need to provide the best music instruction to my students! I'm really happy to be here and excited to continue this journey!
Welcome to Saline, Elizabeth!
2019 Saline Heritage Science Olympiad Kick-Off
We are excited to announce our 2019 Saline Heritage Science Olympiad Kick-Off meeting!

When? Tuesday, November 13th - 7:00-8:00

Where? Saline Heritage cafeteria

Who should attend? Saline 2nd, 3rd, 4th, and 5th grade students and parents

Please join us to learn all about the upcoming Science Olympiad season! Invite your friends who might also be interested in the fantastic program!

We hope to see you there, but in the event you can't, I will be sure to post the presentation to our website.

For more information about Science Olympiad, please visit our website: http://salineheritageso.weebly.com or the WESO website: https://sites.google.com/a/aaps.k12.mi.us/weso-wizards

Contact: Lisa and Jon Spencer

Saline Heritage Science Olympiad
New Teacher Spotlight
Kasey Chapman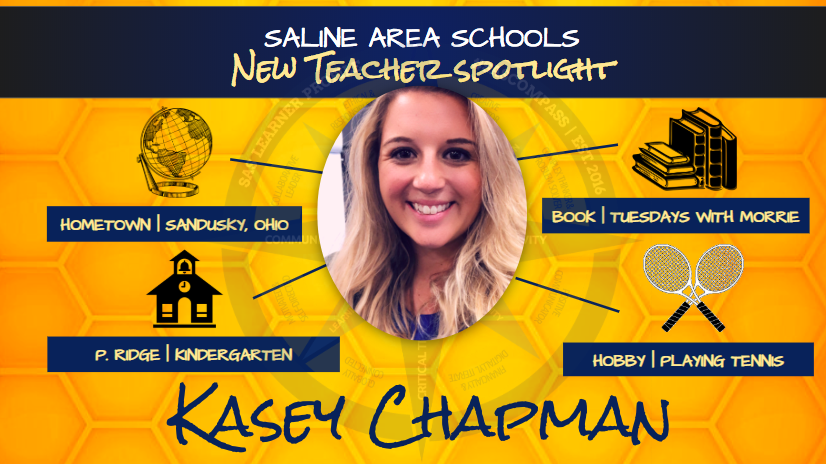 Leadership Style | Democratic
List the top 3 things that are essential to a productive classroom | Positive attitude, sense of belonging, respect
What or who has inspired you to teach? | My brother struggled with aggressive behaviors in school and therefore didn't always see "school" in a positive light. I wanted to make sure that all students, even those that struggled with behaviors, were successful and welcome at school!
Describe what it's like to be an employee of Saline Area Schools | Saline is one big family! Everyone is welcoming and kind in all of the buildings. I love the collaboration that happens not only in the grade level, but between grade levels and across the district. Saline really does a great job at putting students first!
Welcome to Saline, Kasey!
Wise Wednesday: Physical Education Upgrades in Saline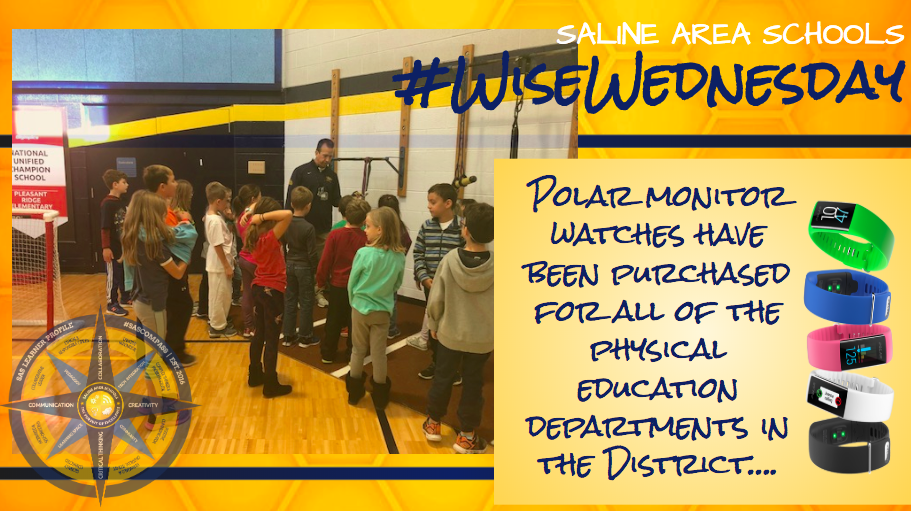 Movement is the name of the game in physical education classes across the District. With a district initiative to support students in achieving their maximum target heart rate, polar monitor watches have been purchased for all the PE departments in the District. The goal is to help students realize the benefits of individual physical fitness. The polar monitor watches help students self-monitor their heart rate and recognize that they are making progress towards their individual fitness goals. In Joe Welton's PE class at Pleasant Ridge Elementary School, his students target 15 minutes (in a 30 minute class) in their target heart rate zone. Polar monitor watches help students accomplish a number of goals within the "Motivated & Self-Directed" student attribute within the SAS Compass including:
Set learning goals and initiate learning
Self-assess, self-advocate, and reflect
Persevere through learning tasks
Polar monitor watches have been purchased for all PE classes throughout the District in order to focus on individual fitness and health of our students.
Learn more: www.polar.com
Strategic Goals
compliance with the regulations implementing Title VI
Any person having inquiries concerning the Saline Area Schools' compliance with the regulations implementing Title VI, Title IS, the ADA, or Section 504 is directed to contact: Saline Area Schools, Director of Human Resources, 7265 Saline Ann Arbor Road, Saline, MI 48176-1168
Equal Opportunity Info
Applicants for admission and employment, students, parents, employees, sources of referral of applicant and admission and employment, and all unions or professional organizations holding collective bargaining or professional agreements with the Saline Area Schools are notified that the Saline Area Schools does not discriminate on the basis of race, color, national origin, sex, age, religion, or disability in admission or access to, or treatment or employment in any of its programs, activities, or policies.
Mission
We, the Saline Area Schools, will equip all students with the knowledge, technological proficiency, and personal skills necessary to succeed in an increasingly complex society. We expect that our students, staff, and the Saline community will share in these responsibilities. Our ultimate goal is to instill in our students a desire for lifelong learning.
Discrimination Policy
The District will not discriminate against any person based on sex, race, color, national origin, religion, height, weight, marital status, handicap, age or disability. The Board reaffirms its long-standing policy of compliance with all applicable federal and state laws and regulations prohibiting discrimination including, but not limited to, Titles VI and VII of the Civil Rights Act of 1964, 42 U.S.C. §§ 2000d. et.seq.; and 42 U.S.C §§ 2000e, et seq.; Title IX of the Educational Amendments of 1972, 20 U.S.C. §§ 1681, et seq.; Section 504 of the Rehabilitation Act of 1973, 29 U.S.C § 794; The Americans with Disabilities Act of 1990, 42 U.S.C. §§ 1210, et seq.; the Persons with Disabilities Civil Rights Act, MCL §§37.1101, et seq.; and the Elliott-Larsen Civil Rights Act, MCL §§ 37.12101, et seq.
Inquiries or complaints by students and/or their parent(s)/guardian(s) related to discrimination based on disability/handicap should be directed to
Assistant Superintendent for Human Resources
Saline Area Schools
7265 Saline-Ann Arbor Road
Saline, MI 48176
Phone: (734) 401-4002