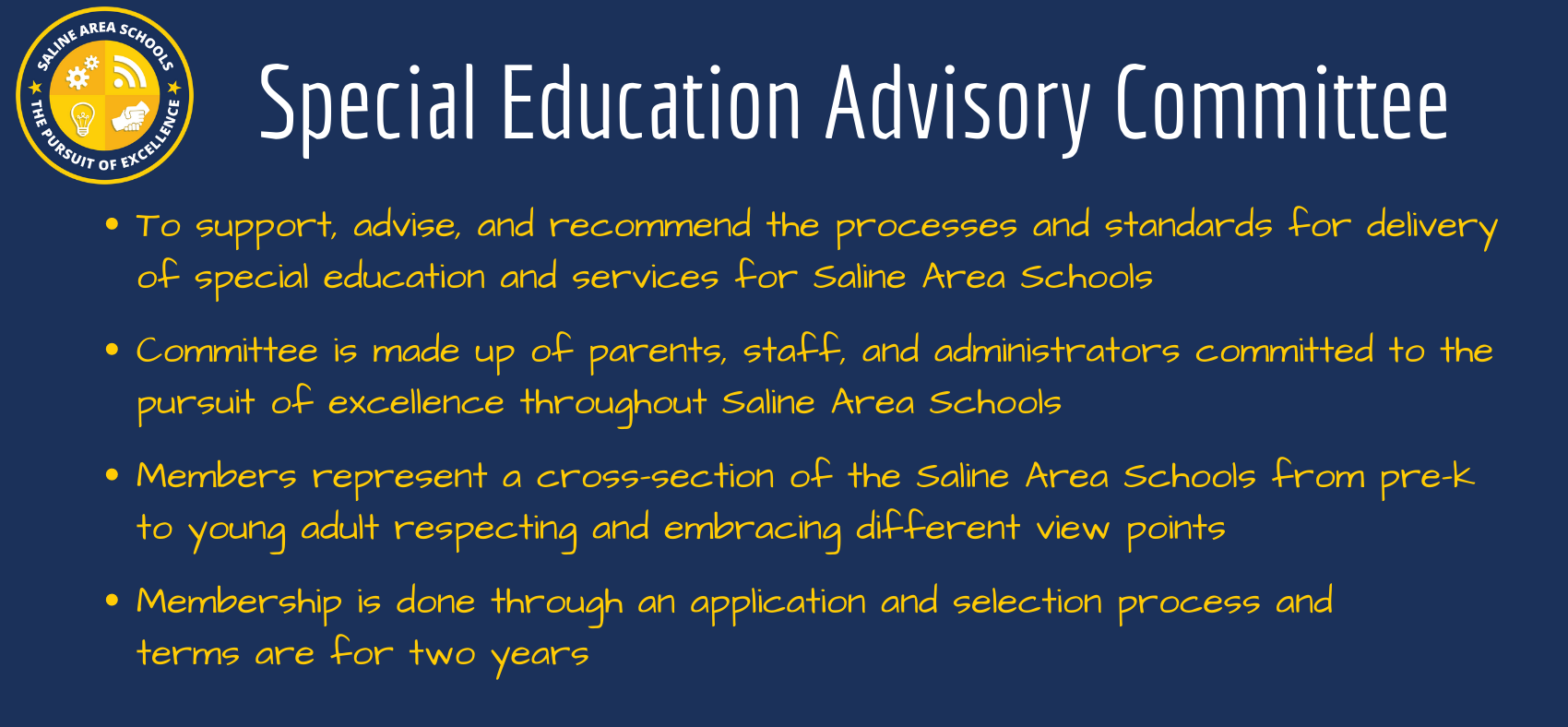 Saline Area Schools
Special Education Advisory Committee
The Saline Area Schools Special Education Advisory Committee serves as a resource to support and advise SAS administrators on matters pertaining to special education services in SAS. Members of the SAS Special Education Advisory Committee will consider matters such as, but not limited to, the following:
Educate and inform SAS parents, staff, and administration as well as the community
Advise and recommend the processes and standards for the delivery of services
Provide administrative and staff support
Perform other duties as suggested by the Superintendent of Schools, the Director of Special Education, or SAS Building Administrators
The SAS Special Education Advisory Committee is not a policy-making board.
History
During the Spring and Fall of 2010, two parent representatives along with the Special Education Director (at that time, Cherie Vanatter) met to discuss issues and concerns related to the delivery of special education services in Saline Area Schools (SAS). From this ongoing communication and collaboration, the idea of the Special Education Advisory Committee (SEAC) originated. Superintendent, Scot Graden gave approval and the Committee was formed in 2011. The Special Education Director and parent representatives continued to meet regularly to organize the structure and vision for this committee.
SAS put a call to the community for committee representatives. The community was invited to submit an application. SAS administration formed a selection committee to review membership applications and from the application pool select SEAC committee members. The first meeting of the Special Education Advisory Committee was held in the Spring of 2011.
Initially, membership was a collaboration of both parents and school staff representing each building and a variety of disciplines. Over time the membership structure evolved into the Special Education Director and parent representatives only. With this current membership structure, building representatives and administration regularly rotate their attendance at the SEAC meetings. These building administrators are not actual committee members but are available on a regular basis for consultation and to receive input from the committee.
The SEAC is facilitated and led by co-chairpersons. The co-chairs include the Special Education Director and a SAS parent committee member.
SEAC Committee Membership – Guidelines and Structure
A membership application and selection process will occur every two years.
A selection committee will be formed by the SAS administration for this process. Part of the selection committee's responsibility includes making sure membership is balanced with adequate discipline and building representation. Consideration will also be given to ideally having a blend of experienced and new members. The selection of the parent co-chair will be made by the membership committee with input from the Special Education Director.
Every reasonable effort will be made to ensure that the advisory board consists of members representing a cross-section of the SAS community as a whole and representation of differing viewpoints.
As much as possible, there will be representation from each building level.
The membership term is for two years. An individual member may reapply after one (two-year) term but is limited to serving only two consecutive terms (or a total of 4 years in a row).
Recommendations to SEAC
The original intention, vision, and purpose was of an "advisory" committee not a "working" committee
If and when sub-committees are formed there need to be at least two (or more) members assigned to each sub-committee
If membership remains as the Special Education Director and Parent representatives only, then every effort needs to be made to ensure continued rotating attendance of these meetings from building administration and/or their representatives. This process will create a balanced representation across the district and allow for input, feedback, and collaboration across all SAS buildings and their respective administration.
It is recommended that the open forum meeting continue at least on a yearly basis. This provides transparency and adequate collaboration for parents, community and staff.
It is recommended that the Special Education Advisory Committee continue to support and encourage SAS administration in developing and maintaining a website reflective of the services, policies, and procedures related to SAS Special Education to serve as a bidirectional resource – one where SAS provides information related to services, policies, and procedures related to the Special Education Department as well as an information and resource portal for administrators, staff, parents, and the community.
Special Education Advisory Committee members and their contact information should be listed on the Special Education website. Additionally, updates on committee activity could be provided on the website to provide information and continued transparency.
Respectfully submitted, May 19, 2014 - Suzanne Atzinger and Donna Omichinski
2023 - 2024 SEAC Members:
Special Education Advisory Committee (SEAC):
Yuqing (Rachel) Zhou- Early Childhood Special Education
Jim Joaquin Saline Middle School
Shannon Hennessey Saline High School
Kelly VanSingle Young Adult Program
Parent Advisory Committee (PAC):
Agendas / Updates
February 27, 2023
SEAC UPDATES May 2021
SEAC hosted a Dance of the Partnership presentation with Janice Fialka, and shared resources. District Speech and Language pathologists' presentation on Social Thinking methodology as well as using AAC. Universal Supports presentation from WISD AB Team.